Poisonous Vermicelli Found in Beijing
December 14, 2006 12:00 am Last Updated: December 14, 2006 12:00 am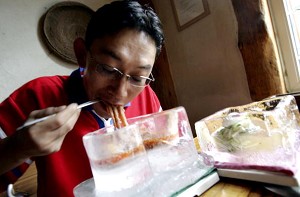 Tainted food has once again been identified in mainland China. According to Chinese media, the Food Safety Administration has recalled a brand of Longkou vermicelli (glass noodle) made in Yantai, Shandong Province. The noodles were ordered removed from store shelves because a known carcinogen, sodium sulfoxylate formaldehyde, was found in samples of the finished product. Sodium sulfoxylate formaldehyde is used as an industrial bleaching agent. Its use helps to maintain the fresh appearance of the noodles and to improve taste. The Food and Environmental Hygiene Department of Hong Kong is now investigating the case. Currently, there is no evidence that it is on the Hong Kong market.
Beijing Evening News reported on December 6 that the tainted Longkou vermicelli was produced by Yantai Deshengda Longkou Vermicelli Co. Ltd. The company's website claims that their products are sold internationally including the United States. The many different packaging designs for the vermicelli noodles had been displayed prominently on the company's website. Such information on packaging designs would have been helpful in helping customers in identifying the tainted noodles. Unfortunately, the website was recently shut down by the company.
The Beijing Evening News report also noted that the Beijing Municipal Food Safety Office had circulated a notice that a known carcinogen had been identified in the vermicelli produced by Yantai Deshengda Longkou Vermicelli Co. Ltd, and an order was immediately issued to stop the selling of the vermicelli.
The Center for Food Safey of Hong Kong Food and Environmental Hygiene Department intends to continue its investigation of the tainted vermicelli. Their measures may include more extensive and detailed sampling of the vermicelli for sodium sulfoxylate formaldehyde. Prior to this most recent investigation, the Center for Food Safety had tested vermicelli from the market at least 50 times since 2004. All prior samples had tested within the acceptable limits for food safety.
A spokesperson for the Center for Food Safety reminded citizens of Hong Kong that sodium sulfoxylate formaldehyde is dissolvable in water and that they should clean the vermicelli first by soaking it in water and then cooking thoroughly before eating.
Li Guanglin, associate president of the Gangjiu Can Chamber of Commerce, said that most of the vermicelli sold in Hong Kong was imported from Long Kou, Shandong Province. They are not sure whether these are tainted products or not.
Vermicelli is a popular Chinese food served with both hot and cold dishes. Although the temperatures in Hong Kong this winter have been warmer than usual, some people have purchased vermicelli for use with their hot pots. A sea food shop claimed that their 2000 packs of vermicelli sold each month were imported from Qingdao, Shandong Province. The sea food shop bases its guarantee of quality on the trademark of the vermicelli which certifies the producing company and the location of its production.