Poetic Twist to Indian Perfume Industry
July 2, 2013 2:02 pm Last Updated: July 2, 2013 11:32 pm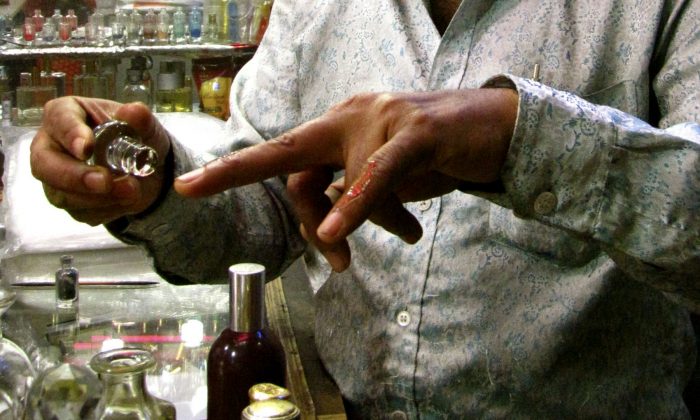 India perfume (Ittar) sellers tend to disagree with William Shakespeare who said "What's in a name?" in one of his famous novels. Many sellers of natural scents in India prefer to give poetic names to their perfumes to attract customers.
The same perfumes, carefully packed in same kind of bottles, sell differently in shops around Bangalore—some shops sell the same fragrances more just because of the attractive poetic descriptions they give to their perfumes.
"If we feel one fragrance is liked a lot by customers, we keep an attractive name for it," said Abdul Rehman Khan who sells natural scents in the crowded market of Shivajinagar, Bangalore. "We keep the name for recognition; like we name a child."
According to Khan, every scent induces an emotion and the customer identifies with the scent through that emotion. A perfume with a complementing name strikes a better cord with the customer. "When a customer buys a perfume with an attractive name from my shop, he'll get confused at the other shop when he finds the same fragrance with a different name. He'll come back to me," said Khan.
Khan's father was a teacher who used to do an extra business of selling natural scents outside the mosque, carrying small scent bottles in the empty case of a geometry box. "When people came out after offering prayers, we would apply scents on them. Out of the 100 people we would apply Ittar on, at-least 10 would buy. I converted that street business into a shop," said Khan who has been selling natural scents for the past 25 years.
He has given many Arabic poetic names to natural scents. "There is "Tamana" which means wishes. I named it so because when applied once, one wishes to apply it more. Another is "Dilnasheen," which means heart alluring. We say that if you apply Dilnasheen you will be "Hamnasheen" which means the beloved," he explained.
Another one is named as "Alkharaba," which means luminescent. "We say if you apply Alkharaba, you are "marhaba" meaning welcome."
Khan says that if you are without family, selling natural scents could be a good business. "You can roam from street to street; sell one bottle of perfume and eat your lunch, sell another in the evening and eat your dinner. But when you are with a family, you need to be innovative like I am."
Another mile away into the crowded Shivajinagar market, where a huge dirty drain is getting repaired and people are plying up and down the make-shift iron bridge, another perfume seller stands outside a small mosque with around 100 small bottles of perfume on a wooden rack.
Mohammad Mushtaq has been selling natural scents for 15 years. "I am selling here 75 varieties of perfumes out of the thousands that arrive from industries in Mumbai and Kannauj. They sell from 30 rupees (50 cents) to 2500 rupees (US$42) per 12 grams," Mushtaq said.
According to Mushtaq, some popular scents are known with the same name every where. "Attar-e-zama, Milaap, Zama, Nayaz, and Oriental are available everywhere with the same name. We also keep our own names for special scents, so that it's not available anywhere. It brings good business," he said. However, he didn't divulge any details of the names of his perfumes.
All of these perfumes come from Kannauj, a small historical town in Uttar Pradesh state; fondly called the perfume capital of India and the Grasse of the East.
Natural scents are sold in simple and attractive bottles as per the budget of the customer. While Khan's shop is lined with many colorful, delicate and intricately adorned bottles, Mushtaq's are simpler ones. "I barely manage my subsistence through this," adds Mushtaq.
Tarun Bhalla and Daksha Devnani have contributed to this report.