As the Queensland government prepares to lift CCP virus restrictions across the state, Prime Minister Scott Morrison has called on all state and territory leaders to hold urgent twice-weekly national cabinet meetings starting Monday, to address problems with the immunisation rollout.
This comes after the federal government last week announced a new advisory about the AstraZeneca jab for Australians under the age of 50, following advice from the Australian Technical Advisory Group on Immunisation.
Morrison earlier this week abandoned a target to provide at least one vaccine dose to the country's near 26 million population by year-end after restricting the rollout of its favoured AstraZeneca vaccine.
The switch away from the AstraZeneca vaccine comes after European Medicine Agency found "possible links" between the vaccine and an extremely rare but serious blood clotting issue.
Morrison said on April 14 the return to more frequent meetings of the group of federal and state government leaders was necessary to address "serious challenges" caused by patchy international vaccine supplies and changing medical advice.
"There are serious challenges we need to overcome caused by patchy international vaccine supplies, changing medical advice and a global environment of need caused by millions of COVID-19 cases and deaths," Morrison said.
"This is a complex task and there are problems with the program that we need to solve to ensure more Australians can be vaccinated safely and more quickly."
The prime minister's new announcement comes after state and federal governments criticised each other over the rollout, which involved accusations that states were stockpiling vaccines.
Trade Minister Dan Tehan will fly to Europe to solve vaccine export bans.
Australia has fared much better than many other developed countries during the pandemic, with just over 29,400 COVID-19 cases and 910 deaths.
No new cases have been reported on most days this year and officials have swiftly contained small outbreaks, but the country's vaccination programme has hit major roadblocks.
Queensland Lifts Restrictions
Meanwhile, Queensland Premier Annastacia Palaszczuk announced on April 14 that COVID-19 restrictions will be lifted across Queensland from 6 a.m. on Thursday, April 15.
This means that it will only be mandatory for Queenslanders to carry and wear a mask in certain settings when leaving their homes, such as at airports and on flights.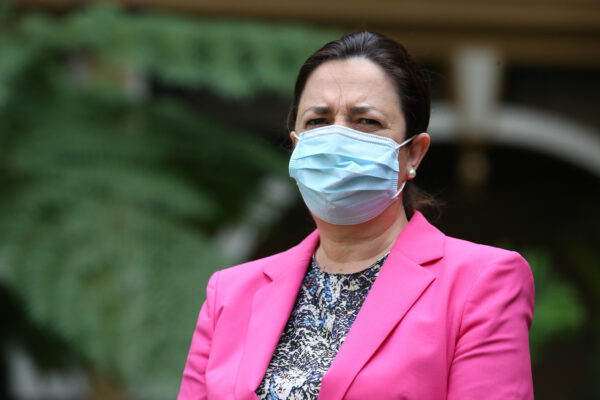 However, the government has strongly encouraged people to carry a mask at all times for use on public transport, in taxis and rideshares, in shopping centres, and wherever social distancing cannot be adhered to.
People with medical conditions are exempt from the mandatory mask rules that remain in place.
This is welcome news for businesses and venues, including places of worship, that may resume operating at 100 percent capacity, under certain conditions.
It also means up to 100 people can gather at private residences but there are no limits on the number of people in public spaces.
Food and entertainment venues can open for standing when eating and drinking, both inside and outside. A restriction was also placed on venues to require seated dining only, after a man in Byron Bay contracted COVID-19, the disease caused by the CCP (Chinese Communist Party) virus, while in a pub in March.
The state government now allows dancing, with one dancer per two square metres and as long as physical distancing is observed both indoors and outdoors.
Meanwhile, ticketed and allocated seating venues can operate at 100 percent capacity with patrons encouraged to wear masks on entry and exit. This encompasses theatre, live music, cinemas, indoor sports, universities and other higher education institutions
Queenslanders are also being encouraged to check in to venues using the state government's Check In Qld app, which will become mandatory for use by hospitality venues from May 1.
Outdoor events such as dance and music festivals will still have some restrictions, but Anzac Day and other events like fun runs won't need a COVID Safe Event Checklist of Event Plan.
However, open air stadiums will need a COVID Safe Plan to operate at 100 percent capacity.
Weddings and funerals retain some restrictions.