Plastic Whales, Soup, and Islands—A Dutch Look at Our Plastic World
September 24, 2013 4:09 pm Last Updated: October 26, 2013 2:54 pm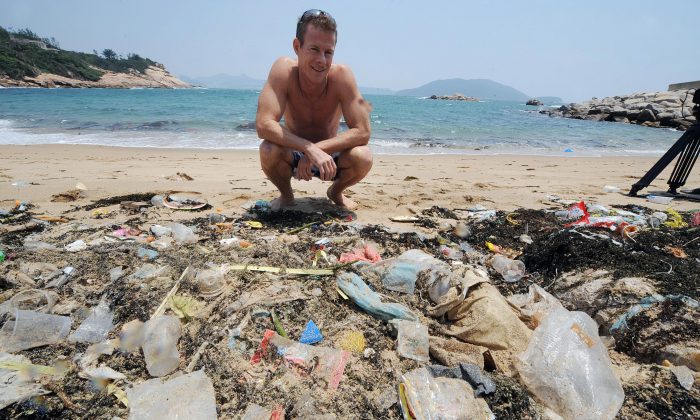 In Amsterdam, a new tradition has been born. "Oud-Amsterdamsch Plastic Visschen," or old-school Amsterdam-style plastic fishing.
On the first Sunday of September, hundreds of volunteers fish plastic from the country's waters to add to a plastic whale. A local high-end yacht design bureau has designed the Plastic Whale, a 12.5-meter by 4-meter (40-foot by 13-foot) barge that will seat 15 to 20 people.
About 100,000 plastic bottles found by the hundreds of plastic-fishing volunteers in city canals and other outdoor areas will be crushed and formed into plastic plates to make the barge. The Plastic Whale is expected to take shape by March 2014, and it will bring people on "anti-plastic soup" tours.
Plastic Soup, Plastic Islands
Infamous debris islands have been formed by slow-moving massive whirlpools in the world's oceans—the Great Pacific Garbage Patch is one.
Environmental group 5 Gyres raises awareness of the five main patches of plastic and other garbage amassed by ocean currents across the globe. Now, it reports, microplastics are forming "plastic soup" in smaller bodies of water.
Additionally, plastic micro-beads used in facial products are found in the oceans and fresh water bodies.
Scientists have recently found that even Lake Michigan and Lake Geneva in Switzerland, where plastic debris islands cannot be seen, are polluted by plastic micro-beads.
The plastic soup is unhealthy for wildlife on a number of levels—and thus potentially hazardous for humans as toxins enter the food chain.
The microplastics act like sponges, soaking up organic pollutants, such as pesticides. They are ingested by birds, fish, and turtles alike.
Initiatives like the Plastic Whale are inspiring change. A similar project in Japan, Project Kaisei, is using a boat made of litter for marine plastic research expeditions.
The Plastic Whale will also raise funds for the cause. A donation of 10 euros ($13.50) will get the donor's name on the whale barge. A donation of 2,500 euros ($3,370) pays for a day-long expedition on the barge for 20 people.
Soup solutions are straightforward: they include reducing plastic litter, bringing your own mug or bag instead of using plastic ones at shops, recycling, or helping clean up shores.
A Look at Last Year's Plastic Fishing:
Plastic Whale – Oud-Amsterdamsch Plastic Visschen (2 september 2012) from Plastic Whale on Vimeo.