Plans to Build Millions of Houses Dubious, Says Expert
March 28, 2011 3:14 am Last Updated: October 1, 2015 5:16 pm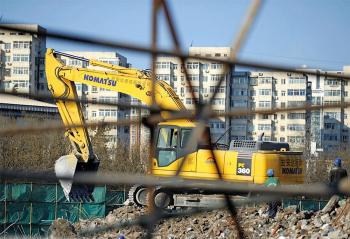 Smarting from what many say is a property bubble waiting to burst, the Chinese state-machine set an ambitious plan to build 36 million affordable housing units as part of the Communist Party's 12th Five-Year Plan.
The enormous socialist construction project will see 1.4 trillion yuan (~US$213 billion) invested in building and refurbishments, all meant to lower the price of housing for the masses. But previous projects of the kind are not rosy indicators.
Qi Ji, vice minister of China's Ministry of Housing and Urban-Rural Development (MHURD), said on March 9 that local governments will invest about 500 billion yuan (approximately US$76 billion). Factories, businesses and the workers will pay the rest. The authorities will also adopt preferential policies on loans, subsidies, and taxes, to ensure the project will be completed on time.
Compared to the plan of building 5.8 million affordable housing units in 2010, the goal this year has been increased 72 percent.
Zang Shan, a Washington-based writer on China issues, told The Epoch Times: "When the Chinese Communist Party (CCP) decides to make great efforts to build so many affordable homes, it means that the CCP is quite worried about the property market bubble."
The regulation issued by China's Ministry of Finance in 2007 specified that the source of funding for low-priced houses not be less than 10 percent of the net income of the property's value.
The income from selling land last year was 2.7 trillion yuan (approximately US$411 billion). Ten percent of this amounts to only 270 billion yuan, far lower than the 1.4 trillion yuan needed for building 100 million affordable housing units.
China's National Audit Office announced the survey result of local governments' investment in affordable housing among 19 provinces and cities from 2007 to 2009. Among 32 cities, 22 cities, including Beijing, Shanghai, and Chongqing cities, did not meet the requirement of withholding 10 percent of the land sales income.
Zang believes that if the 10 million units of affordable housing are completed it will significantly impact China's property market. Since local government will lose income, they probably won't follow the policy.
"Additionally, local government may give less money but build more houses, resulting in low quality housing," he said. "Consequently, people will be fearful of purchasing them and eventually will want to buy commercially built housing."
According to information published by the housing bureau in south China's Shenzhen City in December 2010, the 11th Five-Year Plan (2005-2010) was to build 169,000 new affordable housing units. As of December 2010, over 20,000 were completed, 12 percent of the target.
By October 2010, Foshan City of Guangdong Province only started 65 percent of the construction for the planned 1,600 affordable housing units, with only 10 percent completed.
Shanghai planned to build 300,000 affordable housing units from 2008-2012, but completed only 2 million square meters, or approximately 10 percent.
Building affordable housing in China has been painful for some real estate developers.
A report from the "21st Century Economic Report" revealed that the Cui City project in Beijing suspended construction for long periods. Started in 1998, the project has lingered for more than a decade. More than 400,000 square meters of building area has not been completed. Yet the contractors have lost 2.1 billion yuan (approximately US$319 million).
The low price the government is willing to pay for affordable housing leaves real estate developers with little profit margin, so they make money by reducing the construction quality.
In October, China News reported that out of nine affordable housing units constructed in Daxing District, Beijing, eight did not meet the requirement for concrete strength. Six of them had to be demolished and rebuilt, the other two reinforced.
Read the original Chinese article.