A Virgin Atlantic plane traveled at a speed of more than 800 mph due to strong winds, according to news reports.
The plane reached the speed while about 35,000 feet above Pennsylvania, reported the Philly Voice. The flight was heading from Los Angeles to London, according to FlightAware, a plane-tracking website.
The speed of sound is about 760 mph.
This wind provided a turbo boost to commercial passenger planes along for the ride.

由 CBS News 发布于 2019年2月19日周二
According to CBS News, the jet stream above the northeastern United States hit about 231 mph, which is the fasted jet stream on record since the National Weather Service began tracking records. The old record was 223 mph.
The Virgin plane reached 801 mph over Pennsylvania at around 9:20 p.m. on Feb. 18, CBS reported. "Wow, that's fast," a Boeing spokesman told the news outlet
"The typical cruising speed of the Dreamliner is 561 mph," CBS News transportation correspondent Kris Van Cleave said in the report. "The past record for the 787 is 776 mph set in January 2017 by a Norwegian 787-9 flying from JFK to London Gatwick. That flight set a record for the fastest subsonic transatlantic commercial airline flight—5 hours and 13 minutes, thanks to a 202 mph tailwind."
Almost 800 mph now never ever seen this kind of tailwind in my life as a commercial pilot !! (200 mph tailwind ) pic.twitter.com/0XGTkEP9EB

— Peter James (@jetpeter1) February 19, 2019
"Never seen this kind of tailwind in my life as a commercial pilot," tweeted Peter James, a plane captain.
"Now that's some tailwind. A Virgin Atlantic flight from LA to London reached a speed of 801 mph thanks to a roaring jet stream pushing the aircraft above normal speeds of around 550 mph. Again this was ground speed and not airspeed, but still very impressive," said meteorologist Kevin Lighty.
The Virgin Atlantic flight arrived in London about 48 minutes early.
While David Priess wrote: "A Virgin Atlantic Los Angeles-to-London flight on Monday got a ride on an especially powerful jet stream, reaching a stunning 801 mph while over Pennsylvania. This appears to be a record for the Boeing 787-9 twin jet, which ordinarily cruises at 561mph."
Jet streams can significantly impact flights.
That #jetstream! 🌬️ Highest wind speed at 250 millibars in the period of record for those locations near NYC, and for a jet ✈️ over PA last evening an *801* mph ground speed #wow (h/t @gdimeweather, https://t.co/MIqBu7mHNf) pic.twitter.com/RaL2HRQ5Z1

— Stu Ostro (@StuOstro) February 19, 2019
"A 100 mph increase in the jet stream above typical can add or remove about an hour from a five to six-hour flight," a FlightAware spokesperson told CBS.
It noted that while jet streams can get planes heading eastbound to their destinations faster, delays in the opposite direction, or westbound, are generally the norm.
"The estimated jet stream winds are accounted for in-flight planning, and even before that in scheduling you'll see longer block times westbound than eastbound," FlightAware said.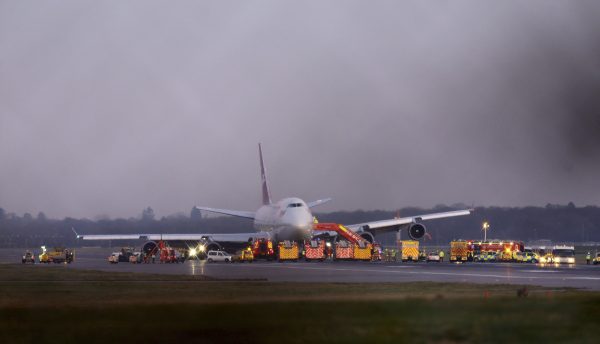 Fox News reported that a flight from Los Angeles to New York hit 678 mph at 39,000 feet over Ohio on Monday, and a plane heading from Chicago to New York City hit 700 mph on Tuesday. It's likely due to the jet stream.
Meanwhile, a flight heading from Dallas to Boston around the same time was done in less than three hours, it reported.
From the '💨 Jet Stream Weeeee!' files: yesterday's TK800 took a northerly route back to Istanbul from Panama City.

The shortest route, which the flight usually follows, is the red dashed line. pic.twitter.com/X3CLLYMSWM

— Flightradar24 (@flightradar24) October 22, 2018
In 2018, a Turkish Airlines flight flew an additional 800 miles but still landed on time. According to Popular Mechanics, it was also due to the jet stream over the Atlantic Ocean.