Britons need to consider their Christmas travel plans carefully, as COVID-19 restrictions are expected to be relaxed temporarily for the festive season, Transport Secretary Grant Shapps said on Tuesday.
Speaking about domestic travel during the festive period, Shapps warned travellers to be mindful of possible reductions in rail services.
As the CCP (Chinese Communist Party) virus caused a dramatic drop in passenger numbers, the government has put £10 billion into keeping the railways running, Shapps told BBC Radio 4's "Today" programme.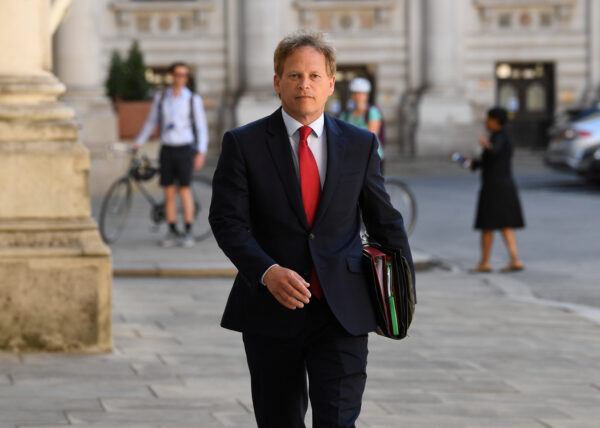 However, "quite a number of railway workers are off work with coronavirus," putting added pressure on services and causing reductions, he said.
Shapps urged people to be prepared for "very, very long-planned engineering works" that have been scheduled. "We are trying to reduce or minimise those as much as possible, but a lot of them take 18 months or two years to plan," he said.
"I would appeal to people to think very carefully about their travel plans and consider where they are going to travel and look at the various alternatives available."
He urged rail travellers to pre-book tickets as the capacity of services remains reduced to prevent overcrowding and allow for social distancing.
Prime Minister Boris Johnson announced on Monday that the month-long lockdown in England will end as scheduled on Dec. 2, but tougher regional restrictions will be implemented.
Shapps told BBC Breakfast that people will have more freedom to visit family and friends in December as all four UK nations are "very close" to agreeing rules for gatherings over the festive period. The government may be able to make an announcement on the rules on Thursday, he said.
The government said on Sunday that the UK authorities had held consultations with the First Minister of Scotland, the First Minister of Wales, and the First and Deputy First Ministers of Northern Ireland on shared arrangements for the festive period, and expected to finalise the arrangements later this week.
"Welcoming the good progress made by all administrations over the past few days to design a single set of arrangements that can apply across the UK, ministers reiterated the importance of allowing families and friends to meet in a careful and limited way, while recognising that this will not be a normal festive period and the risks of transmission remain very real," the government said in a statement.
"Ministers endorsed a shared objective of facilitating some limited additional household bubbling for a small number of days, but also emphasised that the public will be advised to remain cautious, and that wherever possible people should avoid travelling and minimise social contact."