Pilot's Defection Jolts Top Levels of Chinese Communist Party
August 19, 2006 12:00 am Last Updated: August 19, 2006 12:00 am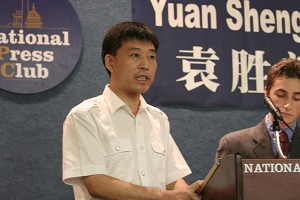 Beijing has thus far not formally responded since Shanghai-based China Eastern Airline pilot Yuan Sheng sought political asylum in Los Angeles on August 9. According to a China Eastern Airline employee today, Yang's defection to the United States shook high level officials within the Chinese Communist Party (CCP).
The CCP has held urgent internal discussions about response tactics. Before China News Service's August 11 interview with a China Eastern Airline's spokesperson, related departments were told to black out the news and take the same position on the Yuan incident when asked.
The insider revealed that the CCP's silence is a double-sided tactic. Yuan's case has been internally treated as a very serious issue. High internal tension prohibits anyone from being interviewed by outside journalists, and people have been told not to reveal the reason for Yuan's stay in the United States. They are especially forbidden to mention the Nine Commentaries and the growing numbers of withdrawals from the Communist Party
Despite censorship from high levels of the CCP, the news of Yuan's defection has spread quickly, said the China Eastern Airline employee. Yuan's colleagues and friends have been paying close attention to his situation and have been seeking information about accessing foreign Web sites.
The insider warned Yuan not to return to China for fear of his personal safety.
After Yuan's arrival in Los Angeles on August 9, an Epoch Times reporter called China's Ministry of Foreign Affairs and was told that no press release was available at the time.
A China Eastern Airline's media spokesperson declined to answer any questions, and the general manager of the aviation department said that they were "just discussing it in a meeting." In a phone interview with The Epoch Times , Yuan's colleagues and superiors spoke highly of his moral character.
Diverting Attention from the Truth
American current affairs commentator Zhang Jielian expressed today that the incident has already become an acute life-threatening disease for the CCP. He said that the recent arrest of renowned, Beijing-based attorney Gao Zhisheng is the CCP's attempt at a short-term political game that diverts the world's attention from the Nine Commentaries , the mass withdrawals from the CCP , and the use of living Falun Gong adherents as a source of organs for China's booming organ transplant industry. [The latter has been documented by two independent Canadian investigators.]

Pilot Responds to China News Service Report
Yuan delivered a statement on August 10 [4] to explain why he had decided to seek political asylum in the United States. He described his internal struggles in making "the painful choice."
Yuan said that he had introduced the book Nine Commentaries on the Communist Party to a young man in charge of ground safety at Pudong airport on August 8 before the plane took off. Yuan had tried to persuade the young man to quit the Communist Party; however, the young man reported him to police. Policemen immediately came to take Yuan into custody; however, they were persuaded to let him complete the scheduled flight.
In his statement, Yuan said: "The CCP is frightened of the Nine Commentaries and of Chinese people withdrawing from the CCP—the most sensitive and dangerous topic in China … I realized how dangerous my situation was and thought about staying."
In an interview with China News Service on August 11, the spokesperson of China Eastern Airlines gave no explanation for why Yuan had fled the country. He denied the fact that Yuan had been discriminated against for practicing Falun Gong. The spokesperson said that the airlines "sincerely hopes Yuan Sheng will come back to his post as soon as possible. Upon his return, his motherland and family will embrace him with open arms."
In response, Yuan spoke to media in a press conference held at the National Press Club, Washington, D.C. on August 11. He stated that several of the spokesperson's comments as quoted by China News Service were not in line with the facts.
"It was an excruciating experience when I had to make this forced, painful decision to stay in the U.S.," Yuan said. "Even up to now, needless to say how I crave to go back to China to reunite with my family and to fly up to the blue sky with my colleagues! However, the reality is, if I were to return home now, what I would face would be imprisonment and even the loss of my life and my family. I absolutely had no other option but to make the painful choice to stay in the U.S."
Yuan pointed out that the China Eastern Airline supervisors didn't dare to mention why he had fled China. Their omission shows the lack of fundamental respect of the facts and of individual rights, which is precisely the tragic reality of Chinese people—basic humanity is distorted by the pressure of the Chinese Communist Party.
"I believe some of the supervisors were sincere in looking forward to my return. I would like to thank them here," Yuan said. "However, in today's China, who can guarantee that I would not be subjected to persecution if I were to go back? Can the supervisors guarantee my safety? In order not to get implicated in my escape, they were left with no other choice but to keep in line with those above them and to lie to protect themselves. If they do not act this way, they too will suffer persecution.
"My supervisors secretly advised my wife to persuade me to forget 'the unpleasant happening between the police and me,' and they openly declared that they hoped I would go back to work to be embraced by 'my motherland and family.' I don't think my supervisors' real intention was to 'entrap' me. Possibly they didn't have a clear understanding of the persecution of Falun Gong and they still have illusory hopes for the Chinese Communist Party," Yuan said.
Yuan added that the spokesperson's comments—denying that Yuan had been subjected to persecution and claiming that he would be able to continue his flying career—were misleading the public.
"When I was suffering forced brainwashing, the staff of the brainwashing class threatened that if I refused to write the 'guarantee statement,' I would not be allowed to operate airplanes any more. Wasn't that persecution and discrimination?"
Yuan concluded his statement with his wish: "Quitting the CCP is not a campaign. It is an individual's heart-felt choice not to commit wrongdoings along with the CCP. It is a salvation of one's true nature." He expressed the hope that his former supervisors and colleagues at China Eastern Airlines would no longer fear the CCP, would act of their free will and join the current of quitting the CCP.