The helicopter pilot killed in New York City on Monday, June 10, has been confirmed to be 58-year-old Tim McCormack, a former volunteer fire chief and a skilled pilot.
McCormack was heading from New York City to Linden, New Jersey, when he crashed around 2 p.m. on top of a 52-story skyscraper at 787 7th Avenue in Manhattan. He died on impact.
The building that was hit is situated between 51st and 52nd Streets and is known as the AXA Equitable Center.
McCormack was formerly a volunteer fire chief for the East Clinton Fire District. In a statement, the fire department said that he was "a dedicated, highly professional and extremely well-trained firefighter."
"Tim's technical knowledge and ability to command an emergency were exceptional," the statement read. "Chief McCormack was extremely respected by not only the members of the department but throughout the Dutchess County fire service.
"Tim will be exceptionally missed by this department's members, not only for his leadership but for his wonderful sense of humor."
Federal Aviation Administration (FAA) records show that McCormack has 15 years of experience flying helicopters and single-engine airplanes, and was certified as a flight instructor last year.
"Flying was his passion," an East Clinton Volunteer Fire Department member told Fox News late June 10.
Images from the scene of today's helicopter crash at 787 7th Ave. in Manhattan. #FDNY members remain on scene. There is one fatality reported. pic.twitter.com/7qyyJWrMsw

— FDNY (@FDNY) June 10, 2019
The crash came as weather in the city caused low visibility, with rain and a heavily overcast sky.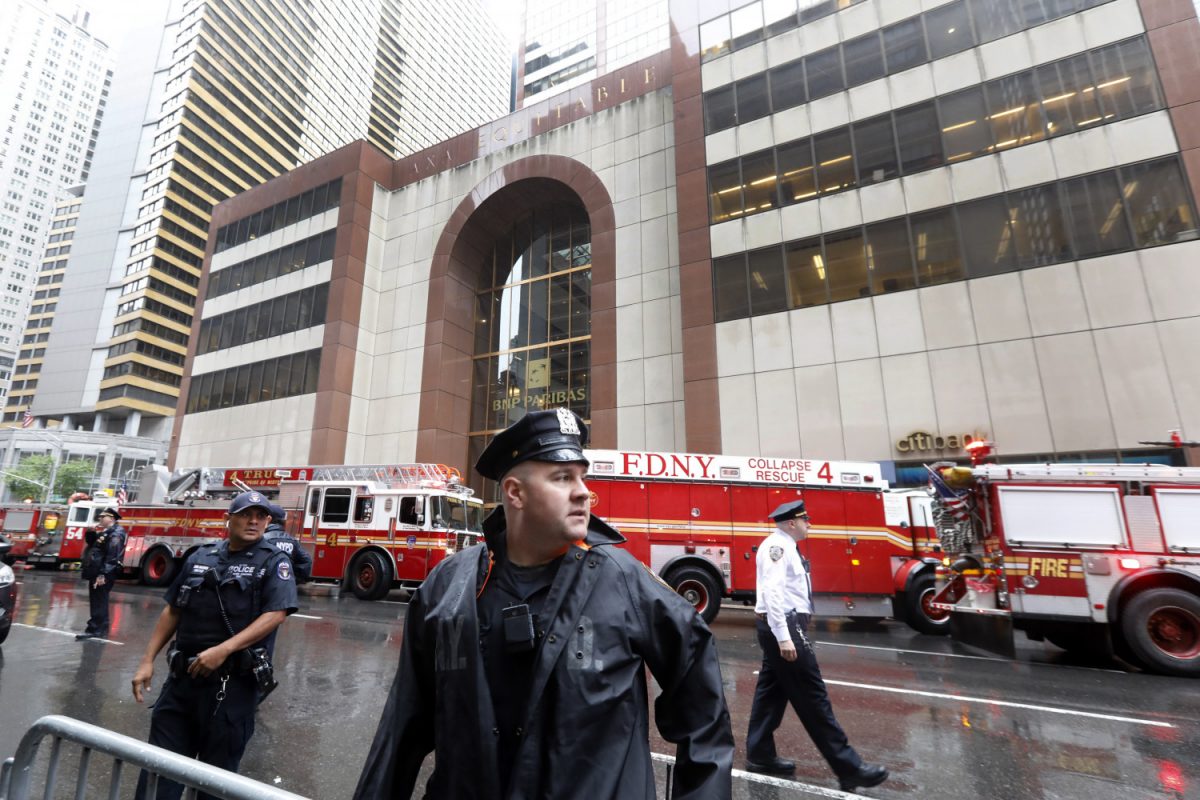 McCormack was the only person aboard, and there were no other reports of injuries, authorities said.
787 7th ave, #midtown NYC. We're 1 block south. 20 mins ago there was a loud sound like a too-low #helicopter & I looked up and saw sheet of flame on roof and then smoke. News reports saying helicopter/small plane crash onto roof which would be consistent with what I heard/saw. pic.twitter.com/swY3ksLskH

— Lance Koonce (@LHKoonce) June 10, 2019
The 19-year-old helicopter was linked to a real estate company founded by Italian-born investor Daniele Bodini, according to FAA records.
The helicopter went down about 11 minutes after taking off from a heliport along the East River, a little more than a mile away.

It was not immediately clear what caused the crash or why the helicopter, an Agusta A109E, was flying in a downpour with low cloud cover and in the airspace in midtown Manhattan that is supposed to be off-limits.
I have been briefed on the helicopter crash in New York City. Phenomenal job by our GREAT First Responders who are currently on the scene. THANK YOU for all you do 24/7/365! The Trump Administration stands ready should you need anything at all.

— Donald J. Trump (@realDonaldTrump) June 10, 2019
A flight restriction in effect since President Donald Trump took office bans aircraft from flying below 3,000 feet and within a 1-mile radius of Trump Tower, which was less than a half-mile from the crash site. The Rockefeller Center and Times Square were also just a few blocks away.
DEVELOPING: helicopter crashed into a building in Midtown Manhattan at 51st and 7th. Here is footage of the helicopter flying erratically before the crash (via @ThingsWendySees) pic.twitter.com/zCowdKvKuL

— Cooper Lawrence (@CooperLawrence) June 10, 2019
"There's something mysterious here," Mayor Bill de Blasio told CNN, saying officials were scrutinizing video of a "very erratic" flight and authorities needed to find out more about the pilot at the time he decided to take off.
Visibility around Manhattan is awful right now. Not really sure what this helicopter was doing at the time, but the weather appears to be awful. #nyc pic.twitter.com/rVvqGwAlzB

— Jason Rabinowitz (@AirlineFlyer) June 10, 2019
The director at Linden Municipal Airport, Paul Dudley, described McCormack as "a highly seasoned" and "very well regarded" pilot who was a regular at the airfield. He suspects that a mechanical problem or the weather "overwhelmed him and the helicopter."
"I believe he tried to get on the roof and spare the people on the ground," Dudley said.
JUST IN: NY Gov. Andrew Cuomo on Midtown helicopter crash: "The only indication was a helicopter had to do an emergency or a hard landing, or crashed onto the rooftop of a building…There's no indication of anything more than that." https://t.co/pCTDfQU5Ch pic.twitter.com/8JkcDMr8vK

— Evan McMurry (@evanmcmurry) June 10, 2019
New York Gov. Andrew Cuomo said that there is "no indication" that terrorism was involved.
"There is no indication that that is the case," he told reporters when asked.
"The only indication was a helicopter had to do an emergency or a hard landing, or crashed onto the rooftop of a building, causing a fire, but there's no indication of anything more than that.
"If you're a New Yorker, you have a level of PTSD from 9/11 and I remember that morning all too well," Cuomo added. "So as soon as you hear an aircraft hit a building, I think my mind goes to where every New Yorker's mind goes."
The Associated Press contributed to this report.
From NTD.com