Piercing the CCP's Shadow Over Hong Kong Government
March 23, 2007 12:00 am Last Updated: March 23, 2007 12:00 am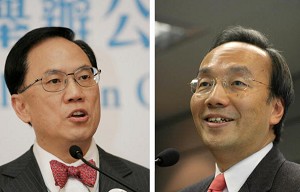 March 25 will be the official polling day for the third election to select Hong Kong's Chief Executive. The election has been heating up with two televised debates between the candidates: Alan Leong Kah-kit and the incumbent Donald Tsang Yam-kuen.
A pro-democracy march led by the democratic faction on March 18 to demand universal suffrage by 2012 brought even greater attention to this race.
But heat of another kind has colored this election as the Chinese Communist Party (CCP) has repeatedly tried to interfere. Tactics have included labeling Leong's proposals as attempts to turn Hong Kong into an independent country, ominous warnings to the Election Committee not to cast a blank vote, and sending various threats via CCP officials. Tensions in Hong Kong have risen as its citizens observe the CCP's behind-the-scenes rule of the territory.
2007 and 2008 represent very important years politically to Hong Kong as the territory is set to have three important elections to select the Chief Executive, the District Council, and the Legislative body. A figure like Alan Leong on the Chief Executive ballot reveals how the territory's citizens have begun to boycott the CCP's power that is often used to manipulate Hong Kong's political appointments.
Prior to this election, the CCP has always had a hand in manipulating the selection of Hong Kong's Chief Executive. Yet this year a candidate nominated by the democratic faction, Alan Leong, has made for an exciting competition in challenging the incumbent, Tsang. Leong is a senior attorney of the Civil Party and has made outstanding contributions to the battle against Article 23, a provision which aimed to jeopardize Hong Kong's Basic Law, giving the CCP greater control in the region.
Since the CCP took over Hong Kong from the British in 1997, this is the first election to see a Chief Executive candidate nominated by the democratic faction to oppose the CCP's appointed candidate. As a result, this year's election has attracted greater attention.
Although the incumbent Chief Executive is confident of winning the majority of the votes from the 800-member Election Committee, the final outcome is yet to be determined. According to Alan Leong, his participation in the election has resulted in many pleasant surprises and has already altered the CCP's influence in the region. Leong said that Beijing is shocked with Hong Kong's new-found hunger for democracy.
Basic Law Amendment Proposal Irks CCP
In revealing his stance on political reform on Feb. 11, Leong proposed universal suffrage by 2012 and an amendment of the territory's Basic Law. When it came to electing Special Administrative Region (SAR) officials, Leong proposed eliminating the Election Committee and transforming it to become merely a nominating body. Leong also suggested adding 400 members elected from universal suffrage. As a senior attorney, Leong has suggested amending the Basic Law to transfer the right of endorsement of senior SAR officials from Beijing to the chief executive. Leong suggested that the Chief Executive should choose his ministers from elected legislative councilors.
Furthermore, he has suggested eliminating the limitation that the Chief Executive must not belong to any political party and to allow amending the Basic Law without the approval of the central government. Leong's platform on political development, especially the portion concerning the Chief Executive's ability to appoint ministers, has raised the ire of the CCP and pro-Beijing supporters.
Former Justice Secretary, Elsie Leung Oi-sie—now a member of the pro- Beijing Democratic Alliance for the Betterment and Progress of Hong Kong—openly labeled Leong as promoting Hong Kong's independence, challenging CCP authority, and violating the Basic Law.
But some experts find fault with her characterization. Szeto Wah, chairman of The Hong Kong Alliance in Support of Patriotic Democratic Movements in China and a senior member of the Democratic Party involved in drafting the Hong Kong Basic Law, said in an interview with the New Epoch Weekly that one violates the Basic Law when claiming that there must be no amendments to it. "Article 159 of the Basic Law says that it may be amended!" he stated.
Wah added that the CCP's National People's Congress has actually violated the Basic Law with its three interpretations provision.
CCP top leader Hu Jintao and State Council member Tang Jiaxuan have openly endorsed Donald Tsang. Wu Bangguo, the current chairman of the Standing Committee of the National People's Congress, commented that the Basic Law must not be challenged. In an interview with the New Epoch Weekly, Mr. Ling Feng, an esteemed political review columnist, said that it is very typical of the CCP to place disparaging labels on dissidents.
He believes it reveals the CCP's intolerance of any voice from pro-democracy groups despite their control of the final outcome through the small circle of the Election Committee. Ling says such behavior illustrates the CCP's fear and guilt.
CCP Officials Spread Their Message
Following Alan Leong's proposal for universal suffrage, the core group set up by former Chief Administration Secretary Anson Chan Fang On-sang released a plan on March 5 for a Chief Executive election by universal suffrage by no later than 2012 and a fully elected Legislative Council by 2016. Meanwhile, 21 pan-democratic legislators proposed a similar agenda.
Upon hearing of the proposal, Chen Zuoer, Deputy Director of Hong Kong and Macao State Council Affairs Office, said that these officials were "acting like democratic heroes" and questioned their contribution to drafting the Basic Law. Some say Chen's attack specifically targeted Anson Chan.
'Macao Casino Tycoon' Threatens Election Committee
Stanley Ho, the Macau casino tycoon known for his close ties to mafia gangs, as well as a Standing Committee member of the Chinese People's Political Consultative, made a public statement two weeks before voting threatening the 800-member Election Committee not to cast a blank ballot. "Let me tell you," said Ho, leaving no doubt that he intended to target individuals who went against his wishes, "do you think nobody will find out if you cast a blank vote? We will find out for sure!"
The statement caused a big stir among all of Hong Kong's political circles and Ho was criticized for threatening Election Committee members wishing to show their reluctance in supporting Tsang Yam-kuen.
By law, the official poll deciding Hong Kong's Chief Executive must be anonymous; and numerous measures are taken to ensure secrecy, which, in turn, ensures a fair poll. To quell the upset caused by Ho's threat, after two days of silence, the chairman of the election administrative committee held a press conference promising absolute anonymity.
"Stanley Ho is known as the 'King of Gamblers,'" said Ling Feng. "He has quite an influence among both political circles and mafia gangs in Hong Kong and Macao. For example, several thugs attacked Democratic Party Chairman, Mr. Albert Ho Chun-yan. Although many believe Stanley Ho was behind the incident, Hong Kong officials were unable to effectively pursue the investigation.
With Ho's latest stunt, giving a speech right before this election, he is obviously following CCP orders and trying his best to threaten the election committee into submission."
CCP Officials Intimidate Democratic Demonstration
Democratic advocates organized a parade on March 18 to seek universal suffrage. Broadcasting before the parade, Cheng Siwei, Vice-Chairman of the Standing Committee of the National People's Congress, warned Hong Kong citizens from Beijing not to "create an uproar" and labled them as "focusing only on politics and ignoring economics."
Parade organizer and a civilian human rights leader, Jackie Hung Ling-yu, refuted Cheng's criticism, saying that the parade was not at all "creating an uproar." Hung explained that the event served as a channel for Hong Kong people to make their voices heard.
"As a matter of fact, the CCP's iron hand forced us to organize and voice concern. Beijing authorities and Tsang cannot guarantee our universal suffrage, and Hong Kong civilians have no other ways to appeal."
According to analysts, after the success of an Anti-Article 23 parade that included more than 500,000 Hong Kong residents, the CCP has developed an extreme fear of these large-scale demonstrations. They say that CCP authorities were worried that more people would join the March 18 event; and many are concerned that the CCP's harsh statements may incur even greater opposition. This is the first time the communist regime mentioned economics as a way to discourage parade participation.
Another parade was scheduled to take place one week ago, organized by Hong Kong's League of Social Democrats, aiming to oppose election by a small group. However, the event never saw police approval and became the first parade that had been forbidden since 1997.
Communist-Controlled Media Cover up
The forthcoming election in Hong Kong poses a challenge to the Chinese communist regime, that they intend to hide. The mainland Chinese media, controlled by communist authorities, has worked to cover up news about elections, blocking candidate Leong's home page and Hong Kong television reports that show him. Those in mainland China see only advertising instead of coverage of Leong's candidacy.
Many Pleasant Surprises
Hong Kong democracy advocates hold differing opinions regarding Hong Kong's Chief Executive election. Huang Yumin of Hong Kong's League of Social Democrats stated that these advocates should boycott the election, which is merely decided by a select few and manipulated by Beijing. Other democracy activists hoped to see a competitive election which could lead to a democratic culture in Hong Kong.
In a television interview, Leong said that he had encountered many pleasant surprises since becoming a candidate. "A competitive election for Chief Executive will certainly touch the hearts of Hong Kong people—90 percent of the people hope to see real competition. Immediately after that, we had 100 votes and my candidacy was approved, which was completely unexpected.
The result of the poll on December 10 shocked both Beijing and the Hong Kong government. We were surprised ourselves, and also overjoyed. I was deeply moved, because we are breaking the old pattern of an election by a small group that has continued for years."
The esteemed democratic advocate, Szeto Wah, commented that Leong's candidacy brought about two victories: "First, since 1997, all Chief Executives were appointed by the CCP head, and competitors are not allowed; so Leong's success is a huge break-through. Second, Donald Tsang has to make more contacts with civilians now than he did a few years ago when he took over from Tung Chee-hwa. He has to make more public comments on future administrative issues, which gives the general public more opportunities to get involved in the discussion."