Pictures of JFK, Artifacts from Death, Go on Display in DC
April 11, 2013 11:49 am Last Updated: April 11, 2013 11:51 am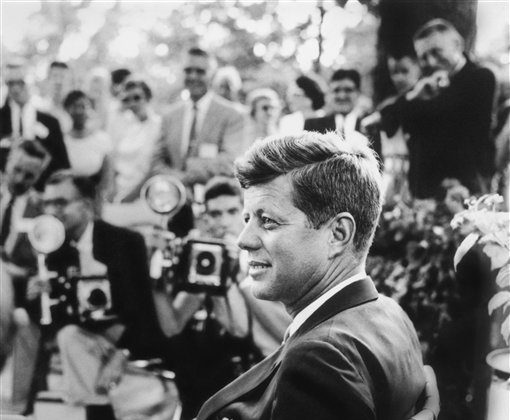 Some objects and images that have never been seen before from the minutes and hours following President John F. Kennedy's assassination are going on display in Washington.
Two exhibits open at the Newseum, a museum dedicated to journalism, on April 12. They include "Creating Camelot," which shows behind-the-scenes images of Kennedy, his wife, Jacqueline, and their two children; and "Three shots were fired," which shows the moments leading up to and after Kennedy's death.
Included in the latter exhibit are the Bell & Howell 8 mm movie camera used by the only eyewitness to capture the entire assassination on film, Abraham Zapruder. Other artifacts include the long-sleeve shirt Lee Harvey Oswald was wearing when he was arrested, and the wallet Oswald was carrying, as well as its contents.
"Creating Camelot" shows images of the Kennedy's from Jacques Lowe, the family's personal photographer, from 1958, during Kennedy's re-election campaign, through the next several years.
The photography exhibition features 70 images that were nearly lost in the 9/11 attacks. Kennedy photographer Jacques Lowe kept the negatives of more than 40,000 Kennedy photographs in a bank vault at the World Trade Center. While the negatives were lost in the attack, the Newseum worked with Lowe's estate to recover and digitally restore images from Lowe's contact sheets and prints that were kept in another New York City facility.
John F. Kennedy, or JFK, was the 35th president of the United States, and served from 1961 through 1963.
The Associated Press contributed to this report.