A 19-month-old girl who plunged some 150 feet at Royal Caribbean ship in San Juan on July 7 has been identified as Chloe Wiegand.
The Daily Mail obtained photos of the toddler after her death.
The girl is believed to have slipped from the grasp of her grandfather, Salvatore Anello, from the 11th floor of the Freedom of Seas cruise ship, which is operated by Royal Caribbean.
PICTURED: Toddler who fell 150ft to her death after slipping from grandfather's arms on 11th deck of a Royal Caribbean cruise ship https://t.co/VX1XVsGu76

— Daily Mail US (@DailyMail) July 8, 2019
Horrified passengers said that they heard a "cry of pain" from the child's mother. Police have also identified the girl's father as South Bend police officer Alan Wiegand.
"[We heard] the screams of the families because we were close," a passenger told Telemundo. "I looked because of the mother's cry. That tonality, a scream of pain of that nature, does not compare with any other scream."
Puerto Rico Port Authority spokesman Jose Carmona told CNN that the girl was placed in the window by her grandfather and fell to her death after he lost his balance.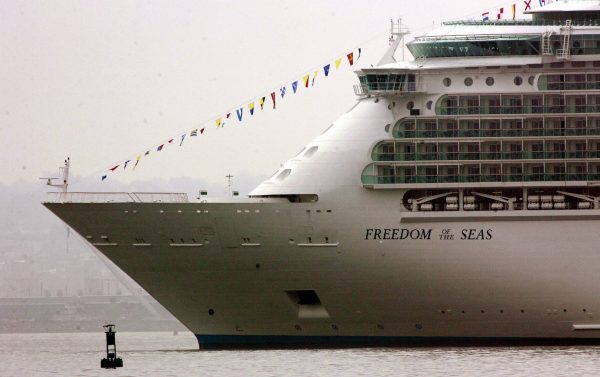 "The South Bend Police Department offers its sincerest condolences to Officer Alan Wiegand and his family during this difficult time following the tragic loss of their child while in Puerto Rico," the South Bend police department said in a statement. "The department asks the community to pray for the entire Wiegand family as they grieve and to respect their privacy."
Furthermore, South Bend Police Chief Scott Ruszkowsk told WSBT that the child wasn't being held outside the window when the girl fell, contrary to previous reports about the case.
"We are deeply saddened by yesterday's tragic incident, and our hearts go out to the family," Royal Caribbean Cruises told CNN in a statement. "We've made our Care Team available to assist the family with any resources they need. Out of respect for their privacy, we do not plan to comment further on the incident."
A spokesperson for Royal Caribbean Cruises told the Mail that it is assisting local officials in Puerto Rico.
"We do not have further information to share at this point," the firm said.
Crew Member Falls
The U.S. Coast Guard on July 8 suspended its search for a crew member on board another ship, the Carnival Victory, who fell overboard last week.
The Coast Guard suspended its search Sunday for a missing Carnival Victory crew member who reportedly went overboard July 4 about 30 miles northwest of Cuba. https://t.co/a6BD5lQlLP

— Florida Today (@Florida_Today) July 8, 2019
"We've been in contact with the crew member's family throughout our search efforts and know this is a very difficult time for them," said Michael Mullen, search and rescue mission coordinator with the Coast Guard, reported Florida Today.
Mullen added that suspending the search "is one of the most difficult decisions we have to make as first responders, and it is never made lightly."

Coast Guard officials have searched some 2,600 square nautical miles for nearly two days straight. Officials were not able to locate the crew member, who was identified as Gaffar Satwilkar by WSVN.
Satwilkar's brother, Mohammed Satwilkar, told the station: "We all are waiting for him. We want him to come back as soon as possible." He added that his brother is a father of three children.