A dog was spotted chained up and abandoned as flood waters inundated southern Texas.
Photographs taken by photographer Ruaridh Connellan for the Daily Mail show the dog chained to a pole in Victoria, Texas. The dog was rescued by the Mail photographer who brought it to safety.
As many as 50 inches of rain could fall in the area, sparking fears of a calamitous situation.
"I promise you, that I will hold anyone accountable that unlawfully restrains their dog in extreme weather conditions," Police Chief Stephen Carlisle for the town of Roman Forest said in a statement on Friday. "Dogs are your family members too."
"Please do not keep your family members tied to a rope or chain," wrote the police department in Montgomery County, Texas. "It is against the law to keep a dog on a chain during extreme weather conditions."
The National Weather Service on Sunday released a dire warning about flooding on Sunday for southern Texas.
"This event is unprecedented & all impacts are unknown & beyond anything experienced. Follow orders from officials to ensure safety. #Harvey," the National Weather Service tweeted.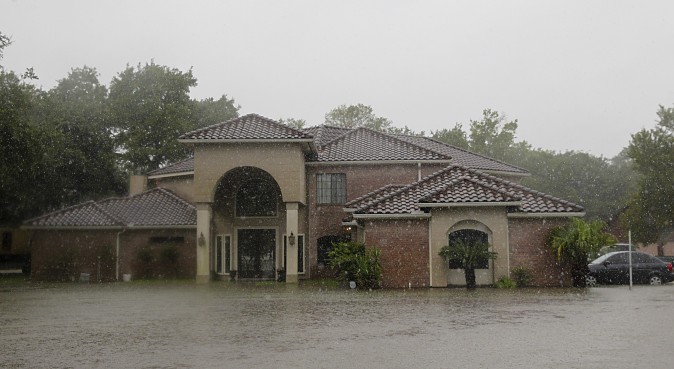 According to local media reports, at least five people have died in the disaster.
"Everything that we had hoped wouldn't happen but was forecasted is happening. We have a catastrophic, life-threatening flood event taking place over southeastern Texas, including the Houston metropolitan area. It's bad now and it's getting worse," Dennis Feltgen, a spokesman for the National Hurricane Center told The New York Times Sunday.

Meanwhile, the mayor of southern Texas city Port Aransas on Mustang Island said that residents should not return, citing widespread flooding and damage.
"We are encouraging residents not to come back," Mayor Charles Bujan told KHOU-TV on Saturday, adding that he expects "quite a bit" of damage done by Hurricane Harvey and the ensuing tropical storm.

The Pioneer Trailer Park, he said, is a "100 percent loss" as search-and-rescue crews comb the area for people. "We are in the process now of pushing down [State Highway] 361 … We had to send heavy maintenance equipment in before the police to clear the highway," Bujan said.
He told KHOU that at least eight people died around Port Aransas, but the station said that it could not verify that information.