The strongest Pacific storm of this winter season struck California on Feb. 02, pounding the state with heavy rain, driving snow, and high winds.
Thousands barricaded their homes with sandbags to keep floodwaters at bay, as flash flood warnings were issued for huge swaths of Southern California. Residents in several counties were ordered or urged to evacuate.
"She does not scare easily, but she got a little scared watching that water rise," said Warren Bowman, the son-in-law of an 86-year-old Malibu resident initially reluctant to leave her home, but later fleeing with her cat to higher ground.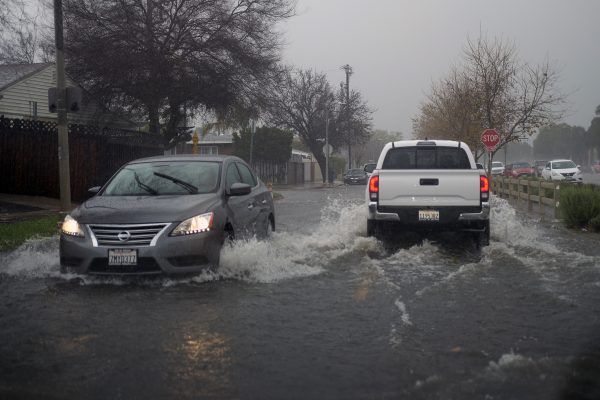 'Costly Error In Judgment'
Rescue crews scrambled Saturday to pluck motorists from cars caught in rising waters, said Mike Eliason, a spokesman for the Santa Barbara County Fire Department. He urged drivers who come upon flooded intersections to find alternate routes.
"Turn around. Driving through is going to be a costly error in judgment," he said. "It's just not worth it."
PCH just South of Yerba Buena at Ventura County Fire Station 56 – 10:30am pic.twitter.com/UQnUzIqvEP

— A. Martinez (@VCFDMartinez) February 2, 2019
A large pine tree believed to be 100-years-old fell on a Santa Barbara home, and a eucalyptus tree fell into a two-story apartment complex in the city of Goleta.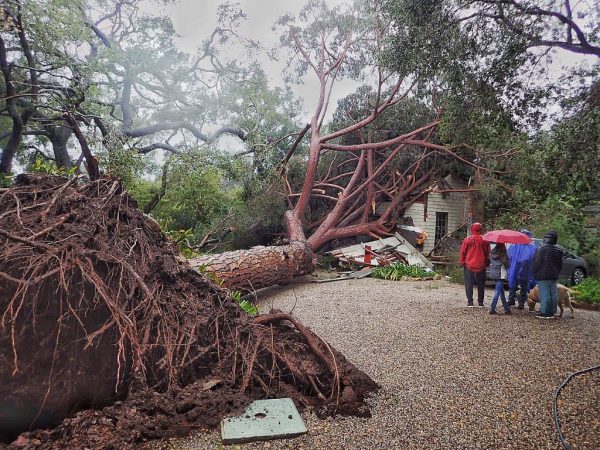 'This Is a Dangerous Situation'
Forecasters said over 4 inches of rain had fallen in parts of California, causing mudslides to carry trees and rocks into lanes, forcing road closures.
Stretches of Highway 101 in Santa Barbara County and the Pacific Coast Highway in Malibu were closed due to high water, mud, and debris over the road.
Crews worked to clear mud that was as high as 3 feet deep on some roads, according to The Los Angeles Times.
"This is a dangerous situation," the National Weather Service said, warning that the high rates of rain could send boulders sluicing down denuded hillsides along with the mud and debris.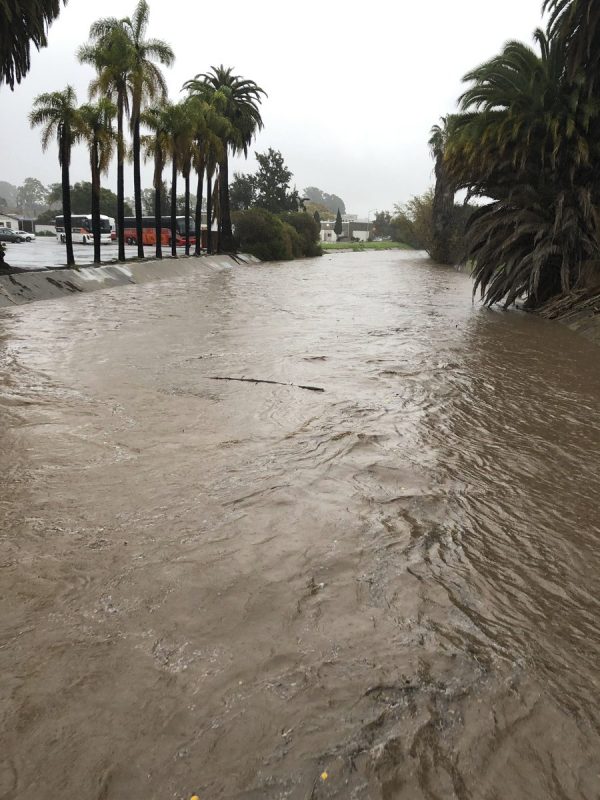 'Very Unfortunate Situation'
Multiple accidents were reported on slick roads.
A member of the Ventura County search-and-rescue team was killed and nine other people were injured in a car crash on Saturday morning near Pyramid Lake, with rain-washed making for hazardous driving conditions.
The team was at the scene of another vehicle crash on Interstate 5 when a minivan lost control on the wet roadway and plowed into members of the team, according to the Associated Press.
"This is a very unfortunate situation that could've been avoided," Los Angeles County fire Capt. Tony Imbrenda said, warning motorists to slow down in the rain.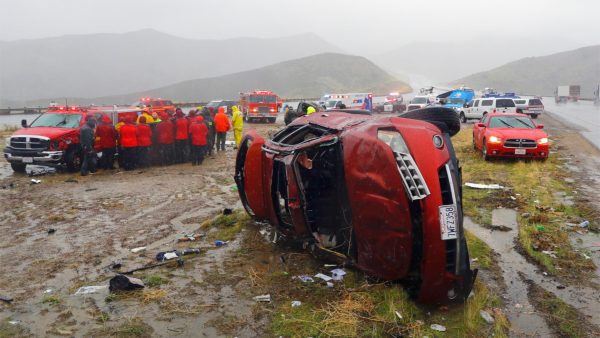 Several feet of snow fell in the mountains, where whiteout conditions closed roads and disrupted traffic.
Trees and power lines were down across the region.
Increased water flow & debris in #TrabucoCanyon now, downstream of #HolyFire burn area. Coming up on road @ocregister @OCSheriff @OCFA_PIO @KNX1070 @CBSLA @NBCLA @KTLA @ABC7 @FOXLA @KFIAM640 @KPCC pic.twitter.com/wxqFaSXzJi

— OC Public Works (@OCpublicworks) February 2, 2019
The National Park Service warned visitors to Yosemite National Park of possible road closures and advised drivers to bring tire chains in the event of snow or icy conditions.
A storm is brewing! Come prepared for winter driving and possible road closures. Drivers are strongly encouraged to carry tire chains and be ready for chain restrictions to go into effect. Stay safe!

Check road conditions at 209/372-0200 (press 1, 1).https://t.co/KJeDVpqUC4 pic.twitter.com/TS7SvEd8xt

— Yosemite National Park (@YosemiteNPS) 2 februari 2019
Winter storm warnings were in place for the Sierra Nevada along with avalanche warnings on the Nevada side of the range. The Sierra is already loaded with snow from a series of storms in January. The weather service said areas could see accumulations of up to 10 feet over the next few days.
Snow is falling once again over Donner Summit. Chain controls are up throughout the Sierra. Please drive slowly: 30 mph on I-80, 25 mph on US 50. pic.twitter.com/FySKPZe6pH

— Caltrans District 3 (@CaltransDist3) 2 februari 2019
A total of 37,934 power outages were reported in California, according to Poweroutage.us, which collects, records and aggregates live power outage data across the country.
Heavy Rains Force closure of Kanan Rd, Mulholland Highway and occasional shutdown of Las Virgenes and PCH. Rainfall in area, 1.8 inches in Malibu Hills, 2.6 in Woodland Hills, 4.8 inches above Ventura. Storm easing off. @KNX1070 pic.twitter.com/Zp7ATa3NW6

— Pete Demetriou (@knxpete) February 2, 2019
'High Risk of Flash Flooding'
"Heavy rain possible over parts of Southern California Coast," the National Weather Service said in a short-range weather forecast published on Sunday, valid through Tuesday, Feb. 05.
"Heavy snow likely over the Sierras, Northern Rockies, and the Upper Midwest," the NWS predict, adding that "rain falling on frozen ground will produce freezing rain over parts of the Upper Great Lakes."
"Temperatures will be 10 to 36 degrees below average over parts of the Northern Plains," said the NWS.
Inclement weather systems are expected to continue to produce heavy rain along the California Coast through Monday evening, NWS said.
"The heavy precipitation over Southern California will lead to a high risk of flash flooding and debris flows, particularly near burn scar areas," said NWS.
The Associated Press contributed to this report