Photojournalist Fired for 'Political Incident'
March 13, 2008 12:00 am Last Updated: March 13, 2008 12:00 am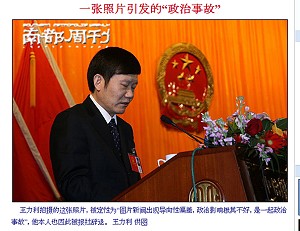 52-year-old photojournalist Wang Lili was dismissed from the Tongzhou NewsLetter 1 because he took a photo of Beijing's Tongzhou District chief that caused a "political incident."
According to a report by Southern Metropolis Weekly (SMW) on February 29, Wang took 11 photos of Tongzhou District chief Deng Naiping presenting the district's annual work report to the assembly on behalf of the district authorities on January 9.
In the photos, Deng was bending his head down to read the report. Wang picked six photos and sent them to the editor. The next day, January 10, the news of the meeting, with one of the photos, appeared in the Tongzhou NewsLetter. Two days later, Wang's mobile phone rang at around 9:00 a.m. The call was from his supervisor at the newspaper.
Wang recalled that the supervisor requested him to immediately write a self-criticism report on the photo issue and place it on the supervisor's desk that same day. Wang was also fined 500 yuan (US$70.5).
At 1:30 p.m. Wang handed in the report. At 4:00 p.m., in an all-staff meeting, the managers suddenly announced their decision to dismiss Wang.
A Tongzhou NewsLetter spokesperson explained to an SMW reporter over the phone about the political implication of the photo. He said, "The news photo was wrong in the impression of the meeting it delivered. It didn't look exciting at all. Did this photo intend to tell readers that the Tongzhou District chief was bowing his head in admitting his guilt for Tongzhou's work being done poorly last year?"
The letter of dismissal Wang received did not mention what sort of political incident the photo had caused. Wang said the district chief was angry because the photo the paper chose showed him with his head bowed and his eyes apparently closed; the overall image was not good.
One of the agency leaders said that Wang was not being attentive enough to his work when he took the photo—he was unable to capture the instant that the district chief raised his head and faced the audience during his presentation.
Three days passed between Wang taking the photo and being fired. Yet it was only three hours between Wang being informed that there was a problem and the time Wang was fired. This sudden "political incident" ruined the reputation Wang had spent his adult life amassing, leaving him suddenly needing to find a job and an income.
The day before the Chinese New Year, Wang received his last paycheck from the newspaper. Wang did not tell his daughter, a college student, of his dismissal. Wang said he would not tell his parents and daughter until he found a new job.
Note: [1] The Tongzhou NewsLetter was originally the official newspaper of the Tongzhou District Party committee. Five years ago it was converted to the community edition of the Beijing Daily Messenger. But actually the paper is still run by the publicity department of the Tongzhou District.