A photographer captured the moment a bald eagle squared off with a squirrel in Lincoln, Maine.
"I couldn't have made this up!! Gray Squirrel and Bald Eagle in a staring match… Behind the Rite-Aide Store in Downtown Lincoln, Maine!!," wrote Roger Stevens Jr.
The photo was captured on March 11, WMTW-TV reported.
It's a staring match!(Photo: Roger Stevens Jr.)
He took several other photos, including one where the eagle is trying to catch the squirrel, according to CBS.
The rodent managed to escape the eagle's claws and beak by jumping into a hole in the tree, WMTW reported.
Stevens told CBS News that he is working on a book on bald eagles, but he said he always carries a camera with him.
Over the years, Stevens has seen many squirrels and eagles together but not like this, he told CBS.
He added that the squirrel was moving in and out of the openings in the tree.
"They went out for about 10 minutes and eventually the eagle got tired of that game and flew away," Stevens said. "So the squirrel's perseverance paid off."
His photo was shared thousands of times since he uploaded them, CBS reported.
"Whether you're an artist or whatever, one picture could kind of define who you are," the photographer said of his new-found viral fame. He thinks the photos would've gone even more viral if he explained the whole story on Facebook. "That's behavior that you just don't see," he added. "It's kind of a David and Goliath."
Watch: Re-live the moment animal control officers rescued an injured bald eagle stuck on Metro tracks —> https://t.co/Xsjk6H6yLa pic.twitter.com/pBiZxZDa0J

— NBCWashington (@nbcwashington) March 13, 2019
"It's like the little guy gets the big guy," he said. "If they knew the whole story, which is that the squirrel was defending its den, it would've been even more awe-inspiring."
Stevens said he visits local schools about his findings.
"They always ask what the most dangerous animal is," he said. "I always say, 'Well, it's a mama with its baby.'"
Bald Eagle Resurgance
The resurgence of the bald eagle is one of America's greatest conservation success stories. They have come back so strong that in some areas, they are interfering with efforts to preserve more jeopardized species, such as loons and cormorants, wildlife biologists say. And their proliferation is leading to encounters at livestock farms that sometimes end badly—and illegally—for the eagles, as The Associated Press reported.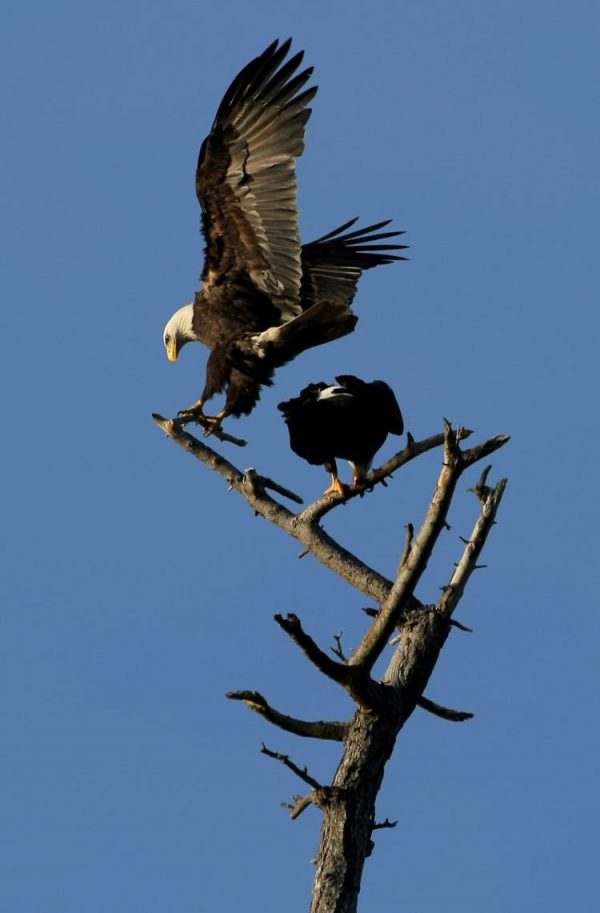 Federal protections mean farmers can do little to keep them away, said Ken Klippen, a poultry scientist and former farmer who heads the National Association of Egg Farmers.
"It's a fully protected bird. If you have foxes, coyotes, raccoons, a farmer can do something about that," he said. "But if it's a bald eagle? His hands are tied.
The Pennsylvania Game Commission investigated a case in which an eagle was shot dead in the East Penn Township area in 2015. In Steuben County, New York, a sheep farmer and two other people were accused of poisoning sheep carcasses to kill eagles that threatened lambs. And authorities investigated suspicious deaths of 18 bald eagles in Maryland and Delaware last year.
The Associated Press contributed to this report.