Trespassing on railway lines has surged after lockdown, prompting authorities to issue a warning as schools approach half term.
They aren't worried about thrill-seeking teenagers, however, but photo-hungry adults.
A CCTV image of a newlywed couple posing on the tracks at a beauty spot in Whitby, North Yorkshire, was one of several shared by Network Rail as they announced that trespassing had gone up for the first time in 3 years over the summer.
Allen Spence of Network Rail said that previous campaigns had successfully got out the message to young people to stay off the tracks, "but adults still aren't taking heed," he said. "Wedding photos or selfies on the track are just plain stupidity."
Another image shows a woman with a light reflector on the tracks between Cardiff and Swansea in what appears to be a fashion shoot.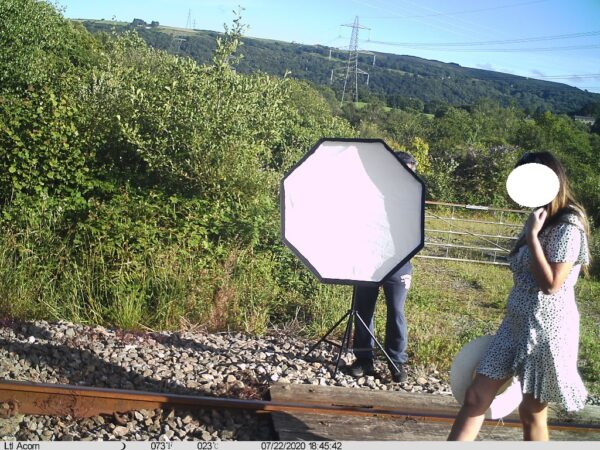 In June, "Hollyoaks" actor Ellis Hollins apologised after posting pictures of a professional photo shoot on a railway line.
Trespassing on railways had been falling off for 3 years, according to Network Rail. Over the past year trespassing by young people at high priority locations had dropped by a third.
After the lockdown was lifted, however, trespassing rose over the summer to its highest in 5 years.
In September 1,239 cases were recorded.
Another CCTV image shows what appears to be a family, led by two adults, walking down the tracks at Harlech in Wales.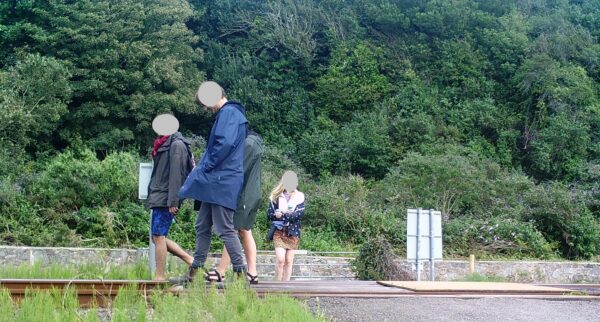 "We often warn families at this time of year as kids enjoy school half term holidays," said Spence. "But this time we are appealing to adults in particular. Please, make sure you know the rail safety basics and pass that knowledge onto your loved ones. Lead by example and stay off the tracks. No ifs, no buts—no tears."
Railway trespass is punishable by a fine of up to £1,000 or one month in prison, according to the Crown Prosecution Service.
Network Rail warned that modern trains run "almost silently" at 125 mph.
But with half of the network now electrified, being hit isn't the only risk.
"Electricity is easily the most dangerous factor in stepping on the track—it's always switched on and 9 out of 10 people die when they're struck by it."
In addition, many electric trains use a "third rail."
"The third rail is probably the hardest danger to see," according to Network Rail. "It looks just like an ordinary rail, but it carries 750 volts—easily enough to kill you."