The U.S. Customs and Border Protection shared a photo showing the moment a toddler was rescued by an agent after he was brought to the border.
A migrant with prior arrests had falsely claimed to be the boy's parent so he could attempt to gain entry to the United States, but he was foiled by a DNA test, officials said.
The photo of a Border Patrol agent holding the boy was posted on the agency's Instagram this week, showing the boy with his face blurred. It was captured at a processing facility in Donna, Texas.
Agents encountered a group of 12 migrants that was comprised of several families and some unaccompanied minors.
Border Patrol agents stated there was "an individual traveling with his alleged son" who had two prior immigration-related arrests in the El Paso area in the past month.
"Given the recent apprehensions and the age of the child, Agents requested the assistance of HSI to administer a rapid DNA test," the agency wrote.

The test showed there was no "parent-child relationship," it added. "The man admitted he was not the child's father, but knew the mother and had permission to the take the child. The man admitted that it is common knowledge in Honduras that if you bring a child, you will be released."
The Trump administration and Republican lawmakers have recently been trying to bring attention to the practice of child trafficking and "recycling" that take advantage of restrictions that limit how long families can be held in detention centers.
"Unfortunately we see that all too often now … adults that are bringing children with them that are not their own to try and take advantage of what they perceive as a loophole in our law that would allow them to be released into the United States," Acting DHS Secretary Kevin McAleenan told the House Oversight Committee last month, Fox News reported.
GOP Pushing Bill
Republicans on the Senate Judiciary Committee upended the rules on Aug. 1 for immigration legislation that would extend family detentions as chairman Lindsey Graham muscled the measure forward over the objections of Democrats.
It's one last battle, led by a top ally of President Donald Trump, before senators break for a long August recess and the start of 2020 campaigning with immigration at the forefront of the debate.
Graham gaveled open the hearing saying he wasn't going to wait any longer to address the crisis at the southern border. He acknowledged that his outreach to Democrats has failed to reach a compromise on detention policies for children and families.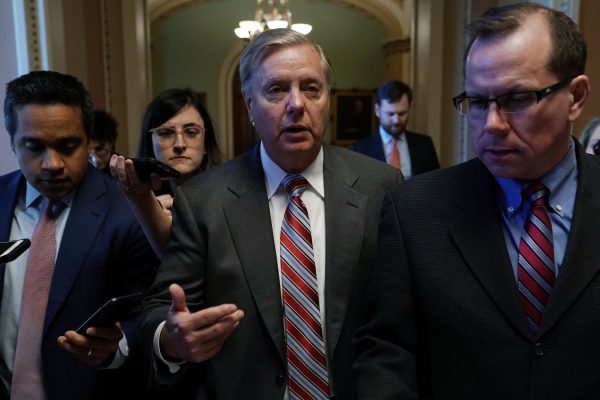 In pushing the bill forward, the chairman skirted committee rules allowing for amendments and requiring minority participation in certain actions, including to end debate.
"What am I supposed to do?" asked the South Carolina Republican. "We have a right to vote."
The Associated Press contributed to this report.