A Phoenix father has been sentenced to 27 years behind bars in the death of his infant daughter.
Jose Orellana-Ruiz, 30, was sentenced on Thursday, July 18, after earlier pleading guilty to second-degree murder.
Prosecutors said the mother of 3-month-old Adrianna Gutierrez brought her to visit Ruiz's home at his suggestion in February 2017. She was left overnight and was later found unresponsive.
The child was taken to a hospital where three days later she died from brain injuries.
Phoenix police were cited by AZ Family as saying that the infant had been badly beaten and thrown against a headboard.
Police said Ruiz initially lied about what happened, but later admitted that he was upset the baby would not stop crying. He allegedly threw a full bottle of formula at the baby's face, shook her, then threw the child against a wooden headboard.
"Adrianna Gutierrez deserved more from the man who was her father," Maricopa County Attorney Bill Montgomery said, according to YourValley. "Instead of the love, encouragement, and support she should have received over the course of her life, her life was senselessly ended."
Guitierrez received a flat sentence, meaning he must serve the entire term.
"While 27 years cannot restore Adrianna's life," Montgomery said, "it is a clear demonstration that the defendant has a price to pay."
AZ Family posted the story on its Facebook page, sparking numerous comments.
"My heart breaks for this precious baby girl who didn't have a chance to live," one person commented.
"I feel that it is wrong that someone could take someone's life intentionally by abuse and plead out to less than life," another commenter wrote.
A GoFundMe page that was set up in 2017 in the baby's name said, "this defenseless soul, at the mere age of almost four months, faced unfathomable actions against her."
"An indispensable amount of gratitude is extended to the doctors, nurses, and first responders who did everything possible in their attempt to save this little angel's life and for the comfort they provided her and the family from the moment Baby Adrianna walked into their lives to the time of her passing," the note on the campaign page reads. "The family is also immensely appreciative to the investigators of baby Adrianna's death as they continue their pursuit of justice for this beautiful angel."
Facts About Crime in the United States
Violent crime in the United States has fallen sharply over the past 25 years, according to both the FBI's Uniform Crime Reports (UCR) and the Bureau of Justice Statistics (BJS) National Crime Victimization Survey (NCVS) (pdf).
The rate of violent crimes fell by 49 percent between 1993 and 2017, according to the FBI's UCR, which only reflects crimes reported to the police.
The violent crime rate dropped by 74 percent between 1993 and 2017, according to the BJS's NCVS, which takes into account both crimes that have been reported to the police and those that have not.
The FBI recently released preliminary data for 2018. According to the Preliminary Semiannual Uniform Crime Report, January to June 2018, violent crime rates in the United States dropped by 4.3 percent compared to the same six-month period in 2017.
While the overall rate of violent crime has seen a steady downward drop since its peak in the 1990s, there have been several upticks that bucked the trend.
Between 2014 and 2016, the murder rate increased by more than 20 percent, to 5.4 per 100,000 residents, from 4.4, according to an Epoch Times analysis of FBI data. The last two-year period that the rate soared so quickly was between 1966 and 1968.
Mortality Figures in the United States
According to 2017 data from the CDC, the 10 leading causes of death in the United States were: heart disease, cancer, unintentional injuries, chronic lower respiratory diseases, stroke, Alzheimer disease, diabetes, influenza and pneumonia, kidney disease, and suicide.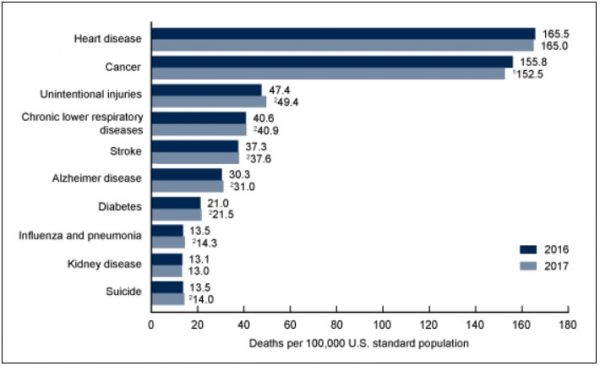 These further break down as follows: the most common are unintentional poisoning deaths (58,335), followed by motor vehicle traffic deaths (40,327), and unintentional fall deaths in third place (34,673).
The total number of emergency department visits for unintentional injuries in the United States in 2017 was 29.2 million, according to the CDC.
The 10 leading causes accounted for 74 percent of all deaths in the United States in 2017.
The Associated Press contributed to this report.