The president of the Philippines has ruled out the prospect of rejoining the International Criminal Court (ICC) amid the court's request to resume its investigation of the previous administration's war against illegal drugs.
President Ferdinand Marcos Jr., who took office on June 30, said the decision was made after consulting with his legal team on the ICC's investigation of then-President Rodrigo Duterte's anti-drug campaign.
"What we are saying is it is already being investigated here, and it's ongoing, so why would there be a need for it?" the president said, according to a state-run news agency.
Marcos said the government is still deciding how to respond to the ICC prosecutor's request to reopen investigations into suspected rights abuses during Duterte's drug war.
"If we do respond, what will be the response, or possibly we just ignore them because we are no longer part of the ICC," he said. "The Philippines has no intention of rejoining the ICC."
The Philippines officially withdrew from the ICC on March 17, 2019, after the then-ICC chief prosecutor Fatou Bensouda began preliminary investigations into Duterte's drug war for suspected human rights abuses.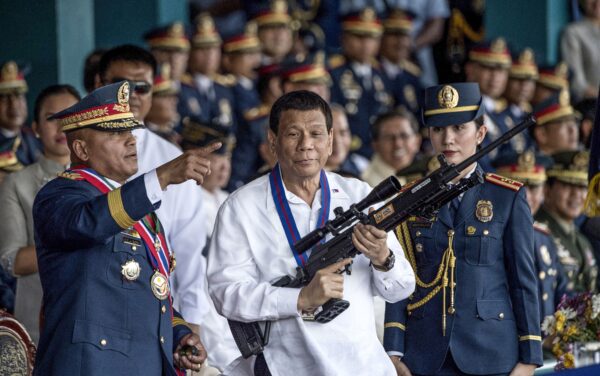 Despite the country's withdrawal, ICC prosecutor Karim Khan said in a statement last year that the ICC "retains jurisdiction" over alleged crimes that occurred while the Philippines was a party to the court from Nov. 1, 2011, to March 16, 2019.
No Action From Government: ICC
Khan has urged the reopening of investigations into the case, citing the Philippine government's failure to offer any documentation that the investigations were ongoing or complete, as well as information regarding concrete investigations or prosecution actions.
"Under the Rome Statute's core principle of complementarity, states always have the first opportunity to investigate allegations of such crimes committed on their territory or by their nationals," he said.
"However, when national authorities fail to act, the court must step in, and that is why I have filed today's application."
The ICC probe was suspended in November 2021 after the Philippine government requested a deferral and pledged to investigate the alleged abuses.
Duterte was elected in 2016 on a promise to eradicate illegal drugs in the Philippines. According to Human Rights Watch (HRW), the anti-drug campaign resulted in the deaths of more than 12,000 Filipinos, with the Philippine National Police being responsible for 2,555 of these deaths.
HRW detailed in its 2017 report instances of the Philippine police "falsifying evidence to justify unlawful killings" and claimed that most victims in drug-related killings were poor people and suspected drug users rather than dealers.