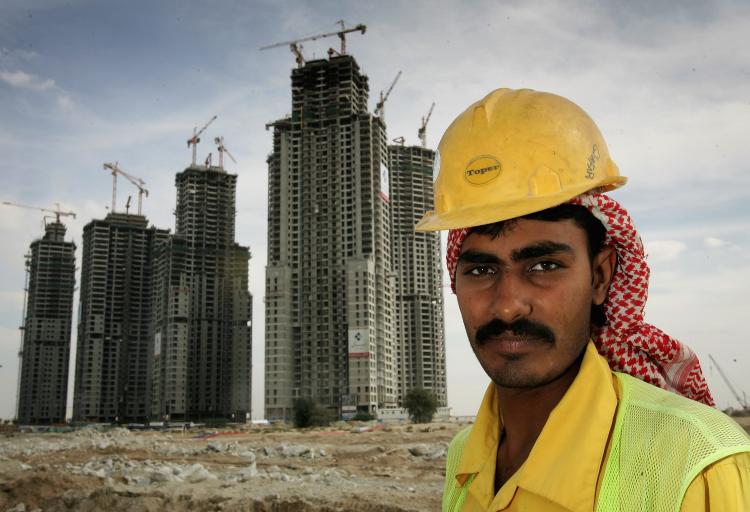 DUBAI, United Arab Emirates—Tina Yorobe sends two thirds of her salary back to the Philippines every month to support her husband and two children.
In order to do so, she saves on rent by living in a cramped bedroom with six other Filipinas in a rundown area of Dubai. There are almost 30 people living in the five-bedroom villa.
"I have to send as much money home as I can, because I need to ensure that my children can eat and get an education," she said.
"I have to work abroad. Even if my husband and I both work full time in the Philippines there will still not be enough money to feed us all."
Ten million of the country's population of 92 million live and work outside the country. They send home, on average, at least $1 billion a month in remittances.
However, unions in the Philippines are expecting the level of remittances coming from Dubai to drop by US$300 million—roughly one half of the total currently being sent from the Middle Eastern emirate.
The prediction, by the Trade Union Congress of the Philippines (TUCP) came after state-owned conglomerate Dubai World called for a postponement of its $59 billion worth of debt.
"Dubai's state-owned companies, the biggest employers there, will surely be forced to restructure, mainly through job cuts," said TUCP Secretary General Ernesto Herrera in comments published by The Philippine Star.
There are approximately 350,000 Filipino workers in the UAE, of which about 250,000 are in Dubai.
Herrera told the newspaper that the country's nationals working in the construction, real estate, financial services, retail, trade, and tourism industries could be hit by future job losses.
The United Arab Emirates is the country's second biggest source of remittances from the Middle East, after Saudi Arabia.
Annual remittances from the UAE are estimated to be around $632 million, accounting for almost 25 per cent of all remittances from Filipino workers in the Middle East.
Herrera said Filipino workers in the UAE sent home a total of $471.4 million from January to September 2009, down by less than 1 percent from the $474.2 million they remitted in the same period in 2008.
He called on the Philippines government to find alternative domestic employment for the workers that would inevitably be displaced by the debt crisis, rather than merely providing emergency help.