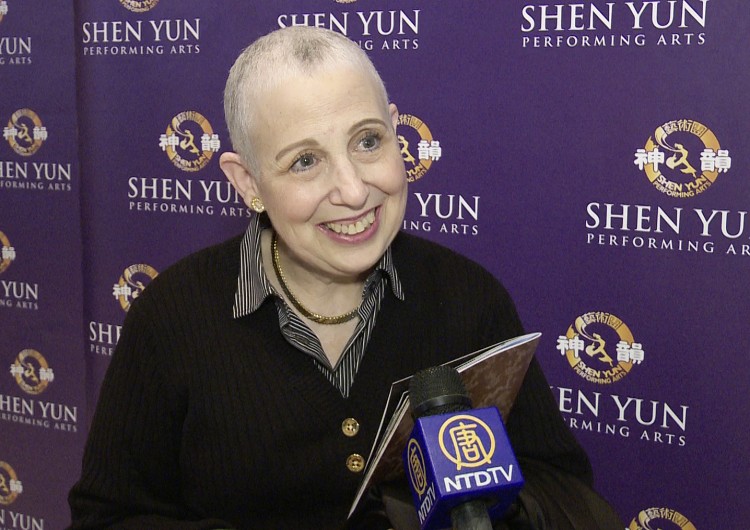 NEW YORK—After Shen Yun Performing Arts graced the stage at Lincoln Center's David H. Koch Theater on Saturday afternoon, April 21, the audience response was overwhelmingly positive.
"I absolutely loved it," said philanthropist Jill Handelsman. "It is visually beautiful."
New York-based Shen Yun travels around the globe reviving the 5,000-year-old, divinely inspired Chinese culture, according to the company's website. This profoundly rich culture and its values—such as benevolence, wisdom, and honor, as well as a reverence for the gods and the heavens—were nearly decimated by more than 60 years of communist rule.
Mrs. Handelsman is very involved with Broadway and Lincoln Center, making her praise of Shen Yun even more notable. "It is delightful," she said. "It is pure relaxation and absolutely breathtaking."
At the heart of Shen Yun's performance is classical Chinese dance, one of the most comprehensive and expressive dance systems in the world. Accompanying the dancers, who are adorned in colorful, handmade costumes, are digital backdrops and an orchestra that melds both Western and Chinese instruments.
The dance Lotus Leaves left a big impression on Mrs. Handelsman. In the dance, lotus maidens dance atop waters, with "unique full-circle fans sway[ing] like lily pads in the wind, evoking scenes of a flowering lotus garden in the summertime," describes Shen Yun's program.
"I loved the Lotus dance," she said. "I loved every one of them, but I especially loved the way they did lotus and the background scenery."
The digital backdrops "transport the audience to another world. Projected behind the dancers, the hi-tech images lift the stage and set it amidst blossoming landscapes, deep forests, Mongolian prairies, or celestial paradises," says Shen Yun's website.
The performance absolutely bridges East and West, said Mrs. Handelsman, and is "very different from anything I have seen."
She said everyone should see Shen Yun.
"I think everybody, if they can, should see this," she said. "It is just something very special."
Reporting by NTD Television and Zachary Stieber.
Shen Yun Performing Arts, based in New York, tours the world on a mission to revive traditional Chinese culture. Shen Yun Performing Arts Touring Company will perform at the David H. Koch Theater at Lincoln Center through April 22. 
For more information, visit ShenYunPerformingArts.org.