PHILADELPHIA—There is hardly a more patriotic place to celebrate Independence Day than Philadelphia, the birthplace of the Declaration of Independence and the U.S. Constitution. On July 4, Philadelphia turned out to celebrate freedom and honor the history of the nation.
Wawa Welcome America festivities in Philadelphia spanned 16 days, including free museum attendance, hoagie giveaways from Wawa, concerts, a fireworks finale over the Philadelphia Museum of Art, and more—all free to the public.
"Welcome America is just a great time for free family fun. People come together and share the excitement," Laurie Bruce, Public Relations Manager of Wawa, the event sponsor, told The Epoch Times, "It's about keeping people connected, and it just means a lot to be able to do that."
Philadelphia's premier celebration of July 4 started at Independence Hall with a patriotic ceremony celebrating the 246th anniversary of the Declaration of Independence. It included singing by Miss America Emma Broyles, Black Pearl Chamber Orchestra performances, and a reading of the Declaration of Independence.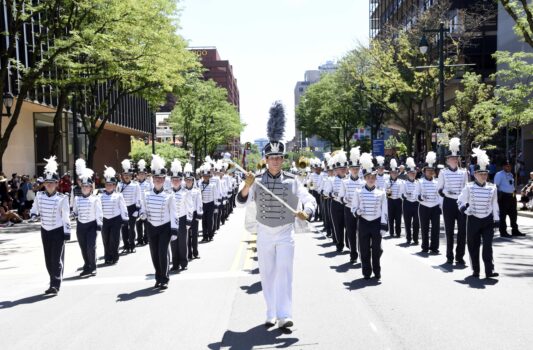 "We're all aware of how much the world has changed over the last 250 years and just how tough the last couple of years have been for us," said State Park Superintendent Cindy MacLeod in her Celebration of Freedom speech. "The need for understanding our history has never, never been greater. The need for participating in our democracy has never been greater."
"We're happy, and everybody is getting together to celebrate," Jim Kenney, the mayor of Philadelphia, told The Epoch Times, "If you see what's going on in the country today, we're so divided. And we need to come back together and kind of rethink what we're all about."
After being put on hold since 2020 due to COVID-19, Salute to America Independence Day Parade returned this year with Miss America 2022, Emma Broyles, as the grand marshal. People enjoyed lavish floats, United States military units, marching bands, cultural groups, dance performances, historical characters, and much more.
Freedom Is Not Free
People like Sergiy Kyslytsya, Ukraine's ambassador to the United Nations, know how precious freedom is. He felt "exceptionally humbling" to be in Philadelphia, the birthplace of America, "at the very moment that when Ukraine fights for his freedom and independence, and when we have many people killed for the freedom."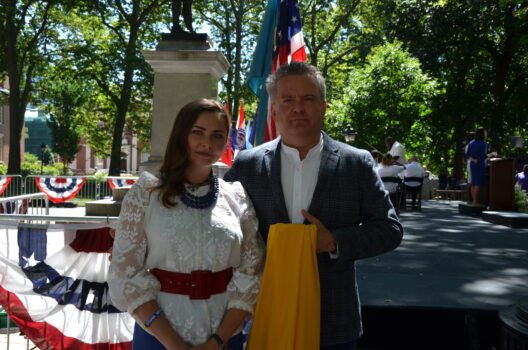 He told The Epoch Times: "It's my honor today to read the parts of the Declaration of Independence in front of the free citizens of Philadelphia" during the ceremony, along with Iryna Mazur, honorary consul of Ukraine in Philadelphia.
"The United States has a very long, comparative long history of fighting for freedom, and offering the protection to all people who are persecuted in their countries, and becoming the second home to them," said Kyslytsya, "And the very text of the Declaration of Independence is a testimony to the founding principles of this country."
"July 4, it's about the Declaration of Independence," Kyslytsya continued, "I think that every American, every people, every person who lives in this country, should read at least once the Declaration of Independence before he or she goes to see the fireworks."
Kyslytsya's appreciation of freedom resonated with Mazur.
"Ukraine and Ukrainian people are a live example right now that freedom is not free," Mazur told The Epoch Times. She said what Ukrainians are doing today is what the Americans did almost 250 years ago when they fought for their independence and freedom. "America is known for defending the principles of democracy and freedom since its creation."
Mazur said to people in authoritarian countries like China and Russia: "Do not lose your chance to be free. This is your chance to take things into your hands and to show the world that you can be people of freedom."
Both Kyslytsya and Mazur expressed great gratitude to America. "Thank you so much for your support, for your generosity, for your compassion, and for believing in Ukraine!" said Mazur.
American Flag Unites Us
The winner of the 2022 Celebrate Freedom Award with a $10,000 grant is Dr. Matthew Burke, the founder and executive director of "10 CAN, Inc." or the Christian Adventure Network. It is a nonprofit charitable organization focusing on "saving heroes, raising the next generation of warriors, and restoring families through the great outdoors," according to its website.
"My children see me as a hero, but I am no hero. I am just a humble servant of God and an American patriot. I'm passionate about helping others, reuniting our country, and getting kids into the outdoors," Burke told the crowd after accepting his award at the ceremony.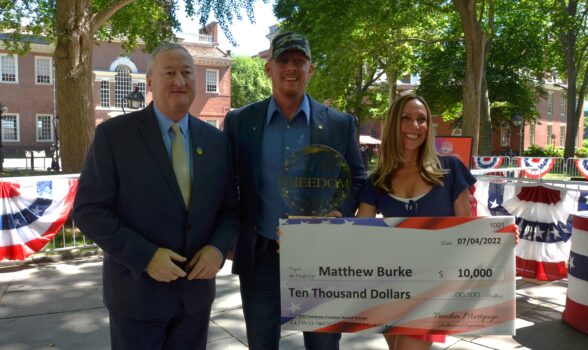 As a veteran and an American patriot, Burke believes that this nation could not have come this far as a free country without the sacrifice of many patriots.
"Patriotism was what unites us as a common cause," Burke told The Epoch Times while holding a small American flag, "This is what unites us, the colors, the stars, and stripes. And without this, we're all individuals. And this is what keeps us going. This is what unites us and makes us strong as a nation."
Celebrating Independence Day and receiving the award made Burke feel "happy, honored, sad, all at the same time," he said. "The reason is the hate and division attempting to divide our country. And the solids of the majority do nothing. Then the loud minority, the people who are trying to destroy our country, they win, and we have to stand up, and we have to fight for our independence, and we have to fight for justice, equality, and diversity."
"We need to focus on what we have a commonality and instead of our differences," Burke believes.