Ph. D. from Chinese Academy of Science Expresses Support for Gao Zhisheng
December 20, 2005 12:00 am Last Updated: December 20, 2005 12:00 am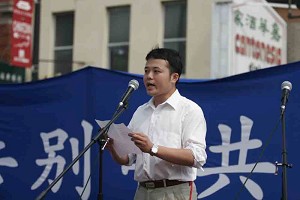 Since November 29, 2005, attorney Gao Zhisheng has succeeded in eluding no less than 20 plainclothes policemen who were following and blocking him. Together with the former Beijing University professor Jiao Guobiao, they made their way through Jinan City in Shangdong Province, Dalian City and Fuxin City in Liaoning Province, Changchun City in Jilin Province as well as other places, and carried out 15 days of investigation to learn the truth about the persecution of Falun Gong practitioners by the Chinese Communist Party (CCP).
On December 12, 2005, Gao Zhisheng publicly submitted his third written statement to the communist party authority. He began, "At this very moment, with my quivering heart, and notes I'm describing the frigid circumstances of those people persecuted for six years, …"
Attorney Gao's heart was shaken, tears dripped from his eyes. More than a dozen days of investigation let him reconfirm the truth that pained his heart yet again. After reading attorney Gao's open letter, my heart was bleeding. The things attorney Gao witnessed is exactly what I've personally experienced for nearly six years in mainland China since July 20, 1999.
Because I practiced Falun Gong, I've been illegally kidnapped not less than five or six times by the CCP. The longest stretch was three years of imprisonment. In March 2001 I was brought to the First Detention Center in Beijing. I hardly slept for several weeks. The police and prisoners plagued my life out. I experienced the punishment of "tearing limb from limb by five horses" while there. Many inmates held me on the floor and a few others held my four limbs. One death row inmate used his leg irons to wrap around my neck. Then everybody simultaneously pulled my limbs in different directions. They held them until I almost fell senseless. I also suffered from their "unlocking" punishment. (Two fingers of the victim are tightly held, a toothbrush is forced between the fingers and then forcefully turned). I was forced to lick the manure pit, which I refused to do. As a result, I was beaten black and blue. Being stripped of all clothing and searched became daily routine.
The Beijing National Defence Corps chief warned me: "Your background makes you a prime candidate for reform! If your family had a history of going against the party, then we would then give you some consolidation. But your family is within the circle of the CCP and it has never been lenient in its life, so it will firmly and ruthlessly attack you. You are the kind of people we mess with!!!"
My grandfather joined the old red army of the CCP along with the late CCP marshal He Long and one of the CCP statesmen Ren Bishi. He would never had thought that his own grandson would be tortured in jail for several years because of his belief, and in the end forced to leave the country he so ardently loved.
The police investigators of my case were itching for a killing, "Who cares about the Chinese Academy of Science? Who cares about the whatever university? The power of the CCP was exchanged for the lives of 20 million people. Who cares if we kill a hundred scientists like you. We are only responsible to Jiang's campaign. The reputations of those men (Jiang Zemin, Luo Gan and etc) are most important…"
In March 2004 I finished my sentence and was released. After I went back home, I continued to be strictly supervised by the Hunan provincial 610 Office. I had neither freedom nor a job (I needed "proof of transformation" from the 610 Office if I wanted to work again). Under these conditions, the Hunan provincial 610 Office and Hunan provincial high school worker committee 610 Office tried again and again to send me to the Changsha brainwashing center to reform me. They even charged me a monthly "study fee" of 9,800 yuan (approximately US$1,214). Forced to a point with nowhere to go, I had to run away from home. While keeping my whereabouts secret, even from my friends and family, I went through many troubles to finally get to the United States.
In his declaration of withdrawal from the CCP Gao Zhisheng said, "…these dozen days have ended! However, I have lost hope in the Chinese Communist Party. The almighty CCP! It used the most savage, the most immoral and illegal means to torture our mothers, torture our wives, our brothers and sisters. The work and responsibility of being amongst its members elevated its political level, but it has endlessly fried and boiled our people's conscience, integrity and compassion!"
I also want to say to those who are still following the CCP's lead and have vested interest in it, to look at our family background with the CCP and the persecution that was done to us. Do you not want to make an escape as soon as possible? The CCP's is a political party that has never stopped killing people. It is bad to the core! Rotten to the core!! It's evil to the core!!! Maybe one day it will point its butcher's knife at you and your friends and relatives.
Attorney Gao Zhisheng is the backbone of the people, a hero of the age. Let all those with a social conscience, use the power of righteousness to unite and support attorney Gao and break away from the CCP as soon as possible. The CCP's evils are too numerous to mention. If it does not perish, the country will never have peace. Righteousness will conquer evil for sure and the CCP will be defeated! Just like attorney Gao said, "Today if I lose, there will no one who will believe in justice! Therefore, those who value justice will not just stand by and watch! We must fight shoulder to shoulder under Heaven!"
Read more about Gao Zisheng:
International Advocates for Justice Issue Support for Gao Zhisheng
They Say I'm a Fake—They Are Just Afraid
Gao Zhisheng's Law Firm Faces Permanent Closure
Why One of China's Top Attorneys Broke with the Communist Party
Gao Zhisheng Sends Another Open Letter Protesting Unjust Treatment
"My Only Regret Is I Did Too Little Too Late"
A Lawyer Struggles for Human Rights – Even His Own
Persecution against Falun Gong Must End, Says Lawyer