Pfizer's COVID-19 vaccine was not effective in preventing infection among children aged 5 to 11, according to a new study.
Researchers in New York also found indications that the vaccine effectiveness against severe disease plummeted.
The researchers, with the New York State Department of Health and the University at Albany School of Public Health, examined outcomes among children using three state databases, including two systems that collect vaccination data. They assessed two outcomes: COVID-19 cases and COVID-19 hospital admissions, regardless of whether the patients were admitted for other reasons.
Crunching the data, the researchers found Pfizer's vaccine dropped from 68 percent in mid-December 2021 to just 12 percent in the last full week in January.
The data also suggested the protection against severe disease plummeted, from 100 percent in mid-December to 48 percent in late January.
"In the Omicron era, the effectiveness against cases of BNT162b2 declined rapidly for children, particularly those 5-11 years," researchers wrote, referring to the Omicron variant of the CCP (Chinese Communist Party) virus which causes COVID-19.
Omicron became the dominant virus strain in the United States late last year.
Dr. Mary Bassett, New York's health commissioner, said in a statement that the findings "are not surprising as the vaccine was developed in response to an earlier COVID-19 variant and reduced effectiveness of 2 doses against the Omicron variant has been seen to some degree with all vaccines and ages."
BNT162b2 is the trade name for the vaccine Pfizer created with BioNTech.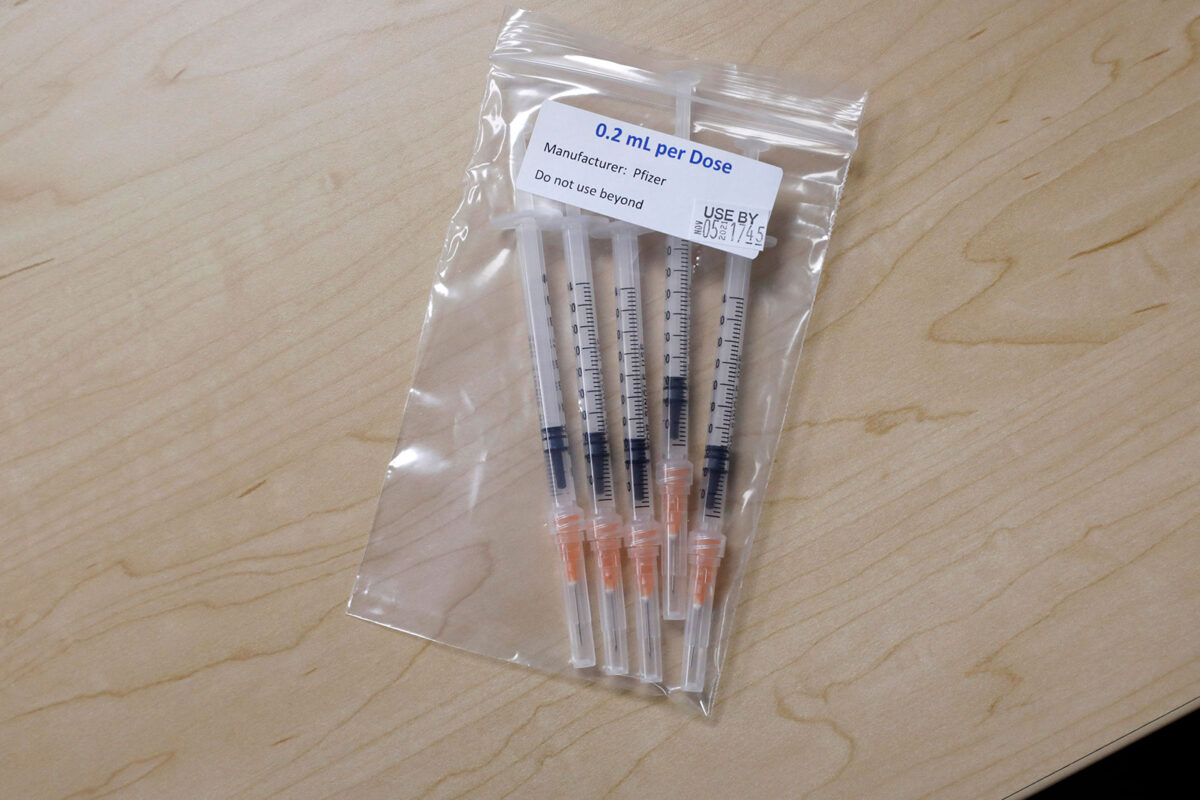 "Should such findings be replicated in other settings, review of the dosing schedule for children 5-11 years appears prudent," researchers wrote. "Given rapid loss of protection against infections, these results highlight the continued importance of layered protections, including mask wearing, for children to prevent infection and transmission."
Pfizer's COVID-19 vaccine gained emergency use authorization for 5- to 11-year-olds in October 2021, and was recommended by the Centers for Disease Control and Prevention for virtually every child in the age group despite the population facing little risk from COVID-19.
U.S. regulators relied on a technique called immunobridging, which compared the immune responses for children 5 to 11 with the responses seen in those aged 16 to 25. Pfizer said data from its clinical trials showed the vaccine was 91 percent effective at preventing infection in those 5 to 11 and that no serious safety concerns were identified.
The Food and Drug Administration's (FDA) vaccine advisory panel voted to endorse the vaccine for the population, although one member abstained because he didn't feel the efficacy and safety data were adequate.
Pfizer's COVID-19 vaccine is the only one authorized for children under 18 in the United States.
The dosage for 5- to 11-year-olds is one-third of that of those 12 and older.
Pfizer told news outlets in a statement that it is "confident in the protection and safety of our COVID-19 vaccine." Pfizer is analyzing the impact of three doses of its vaccine in children from 6 months of age to 4 years after the two-dose regimen didn't trigger an adequate immune response in some in that group.
Effectiveness against infections among 12- to 17-year-olds also plummeted, but protection against hospitalization remained at 73 percent as of the last full week in January, the New York researchers found. They said the difference may be the higher dosing level in the older group.
The study was published before peer review.
Because of the small number of hospitalizations among children aged 5 to 11, researchers reported broad confidence intervals, and they didn't include some forms of testing, including at-home tests, causing some to question the study.
"Small numbers, large confidence intervals, I think a selection bias associated with who gets tested at the Central Lab and who doesn't, I think makes this study not something one should count on," Dr. Paul Offit, professor of pediatrics at Children's Hospital of Philadelphia and a member of the FDA panel, told The Epoch Times. "I don't think much of this study."
Both Offit and the researchers still recommend vaccination for young children.