Australians aged between 12 to 15 have been approved to receive the Pfizer vaccine from next month, according to the nation's immunisation advisory body.
Bookings for adolescents in that age group will be open from Sept. 13 onwards after the Australian Technical Advisory Group on Immunisation (ATAGI) approved its use.
"There is high level evidence indicating strong immunogenicity and vaccine efficacy against symptomatic COVID-19 in adolescents from clinical trials of Comirnaty (Pfizer) and Spikevax (Moderna)," ATAGI said in a statement, noting that Spikevax is being considered for approval next month.
Australian Prime Minister Scott Morrison noted that rolling out the vaccine to that age group would speed up the current drive to get most of the population vaccinated.
"There's 1.2 million (12 to 15-year-olds) across Australia, and you can see that when we can get 1.8 million doses done in just a week, then the task of ensuring that we can also, in parallel, vaccinate 1.2 million 12 to 15-year-olds and achieve the levels that we would need to achieve there, is a task that is certainly well within the capability of the vaccination program," he told reporters on Thursday.
The prime minister also envisaged the GP network being a facilitator for child vaccination. "That provides the opportunity for family vaccinations, for the family to get together across those age groups," he said.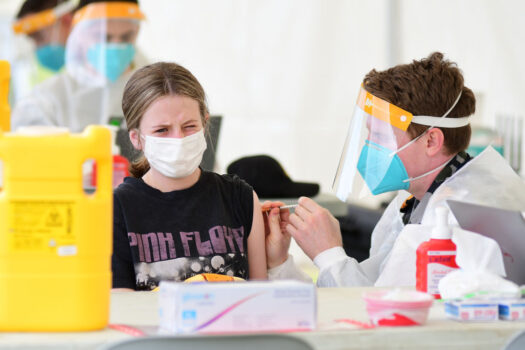 Pfizer vaccines will also be available through pharmacists, vaccination centres, and state-run vaccine hubs.
Australian Chief Medical Officer Paul Kelly said more children were being infected in 2021, partly because more adults were vaccinated.
"While the numbers are there and we are finding cases in children, most are in family clusters, some have been related to school clusters," he said. "But almost entirely, the disease in children is much less severe than it is in adults."
About 260,000 children with weak immune systems, disabilities, underlying health conditions, or were Indigenous, were already eligible for vaccinations.
Australian leaders have pinned their hopes on vaccination targets to ease the country out of constant lockdowns and public health-related restrictions.
In late July, the National Cabinet—an intergovernmental body involving the prime minister and state and territory leaders—agreed on a four-stage vaccination roadmap.
At the 70 percent vaccination mark, Phase B will be triggered, where stay-at-home orders and restrictions are still possible but will be unlikely.
Upon reaching the 80 percent vaccination target, Phase C is triggered, and the country will begin reopening international borders. Lockdowns however will need to be "highly targeted" while vaccinated residents will be exempt from domestic restrictions.
Meanwhile, the state of New South Wales (NSW) on Thursday announced some basic "freedoms" would be offered to fully vaccinated Australians, after 6 million jabs were administered in the state.
From Sept. 13, vaccinated residents of the country's most populous state will be allowed an extra hour of "recreation" time outdoors on top of the one hour of exercise already allowed.
The move received a mixed response from prominent Australian epidemiologists.
"I think Gladys politically backed herself into a corner, because she had promised basically to do something at six million," Professor Nancy Baxter, head of the University of Melbourne's School of Population and Global Health said.
"I think it is very it is odd to relax restrictions when clearly the outbreak continues to grow," she told The Guardian.