Pfizer's vaccine is 94 percent effective in preventing asymptomatic transmission of the virus that causes COVID-19, according to data from Israel.
The vaccine, co-produced with BioNTech, was also at least 97 percent effective in preventing symptomatic disease, severe-critical disease, and death, the companies and the Israel Ministry of Health said.
The figures stem from an analysis of surveillance data collected between Jan. 17 and March 6, when the vaccine was the only one available in the country. Outcomes were measured from two weeks after the second dose. Authorities recommend getting two doses of the vaccine several weeks apart.
"Incidence rates in the fully vaccinated population have massively dropped compared to the unvaccinated population, showing a marked decline in hospitalized cases due to COVID-19," Yeheskel Levy, Israel's health director, said in a statement.
"This clearly demonstrates the power of the COVID-19 vaccine to fight this virus and encourages us to continue even more intensively with our vaccination campaign. We aim to achieve even higher uptake in people of all ages, which gives us hope of regaining normal economic and social function in the not so distant future."
The data is encouraging and confirms "the high efficacy demonstrated in our Phase 3 clinical trial," said Luis Jodar, Pfizer's senior vice president for vaccines.
"The findings which suggest that the vaccine may also provide protection against asymptomatic SARS-CoV-2 infections are particularly meaningful as we look to disrupt the spread of the virus around the globe."
COVID-19 is the disease caused by the CCP (Chinese Communist Party) virus. Another name for the CCP virus is SARS-CoV-2.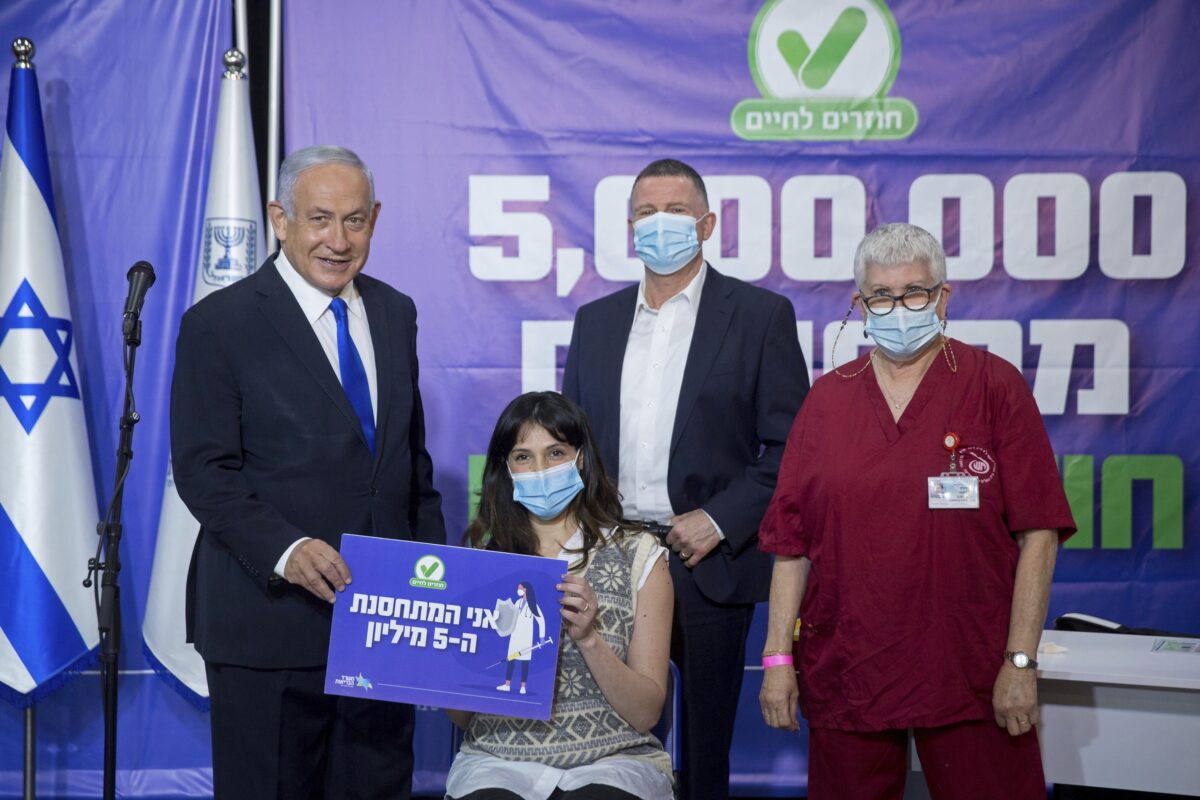 The time period in which the data were analyzed is when the B.1.1.7 virus variant was the dominant strain in Israel. The findings indicate the vaccine is effective against that variant, BioNTech cofounder Ugur Sahin said.
Officials plan to present the findings to a peer-reviewed journal.
Israel authorized emergency use for the Pfizer vaccine on Dec. 6, 2020. The country's health ministry began a campaign aimed at vaccinating all individuals 16 years of age or older, or 6.4 million people.
As of March 10, around 55 percent of Israel's 9 million population had been given at least one dose of the Pfizer/BioNTech COVID-19 vaccine, according to Health Ministry data cited by Reuters. Approximately 43 percent of the population has received both doses.
The announcement came after Pfizer CEO Albert Bourla canceled a trip to Israel; the cancellation followed a watchdog group's warning that his visit could influence the upcoming election, Israeli news outlets reported. The country's attorney general also advised against the trip.
Bourla said he received letters from officials recommending he cancel the trip.
"My job is not to do politics," he told Channel 12.
A Pfizer spokesperson told The Epoch Times last week in an emailed statement: "We remain interested in meeting the scientific leaders and other important stakeholders who were vital to the successful COVID-19 vaccination program in Israel. Any company visit will likely occur once travel conditions improve and COVID-19-related restrictions are eased."