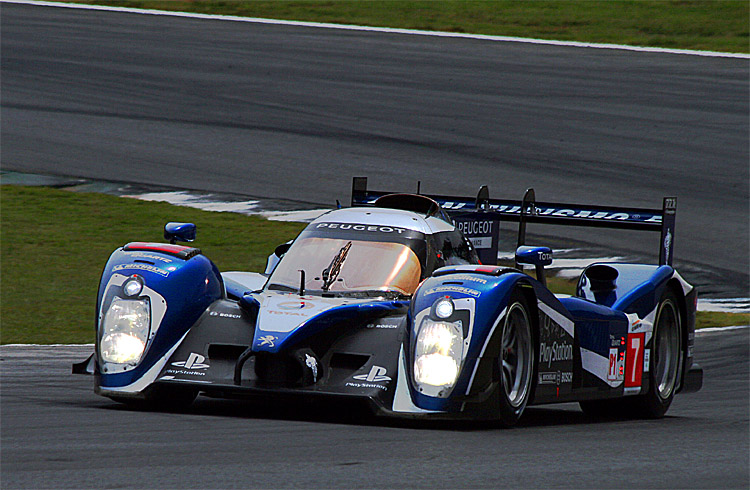 Despite incredible success in the past two  seasons, Peugeot is shutting down its sports car endurance-racing program. Peugeot Sport, the factory team, will not participate in the World Endurance Championship or the Le Mans 24 Hours in 2012.
Peugeot Sport won 14 of its last 16 races and won the Intercontinental Le Mans Cup in 2010 and 2011, ending Audi's decade-long reign in sports cars. However the team failed to follow up its 2009 Le Mans win. A win at Le Mans provides unparalleled promotional impact, while wins at tracks like Spa or Zhuhai only interest sports car fans.
The news was met with dismay from fans and even from Peugeot's competitors. Straka Racing tweeted, "Disappointing news about @Peugeot pulling out of the @WEC, as we were very much looking forward to racing against them," while Audi driver Allan McNish tweeted, "Bad day for everyone Peugeot Sport. Thanks for the fantastic competition over the years."
Peugeot's official statement says the decision is prompted by the shaky European economy and the need to focus on the introduction of five new passenger-car models, the 208, 3008 HYbrid4, 508 RXH, 508 HYbrid4 and 4008, into the global market.
Other reports indicate that Peugeot's sales were down almost ten percent last year, and that the layoff of 5000 workers had outraged the auto-workers' unions. Peugeot's press release mentions that as per an agreement with five different unions, all the Peugeot Sport workers would be employed in other parts of the Peugeot company.
The decision to end the racing program had been rumored since late December, but even last week other sources were suggesting that Peugeot might merely be cutting back.
Peugeot Sport tested a new hybrid version of its 908 in November, prompting speculation that the team would be running one hybrid and one diesel-powered 908 in the WEC and Le Mans, with possibly a customer team operating a third diesel 908.
Also, in January Olivier Qesnel was reappointed as head of Peugeot Sport, causing some to think that the endurance-racing program would continue.
Radio Le Mans reports that Qesnel was given a choice: use the existing funds for the 2012 season, or use the money to develop a car for 2014, when new regulations will demand smaller, more fuel-efficient cars. If this is true, Qesnel apparently decided it would be better to develop a new car which might last for several seasons, than to continue to refine an aging design, knowing there would be nothing coming after.
Peugeot's official statement makes no mention of future plans. It is equally possible that the factory is developing a 2014 car, or that Peugeot will never again race sports cars. What is known is that Peugeot Sport, The first team to race Audi on equal terms in this century, will not be operating a factory sports car program in 2012.