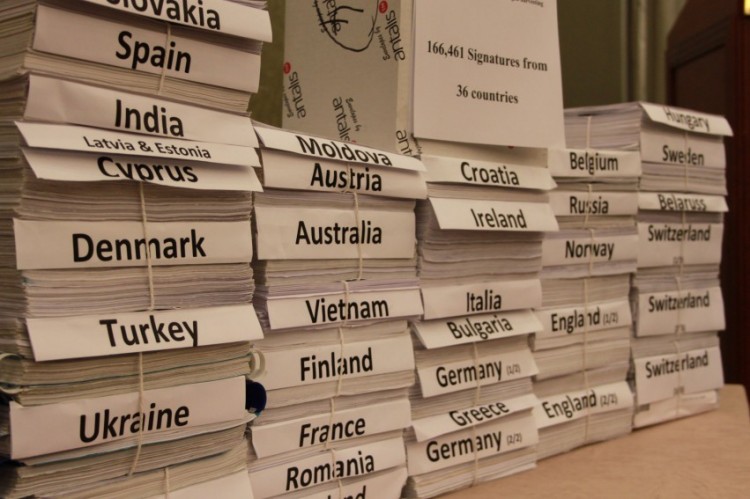 All over the world, human rights advocates have petitioned governments to investigate and condemn forced organ harvesting from prisoners of conscience in China.
More than 160,000 people supported the call for a United Nations investigation. The signatures came from 36 countries—mainly from Europe, Australia, India, and Israel—and were delivered to the U.N. Committee on Human Rights in Geneva on Dec. 18. 
The signatures were gathered between Oct. 6 and Nov. 22 from a wide range of people, including members of national and European parliaments and mayors.
In the United States, more than 24,000 people have signed their support since Dec. 2, asking President Barack Obama to take a stand against forced organ harvesting. The petition, on the 'We, the People' part of the White House website, needs to reach 25,000 signatures by Dec. 31 to require a public response by the Obama Administration. 
The U.N. petition was initiated by Doctors Against Forced Organ Harvesting (DAFOH). It was delivered by David Matas, an international human rights lawyer and co-author of two books on organ harvesting in China.
The many thousands of white A4 sheets full of signatures, tied in neat bundles and clearly labelled by country in large sans serif letters, were wheeled towards the building on the shelves of a blue trolley.
Blue and yellow are colors associated with the spiritual meditation practice of Falun Gong which is known to have the largest number of prisoners of conscience in China.
Falun Gong, also known as Falun Dafa, initially received prizes and accolades from the Chinese Communist Party (CCP) when it was introduced to the public in 1992. It was banned in 1999 by then CCP leader Jiang Zemin due to his chagrin that the movement had grown bigger than the CCP.
Matas and the co-author of his book Bloody Harvest: Organ Harvesting of Falun Gong practitioners in China, former Canadian Secretary of State for Asia-Pacific David Kilgour, were nominated for a Nobel Peace Prize in 2010. They provided evidence that Chinese state institutions are complicit in the killing of Falun Gong prisoners for their organs. 
"No independent study has contradicted our result," Matas wrote in his remarks for a panel on Organ Trafficking in China at the Metropole Hotel in Geneva, Switzerland, the day before delivering the petition to the United Nations. "The only disagreement we see is Chinese Communist Party propaganda."
Matas also co-edited State Organs: Transplant Abuse in China with Dr. Torsten Trey. 
Dr. Arthur Caplan, head of the Division of Bioethics at New York University's Langone Medical Center, was one of the three authors of the U.S. Petition. In an interview with The Epoch Times on Dec. 5, Caplan urged people to sign: "I urge them to sign it. I urge them to send it to their friends and organizations they're involved in, to circulate it widely. It's an important petition because they can make a difference.
"They would be sending a message that Americans find the practice of killing for parts repugnant, they don't want it to go on, they think China can do better, and they think the promises of change should be fulfilled."
When asked about the risk of losing trade benefits with China, Caplan said, "the outrage of the practice doesn't permit a tradeoff here. I think you can't stay quiet about killing for organs. It's too heinous. It's just too wrong. It violates all ideas of human rights. It violates American policy about how to get organs. It's just too important to not call attention to for fear of souring relations."
The Epoch Times publishes in 35 countries and in 20 languages. Subscribe to our e-newsletter.