Over 1,000 Petitioners Gather in Shanghai After New Year Holidays
February 15, 2009 12:42 pm Last Updated: October 1, 2015 10:12 pm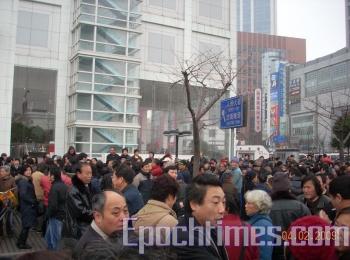 Over 1,000 petitioners gathered in front of the Complaint Office of the Shanghai government on Feb. 4, the first work day after the Chinese New Year holidays. Most petitioners were either evicted from their homes by force or former Shanghai residents who were sent to the northwestern borders as "educated youths" during the Cultural Revolution. They were there to demand reasonable compensation.
According to petitioner Chen Enjuan, three or four hundred former "educated youths" who returned to Shanghai came to protest about their current salary levels. Their current salary is lower than what they earned when they lived in Xinjiang Province, where the cost of living is significantly lower than in Shanghai. They have been complaining for years, Chen said, to demand the authorities' attention and help.
The authorities sent out many policemen to watch the petitioners. While waiting for permission to enter the office and submit their complaints again, petitioners chatted and exchanged their stories.
Petitioner Wang Wenfang told other petitioners about her experiences in Beijing where she tried to petition to higher authorities but were abducted by Shanghai police. She said the head of a Shanghai police station ordered some thugs to assault her as punishment for her petitioning. "Five men beat me up," she said. "They tore my hair, slapped me in the face, beat me in the head and stomach. They threatened to lock me up in a mental facility if I petition again."
Wang was only one of many petitioners who were persecuted for trying to seek justice from higher authorities. He Liumei, for example, was detained for a month after she protested in front of Beijing's central government. Ding Juying, one of the Shanghai petitioners who went to Hong Kong to protest, was arrested and illegally detained for 25 days, while her friend Fan Shiming was detained in a police station where a policeman slapped him in the face over 30 times.
Another hot topic among the petitioners was the corrupt officials in Shanghai. The former district head Kang Huijun, for example, was found to have over 20 real estate properties under his, his wife and his son's names. Petitioners said many Chinese Communist Party (CCP) officials possess multiple properties, and to ensure their own benefits the officials drive ordinary people to the suburbs by forceful eviction.
"The New Year is supposed to be a happy time," Chen Enjuan said. "But we are all struggling hard to make a living. For us petitioners, the holidays are even more miserable than ordinary days."
Read original article in Chinese.