Petitioners Mistreated During the CCP's 17th Congress in Beijing
October 26, 2007 12:00 am Last Updated: October 26, 2007 12:00 am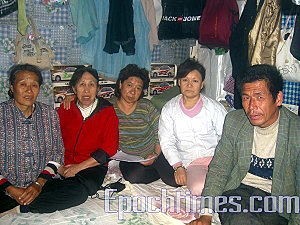 During the Chinese Communist Party's 17th Congress that began in mid-October, police in Beijing and all across the country arrested petitioners who traveled to Beijing to file appeals for injustices committedby their local governments. Four recently freed petitioners describe their experiences.
At about 1 p.m. on October 17, petitioners Guan Chunrong, Li Hua and Tang Xiuyun from Northeastern China and Mao Shuchun from Inner Mongolia went to the residence of Liu Chunbao in Beijing. Liu is a petitioner from Liaoning Province. They intended to use Liu's computer to print some appeal materials. Shortly after they arrived at Liu's home, approximately 17 police from Yangqiao Substation in Beijing stormed inside. The petitioners were held in Liu's home for about five hours before they were arrested.
At the time, Liu was at a doctor's office. The police wanted to confiscate his computer. Guan Chunrong and the others objected but their objections were ignored. Liu's computer was confiscated and is still missing.
Li Hua and Tang Xiuyun were transferred to the Liaoning Provincial Office in Beijing on the evening of October 17. They escaped while the guards were having dinner. Guan Chunrong was detained until October 22 and Mao Shuchun is currently still in detention.
Guan said that her leg was injured when she was beaten in detention so that now she has trouble walking.
Guan said that when they were in Liu's home, about ten police stayed outside and another seven or eight rushed in to arrest them. Guan argued back by saying, "What is wrong with my appealing corruption by local authorities? Everyone in China is united against corruption. Why are you so scared? You must be a corrupt official yourself."
These officers were about to beat her, but were stopped by the other petitioners. The police then locked the petitioners inside the house and did not let them go outside. Even their requests to use the bathroom were rejected (Liu's home has no indoor plumbing; there is a shared bathroom outside the house). When Mao was trying to protect Guan from the beating, she was pushed to the ground and lost consciousness.
Guan said, through her tears, "We were treated worse than criminals. We have been persecuted. We couldn't even go to the bathroom. They were extremely brutal and barbaric. Beijing police act like beasts with no basic humanity. We had no choice, we had to relieve ourselves in the room."
Guan was a Russian-language translator at the Scientific Research Institute in Jinzhou, Dalian, Liaoning Province. Because she opposed the corrupt behavior of Cheng Shaochong, the director of the institute, she was made to pay for her act. She has been petitioning for nearly 30 years to no avail. Recently she announced her withdrawal from the Chinese Communist Party.