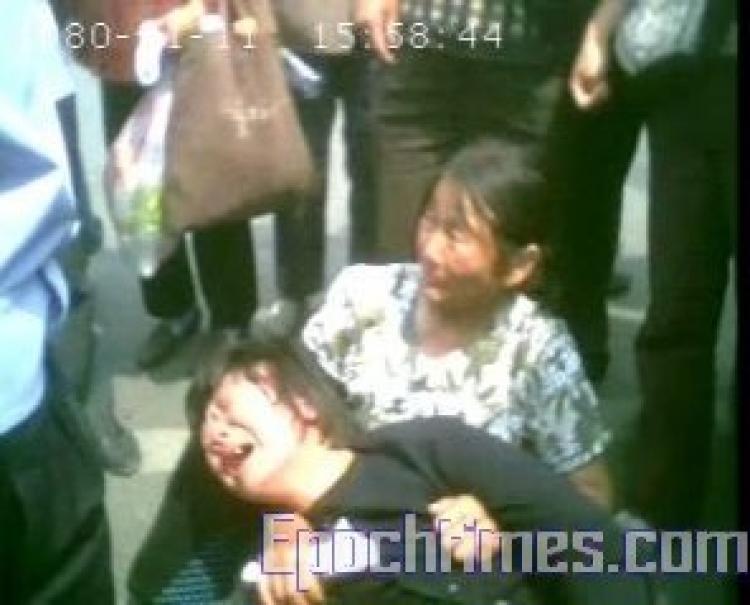 On May 7, over a thousand petitioners spontaneously joined in protest near the Bejing South Railway Station over the treatment received by a fellow petitioner at the hands of the authorities.
The protest was sparked by the beating of a 60-year-old female petitioner by several government officials at the Division of Complaints and Appeal of the Supreme People's Court (located near Beijing South Railway Station). The lady, who was from Henan province, attempted suicide after the beating in exasperation. She was severely injured and could not get up from ground. Two other petitioners who intervened in the quarrel were beaten as well. Enraged after witnessing these events, many fellow petitioners gathered to protest the maltreatment and demand justice.
After that, Beijing police came to remove the government officials who beat the petitioner from the area, which enraged the petitioners even more. More and more petitioners joined the protest and shouted slogans such as "Strike Corruption," "Long Live Democracy," and "We Demand Human Rights." They blocked the traffic for nearly two hours until more police, including 30 to 40 armed police, arrived at the scene and dispersed the crowd.
According to a petitioner named Zhou, even though the petitioners are following proper legal channels to file their respective grievances, local officials stationed in Beijing will either use violence to stop them or send them back to the province for persecution. Many petitioners have no way out but to protest with their lives.
Read original article in Chinese.