2,000 Petitioners Assembled in Beijing, One Suicide
February 26, 2009 8:55 pm Last Updated: October 1, 2015 10:08 pm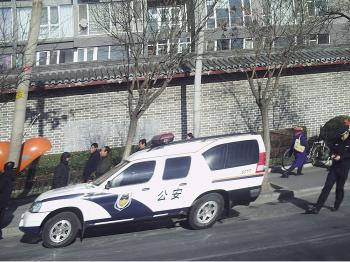 One petitioner committed suicide in front of the Beijing municipal government building Monday, where hundreds of petitioners from various provinces and cities had gathered outside of the central authorities' offices in Beijing about 10 days before the country's two annual government sessions are to be convened.
As in previous years, before the Chinese authorities' legislative period of the National People's Congress and the Chinese People's Political Consultative Conference (known as the two sessions) open in early March, petitioners throughout the country come to Beijing to present various grievances.
On February 23, over 2,000 petitioners assembled in Beijing. They were joined by officers from many provinces who also assembled here to intercept petitioners from their districts. Meanwhile, a large number of uniformed and plain-clothes police were dispatched to maintain order.
The petitioners gathered in front of the general office of the State Bureau for Letters and Calls, and the general office of the Standing Committee of the National People's Congress near Beijing South Railway Station. They presented appeals against various injustices.
Among the petitioners were many employees who had been laid off from the Industrial and Commercial Bank of China. They have been appealing in Beijing for compensation since 2006.
The bank originally promised each worker 8,000 yuan (US$1,170) in compensation, but only gave 2,000 ($292), and did not pay pensions or medical insurance.
One said that their lives have been extremely miserable since being laid off. Some have divorced, and some have even committed suicide. Many are destitute, as they have no other way to earn an income. "We come to tell the authorities about our unjust treatment, and, and we are still waiting for their response," he said.
Another large group of petitioners are victims of the Yilin Wood Company case. According to official Chinese media, 28 Yilin Wood executives swindled 1.68 billion yuan ($245.62 million) from the company, affecting nearly 20,000 people. These petitioners asked authorities to fulfill their contract, and have presented officials with the Forest Right Certificate issued by the State Council and the local government, which, by law, protects their rights. Yet, for over two years, this appeal has failed to get any response.
"Over 600 of us came here," said a petitioner name Mr. Liu. "Today we submitted our appeals materials, but we were asked to wait for a response. By the time we left at 11:30 a.m., we heard that the police were preparing to make arrests."
At around 11 a.m., a man cut open his own abdomen in front of the Beijing Municipal government in an act of suicide. His reason remains unknown.
"At the time, we were just preparing to go home, and then we heard that somebody had committed suicide," said Beijing rights activist Wu Tianli. "We rushed over to take a look. The police surrounded the injured man and began to videotape him. They refused to let us look. He looked to be about 30 years old, and judging from his clothes, he was a farmer from a Beijing suburb."
Wu said that there is a checkpoint at the entrance to the municipal government building, where a police car is permanently stationed. "When the person called out that he would commit suicide, they did nothing. But at other times, whenever somebody shouted how they were wronged, the police would immediately come to take them away," she said.