Chinese police hunted then expelled multiple prominent dissidents from Beijing in the lead up to a key meeting of the ruling Communist Party, which is held from Nov. 8 to Nov. 11.
The four-day closed-door meeting, also known as the sixth plenum of the 19th Central Committee, usually takes place once a year in the capital and is attended by the Politburo, the Chinese Communist Party's (CCP) top decision-making body.
The high-profile plenum attracts petitioners across the country, who protest injustices they have experienced, hoping to gain some media coverage or attention from society.
Such attempts are typically frowned upon by authorities, and this year they rolled out oppressive measures ahead of the plenum to target dissidents and human rights lawyers.
Rights Activists Targeted
Local authorities went to to the home of human rights activist Jiang Jiawen in Beijing. On Nov. 5, at around 6 p.m., plainclothes police and local officials from a party-affiliated provincial agency Beijing Office (BJO) knocked on the door of his rented apartment.
The Chinese language edition of The Epoch Times received a text message from Jiang at 7:37 p.m., in which he said that he had been forced by the police to leave his apartment and return to his home city of Dandong in Liaoning Province.
BJOs are Beijing-based provincial government agencies that were originally set up to handle relations between localities and the central government. These agencies are now given the task to prevent local petitioners from going to Beijing to file complaints.
"Every time there is a large event or meeting in Beijing, Jiang will be forcibly taken out of Beijing [and sent] back to Dandong [city] of Liaoning [Province]," rights activist Wu Lijuan, a native of Hubei Province, told the publication.
Jiang has been protecting the rights of vulnerable petitioners in Beijing for quite some time, despite being suppressed by authorities, Wu said.
Jiang was told by the chief of the district Public Security Bureau, Liu Yunpeng, that he would need to "stay in a hotel for seven to eight days."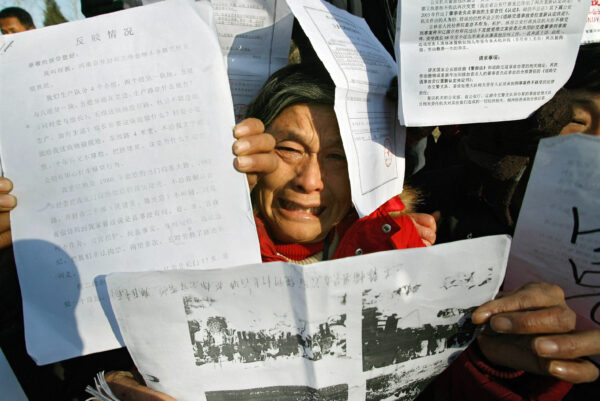 Also on Nov. 5, at around noon, human rights activist Xu Qin was forcibly taken away by local police from his home. Xu was under home surveillance at the time.
"[Xu] just underwent heart bypass surgery in the hospital, and also suffers from diseases like cerebral infarction, heart attack, and high blood pressure," Wu said, quoting a text message from a source.
Petitioner Li Yu, a single mother from Shandong Province, went missing in Beijing and lost contact with the outside world after Oct. 30, the day when a BJO official contacted her by phone.
Li has been jailed twice for a total of six years, for protesting against the forced demolition of her home in 2018. Li was not compensated adequately, and her son was sent to an orphanage.
Added Door Lock
In the early morning hours of Nov. 3, petitioner Tao Hong found it almost impossible to get out of her rented home in Beijing, due to a door lock being tampered with by several unidentified people the previous night.
Tao, a local villager from Fanzhuang in Jiangsu Province, saw her home taken down during a forced demolition in 2012. At the time, local officials promised her that a compensation for resettlement would be given. But Tao did not receive any compensation.
Along with other displaced residents, Tao temporarily settled in a local makeshift tin house. Due to the safety hazards of the temporary residence, a fire broke out in July 2017 and destroyed all her possessions.
Tao appealed to the local authorities for help in recovering her economic losses, but the effort was in vain. She then headed to Beijing on March 8, 2018, to appeal to the central government, but was sent home.
Her family members have since been harassed and intimidated by authorities, she told the Chinese language edition of The Epoch Times on Nov. 3.
"My 29-year-old son has been harassed since he graduated from college and cannot find work," Tao said.
Li Xi contributed to this report.