Petitioner Attempts Suicide at the Supreme People's Court
March 1, 2008 12:00 am Last Updated: March 1, 2008 12:00 am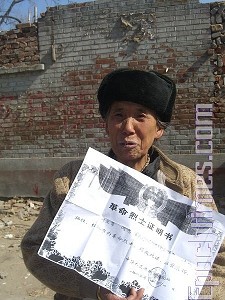 A petitioner attempted suicide at the Office for Letters and Visit Appeal of the Beijing Supreme People's Court on the afternoon of February 25. The upcoming National People's Congress (NPC) and the Chinese Political Consultative Conference (CPCC) is bringing an influx of people to Beijing from all over China who are hoping to draw attention of both the authorities and the public over injustices they have suffered. Mr. Zhao, a witness and a petitioner himself, mentioned that the official at the checkpoint beat Huang Yurong, a 49-year-old man, and took away his belongings. Soon after, Huang took some poison and passed out at the office. The ambulance came and drove him to a local hospital where he was refused. He then was sent to Bejing Hospital No. 307.
Another petitioner witness surnamed Liu then told the reporter that Huang's case of injustice took place in Meizhou, Guangdong Province. It was around three o'clock in the afternoon when he passed out. The police called the ambulance. But Yu Kuangchung, a petitioner from Xinjiang, indicated that he saw Huang beaten by the checkpoint officer. He then took the poison and fell to the ground. It looked as if he was dead already.
Huang is not the only victim of the violence of Beijing Supreme People's Court. On the afternoon of February 4, Li Guifen from Heilongjiang died from a beating right in front of the Office of Letters and Visit Appeal of the South Beijing Supreme People's Court. It has come to light that Li was disabled and walked on her knees. For more than 10 years she had gone to Beijing to petition. She was killed by the checkpoint officer. No further details are available.
With the NPC and CPCC approaching, it is anticipated that more petitioners will come to Beijing. Dozens of victims of the forced evictions from Liuzhou, Guangxi Province and more than 30 victims from Northeast China have just recently paid Beijing a visit again after the Chinese New Year.
They said that if the problems are not resolved before the Olympic Games, they are not sure how long it's going to drag. They indicated that the NPC and CPCC is their last hope. They hope their cases of injustice will draw the attention of higher authorities at the NPC and CPCC.
It has come to our attention that the Chinese Communist Party is going to conduct a comprehensive arrest of petitioners, human rights defenders, and dissidents present in Beijing to ensure the smooth progress of the NPC, CPCC, and the Olympics.