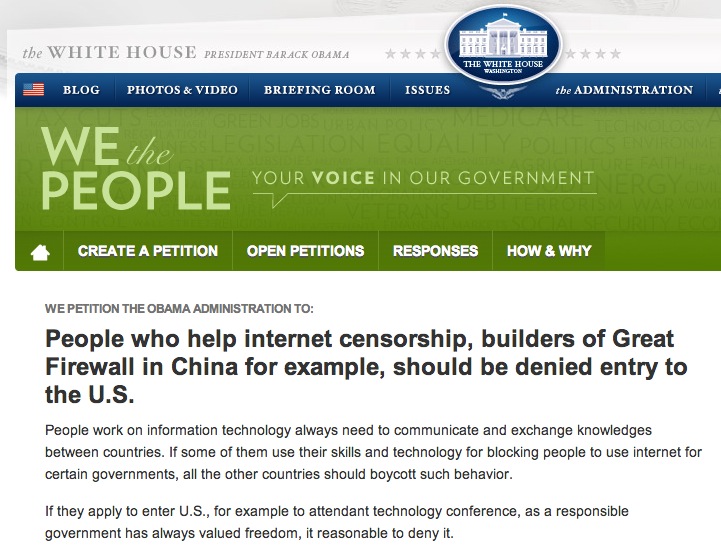 There have always been limits on what kind of people are allowed to enter the United States. War criminals and certain human rights violators, for example, were banned by President Obama in 2011. And visa forms try to root out Nazi war criminals. Now, a new petition calls for the White House to ban people "who help Internet censorship"—with a specific type of censor in mind: those who helped build the Great Firewall of China. 
If the petition receives 100,000 signatures before Feb. 24, it will be guaranteed an answer by the White House. Whether the administration will act on it is another question. 
Within two days of its establishment the petition appears to have received widespread support from Chinese netizens. A page at Github.com, linked to from the petition site, lists a number of the masterminds of Internet censorship in China, and the majority of the comments there are in Chinese. Github mostly hosted programming code and was reportedly blocked in China recently. 
"Come on and sign it," one of the commenters implores. "Those scumbags will be nailed to the pillar of disgrace." 
Another of the netizens posted the alleged home address, government identification number, and email address of Fang Bingxing, one of the chief architects of the notorious Great Firewall. Fang is generally loathed by Internet-savvy young Chinese. In 2011, he had a shoe thrown at him by a student—the sneaker struck Fang's chest—and the attacker became an Internet hero.
The U.S. already seeks to identify people involved in organ harvesting in China. The new DS-160 visa application form asks whether the applicant has "ever been directly involved in the coercive transplantation of human organs or bodily tissue?" It is unclear whether an answer in the affirmative to that question would preclude entry to the U.S., but according to Dr. Gabriel Danovitch, a professor of medicine at UCLA Medical School who is an expert on the topic, it represents "official U.S. government recognition of the abrogation Human Rights that is intrinsic to commercial organ donation form both the living and the dead and that the use of organs and tissues from executed prisoners is intrinsically coercive."
The Epoch Times publishes in 35 countries and in 21 languages. Subscribe to our e-newsletter.