Peter Navarro, a White House adviser to President Donald Trump, is calling Georgia officials to delay the Senate runoff election by a month to allow more time for widespread concerns in the state over election irregularities and alleged fraud to be resolved.
The outcome of the two races currently scheduled for Jan. 5 will determine which party controls the U.S. Senate after a six-year Republican majority. Georgia Sens. Kelly Loeffler (R-Ga.) and David Perdue (R-Ga.) are facing Democrat challengers Raphael Warnock and Jon Ossoff, respectively.
Navarro, who is also the Director of the Office of Trade and Manufacturing Policy, released a report on Dec. 17 in his capacity as a private citizen on alleged irregularities across key battleground states in the 2020 presidential election.
The report (pdf) highlights six key areas of irregularities in the election in the states of Georgia, Pennsylvania, Michigan, and Wisconsin, as well as Arizona and Nevada.
"This was theft by a thousand cuts across six dimensions and six battleground states rather than any one single 'silver bullet' election irregularity," Navarro wrote in his concluding observations of the report. "While all six battleground states exhibit most, or all, six dimensions of election irregularities, each state has a unique mix of issues that might be considered 'most important.'"
Navarro said that Georgia's election system faced problems in all six categories of voting irregularities and such issues need to be resolved prior to the upcoming Senate runoffs.

"We got to move that election to February," Navarro told Just the News in an interview for Real America's Voice TV network, "because everything that I described in my chart … that matrix, every single check mark in those six dimensions, it is a cesspool. And they are doubling down on everything they did wrong in the first election."
The delay will enable more time to fix the irregularities to give confidence to large swaths of Georgia voters who currently doubt the November results.
"This is just going to be tough," Navarro said. "But if we get to Inauguration Day, and we inaugurate an illegal and illegitimate president, in the eyes of the public and based on the evidence, this is not going to be pretty for years to come."
Trump late Tuesday issued a similar message to the nation. In a video, the president said, "We cannot allow a completely fraudulent election to stand. If this egregious fraud is not fully investigated and addressed, the 2020 election will forever be regarded as illegitimate and the most corrupt election in the history of our country."
Georgia's Gov. Brian Kemp and Secretary of State Brad Raffensperger, who are both Republicans, have said they believe that elections in Georgia are reliable, despite lawsuits filed in the state from the Trump campaign and other third parties that allege a wide range of voting irregularities, which witnesses suggest put the results of the election in doubt.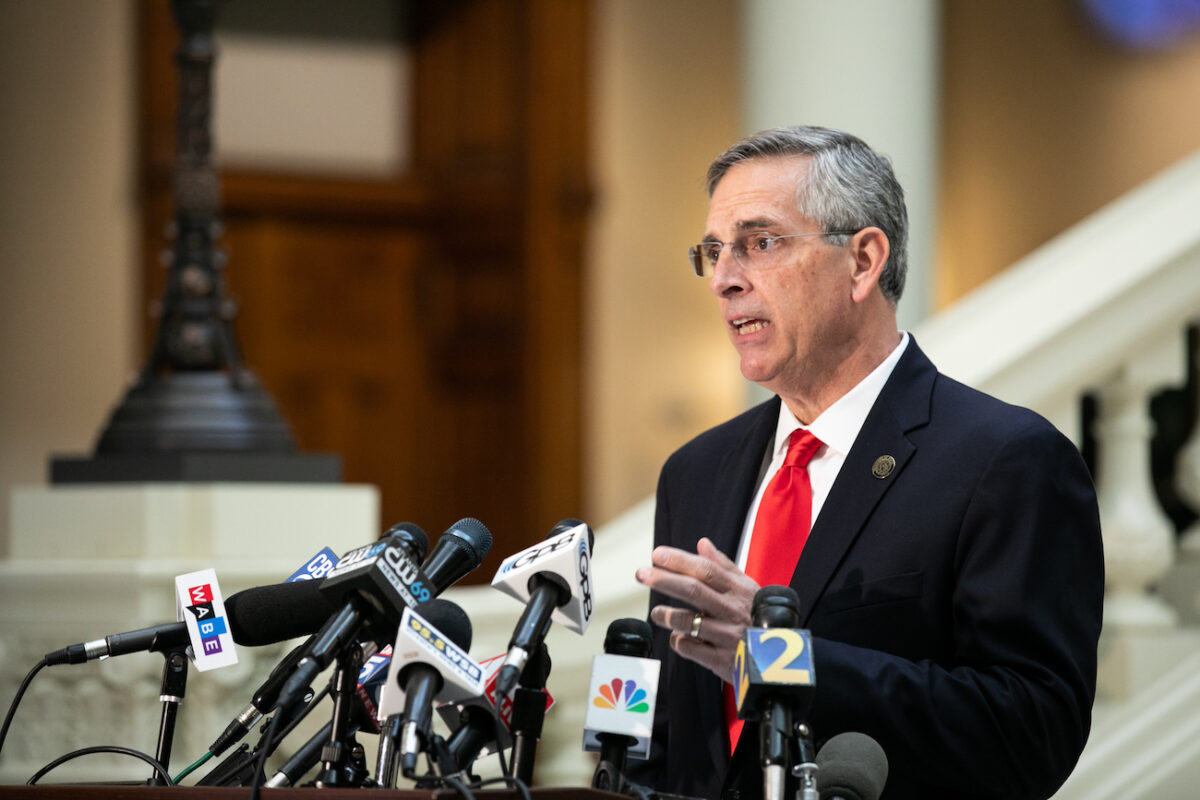 More evidence of irregularities has emerged in late November and early December, including a video revealing concerns over counting processes at the State Farm Arena's vote-tabulation center in Atlanta; a video where an election official explains how Dominion Voting Systems' software allows the adding or changing of votes; and the submission of evidence of more than 21,000 election anomalies and irregularities to Georgia officials.
Raffensperger on Dec. 17 announced a statewide check of signatures on mail-in ballots in all 159 counties to "help instill confidence" in Georgia's mail-in ballot system in future elections but asserted that the audit "will not change the outcome of the November election."
Kemp on Wednesday said that results of the signature verification audit should be released by Wednesday or Thursday.
Republicans have secured 50 Senate seats and Democrats have secured 48 Senate seats, which includes two independent senators who caucus with Democrats. Republicans need to win just one race to claim the majority and control of the Senate, while Democrats would need to win both races, and require Sen. Kamala Harris (D-Calif.) to cast tie-breaking votes, if she takes office on Jan. 20.
The Epoch Times has yet to declare a winner of the 2020 presidential election. Members of Congress are set to convene in a joint session in Washington to count Electoral College votes on Jan. 6.