Pesticide Found in Fish Processed in China
February 21, 2008 12:00 am Last Updated: February 21, 2008 12:00 am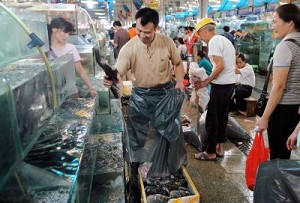 JAPAN—According to reports in Japan's Asahi Shimbun, Japanese company Kouzai Bussan Co., based in Sanuki City announced on Monday that traces of dichlorvos, an organophosphorus pesticide were found in its sliced frozen mackerel that had been processed in China. The company recalled the product, but only a few were returned.
According to the company, the fish were caught and frozen in Denmark, but marinated in vinegar and then vacuum packed in factories in Shandong Province, China. The poisonous product was produced on June 5, 2007 and then exported to Japan by Kobe-based food wholesaler Shinko Gyorui, Ltd.
On February 8, Kouzai Bussan Co., submitted two packs (20 slices per pack) to an inspection organization. The results showed that 0.14 ppm of dichlorvos were found in the frozen mackerel. However, nearly all the 2,250 packages of fish processed on June 5, 2007 had been consumed. Only 18 packages were returned.
The sliced frozen mackerel are generally used in making sushi.