Persecution against Falun Gong Must End, Says Lawyer
October 24, 2005 12:00 am Last Updated: October 24, 2005 12:00 am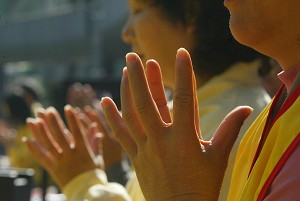 As accounts of atrocities against Falun Gong practitioners from within China continue, a respected Chinese lawyer has demanded an end to the "barbaric" persecution in an open letter sent to the Communist Party leaders, President Hu Jintao and Premier Wen Jiabao on Wednesday October 19.
AFP reported that Mr Gao Zhisheng*, head of the Beijing- based Zhisheng Legal Office, has received numerous accounts of torture and abuse at the hands of Chinese police and prison officials from Falun Gong practitioners since the persecution began six years ago.
Mr. Gao investigated the claims made by practitioners and travelled clandestinely to the Shandong province, which he said carries out one of the most brutal crackdowns.
In his subsequent letter to the leaders of the Chinese Communist Party, Mr. Gao said he and his colleagues found ongoing torture of Falun Gong practitioners.
"This continuous, systematic, large- scale and organized barbaric persecution and violence targeted at compatriots who believe in Falun Gong is a reality that is still going on," Gao said in the letter posted on several overseas Web sites.
"We cannot accept this kind of openly anti-mankind barbaric violence… If the two of you [Hu and Wen] are aware of what's happening and don't do anything to stop it, then that's no different from the crimes carried out by the wrongdoers," the letter said.
Falun Gong practitioners who have escaped from China have reported numerous torture techniques used by Chinese police in efforts to have practitioners renounce their beliefs.
Among them have been incidents of male and female Falun Gong practitioners being sexually abused with torture instruments and acts of rape. Recently published photos showing festering burns on a female practitioner's breast, made by shocks from electric batons, have been part of the collection of evidence against Chinese officials.
According to a recent article in The Epoch Times by Wen Hua, " China's Forced Labor Camps Sexually Abuse Falun Gong Practitioners ," awards have been given to those camps who have the "successful experience (in transforming Falun Gong practitioners)", such as Masanjia and Dalian Forced Labor Camps. Their methods have been promoted as examples to other camps.
*The lawyer, Mr. Gao has also been involved in the high-profile land dispute at Taishi village in Guangdong province.
For more information, please see:
Chinese Authorities Arrest Rights Lawyer in 'Test-Case' Taishi Village , Western Journalist Brutally Beaten in Taishi Village , Taishi Village's Struggle for Democracy in China (Photo Essay, Part I) , Chinese Legal Community Provides Assistance to Missing Attorney , and Chinese Villagers' Lawful Election Meets Crackdown