Truckers protesting the Biden administration's reluctance to halt its COVID-19 pandemic-induced emergency powers are now headed to California to fight against proposed vaccine-related legislation.
Mike Landis, a lead trucker and spokesman for The People's Convoy, told a crowd of truckers and supporters on March 27 that the proposed set of 10 legislative bills is tyrannical. A video posted on social media site GETTR, shows Landis outlining the bills to jeers from supporters gathered at Hagerstown, Maryland.
The People's Convoy left Adelanto, Calif., in late February and has been in the Washington, D.C., area for the last few weeks demanding that President Joe Biden give up his emergency powers.
"The mission was to come here and get this emergency declaration repealed so we can go by our Constitution, and hold these people accountable for ruining everybody's lives for the last couple years, and get back to the way this country is supposed to be, and end the tyranny that's going on in our government," Landis told supporters.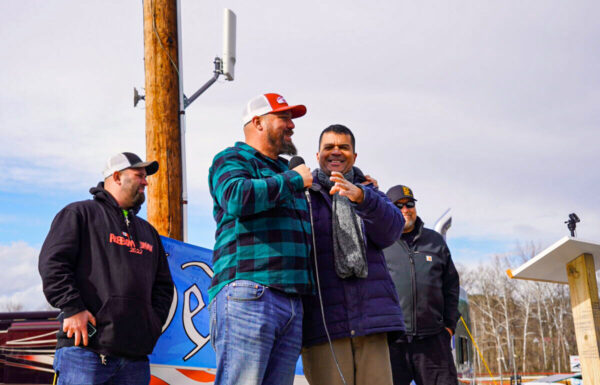 Landis suggested that because the emergency powers are already in place, the truckers should focus on the "tyranny" in California and then head back to the DC area.
"We're not done here. But we'll go to California and raise awareness on this along the way, and hopefully gain more people like we did on our way here."
"There's been some tyranny brought to my attention today," he said before he read aloud summaries of the 10 California bills:
The 10 Bills
Assembly Bills
AB 1993 Employment: Vaccination requirements would require proof of COVID-19 vaccinations for all employees and independent contractors to work in California. The bill has been put on hold, announced state Assemblywoman Buffy Wicks (D-Oakland) on March 29.
AB 2098 Physicians and Surgeons: Unprofessional conduct would classify anti-COVID medical opinion as "unprofessional conduct" subject to discipline by the medical board.
AB 1797 Immunization: Registry would create an immunization tracking system giving all government agencies access to vaccination records of all people.
Senate Bills
SB 871 Public health: Immunizations would add COVID-19 injections to the list of immunizations for public and private schools regardless of FDA approval.
SB 866 Minors: Vaccine consent would lower the age of vaccination consent to 12 years old without parental consent or knowledge.
SB 920 Medical Board of California: Record requests would authorize the medical board to inspect a doctors' office and medical records without patient consent.
SB 1464 Law Enforcement: Public health orders would require law enforcement agencies to enforce public health guidelines or lose their funding.
SB 1479 COVID-19 Testing in Schools: COVID-19 testing plans would require schools to create long-term testing plans and report test results to the California Department of Public Health.
SB 1390 Social Media Platforms: Amplification of harmful content would prohibit any person or entity from making statements the government deems untrue or misleading by any means, including on the Internet and in advertising.
SB 1184 Confidentiality of Medical Information Act: School-linked services coordinator would authorize school health personnel to disclose a child's medical information without parental consent to a third party.
"What do y'all think about heading to California?" Landis asked supporters.
Met with cheers from the crowd, he urged truckers to prepare for the drive west.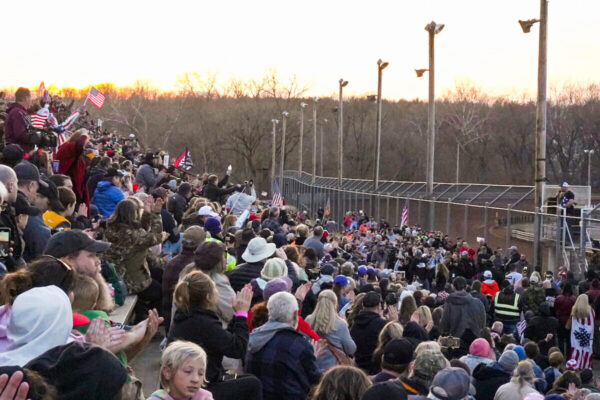 Landis said the hopes the convoy will draw more attention to the California bills.
"These 10 bills I just read are up for vote next week in California. To me, they are the reason that we are here. I think stopping those is more important … than getting the emergency declaration repealed because that's already in place, and we need to stop stuff like these bills from getting in place. Otherwise, the rest of us that don't live in California are going to end up subject to the same situation," Landis said.
Landis said the California legislation needs to be stopped for the sake of "our kids and grandkids."
"This is a type of nonsense that creates a tyrannical government. This is a type of nonsense that's going to keep us from being free people," he said.
Landis said tracking people's health history is unconstitutional.
"It's absurd. It's ridiculous," he said. "And the thought of a 12-year-old making their own medical decisions is—I don't even know what word to use for that—it's scary."
Someone in the crowd called it "horrific" and "child abuse."
Landis also said truckers are frustrated with California's environmental laws.
"We've seen diesel fuel get changed from regular old diesel fuel to low sulfur to ultra-low sulfur. We've seen diesel engines in our newer trucks be completely unreliable because of emission systems, [and] we have trucks that legally can't even enter California just because they're too old, thanks to CARB," he said, referring to the California Air Resources Board.
"The problem is, it doesn't stick in California. It goes nationwide, and some of it even worldwide."
Brian Brase, another lead trucker, confirmed via text message on March 28 that The People's Convoy is planning to head to California.