A Tennessee meteorologist was slammed with a barrage of insults on Twitter after she interrupted a popular TV show to break news about storm warnings.
Chief Meteorologist at Nashville's Fox station WZTV Katy Morgan faced criticism for several interruptions during "The Masked Singer."
She went on Twitter to share some of the comments she had received over the weekend, according to AccuWeather.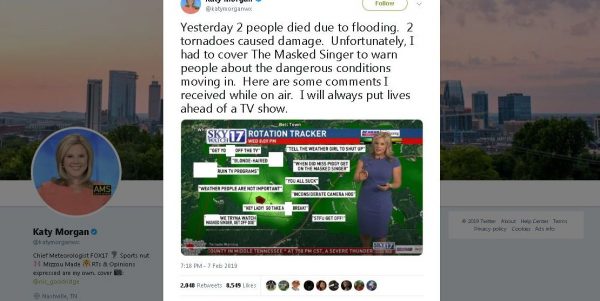 Some comments included "tell the weather girl to shut up," "weather people are not important," and "inconsiderate camera hog."
Morgan noted that two people died in the Nashville area due to flooding, adding that two tornadoes also caused damage.
"Unfortunately, I had to cover The Masked Singer to warn people about the dangerous conditions moving in. Here are some comments I received while on air. I will always put lives ahead of a TV show," she wrote on social media
Dozens of people, including other meteorologists, offered words of support.
"Hats off to @katymorganwx! Took a lot of courage to share this. It's our job as broadcast meteorologists to protect lives when the weather is dangerous. Even when it means interrupting prime time programming," wrote KQTV's Vanessa Alonso.
"Ignore those ignoramuses! Thank you for saving lives," wrote WAVE-3 weatherman Justin Logan.
Ignore those ignoramuses! Thank you for saving lives!

— Justin Logan WAVE 3 (@jloganwxguy) February 8, 2019
Amid extreme weather events, it's common for meteorologists to interrupt broadcasts with weather warnings.
PREACH GIRL PREACH! You keep doing you! Proud of you!

— Danielle Breezy (@DanielleBreezy) February 8, 2019
WKRN reported on Feb. 6 that heavy storms and tornadoes slammed the middle of Tennessee, noting that fatalities took place.
AccuWeather, meanwhile, is forecasting more snow and mixed precipitation to hit the middle of the United States, including the Ohio Valley.
"Snow will swing down across the Plains and into the Ohio River Valley before moving off the mid-Atlantic coast," said AccuWeather Meteorologist Brett Edwards. "Any snowfall can create slippery road conditions and result in travel delays," he added.
The storm will hit Friday and Saturday.
Polar Vortex Kills Invasive Bugs
The so-called "polar vortex," which hit the United States at the end of January, breaking numerous records, killed a number of harmful invasive insect species.
"A Virginia Tech research experiment estimates that the Polar Vortex may have killed 95% of the stink bugs that hadn't found shelter to stay warm this winter. However, not all common pests are freezing as homeowners might wish," reads a press release from the National Pest Management Association (NPMA).
Stink bug pic.twitter.com/n9SFXs1aeA

— 🎒 (@Mirhitz) February 13, 2019
"While most insects will be equipped to survive a short period of very cold weather, like the recent polar vortex, it's likely some will die from this extreme weather event," stated Dr. Brittany Campbell, entomologist with the NPMA, AccuWeather reported.
"In regions of the country that commonly experience winter temperatures below 50 [degrees Fahrenheit], most insects have already entered diapause, which is a period of inactivity," Campbell added.
She said it will not clear what the impact is until spring arrives.
"In addition to the effect of extremely cold weather on pests themselves, damage to plants and other animals can also disrupt food supplies for insects in the spring and summer, driving them indoors," Campbell said.