People claiming to have seen religious figures in the flames of Notre Dame are setting social media abuzz.
A Scottish mother who said she spotted the figure of Jesus Christ in the flames of the burning cathedral has sparked a flurry of online reactions and broad coverage in the British press.
Multiple outlets reported on Wednesday, April 17, that while watching coverage of the fire on Monday at her home in Alexandria, West Dunbartonshire, 38-year-old Lesley Rowan set social circles abuzz by claims of having seen the figure of Jesus in the flames.
Rowan took to social media to share her observations.
"I may be letting my mind play tricks on me here, folks, take a close look at this picture and what do you see," Rowan posted on Facebook, according to the Daily Mail.
Mother 'spots Jesus' in Notre Dame flames https://t.co/yszZq0L5JH

— Daily Mail Online (@MailOnline) April 17, 2019
"When I looked at this photo last night, I was really astounded by what I saw," Rowan continued, according to the British tabloid The Daily Record.
"When I look at it I see a silhouette of Jesus. I really see a vivid image," she wrote, according to the report.
"I shared it and asked for people's opinions—even my brother in Australia said it looks like Jesus."
Mother 'spots Jesus' in Notre Dame flames https://t.co/c4TXPI6vPX

— Daily Mail Australia (@DailyMailAU) April 17, 2019
"I feel it will bring comfort to people in Paris and all over the world at this sad time," Rowan wrote, according to the report.
Others took to social media to share similar observations, according to The Sun, with one commenter writing, "Looks like a figure of Jesus," and another confirming, "Yeah I saw it straight away—it's Jesus!"
Tragic Notre Dame pics appear to show faces in flames… including Jesus https://t.co/zO49fluQAi

— The Sun (@TheSun) April 17, 2019
Others on social media, like James Robert Kessler in a post on Twitter, claim to have seen a face reminiscent of Jesus in the water that doused the fire.
Is this the face of Jesus Christ that seemed to appeared with the flames and water as the Cathedral of Notre-Dame was burning? #FoxAndFriends #TheFive pic.twitter.com/LQ54nko2MK

— James Robert Kessler (@DaVinici) April 15, 2019
There are also those who challenge the authenticity of claims of seeing religious figures in the flames of Notre Dame.
"For real?! First the metal cross that didn't catch fire was a 'sign' now people are seeing Jesus in the flames," wrote Callum Davies on Twitter, adding, "The lengths people will go to for attention!"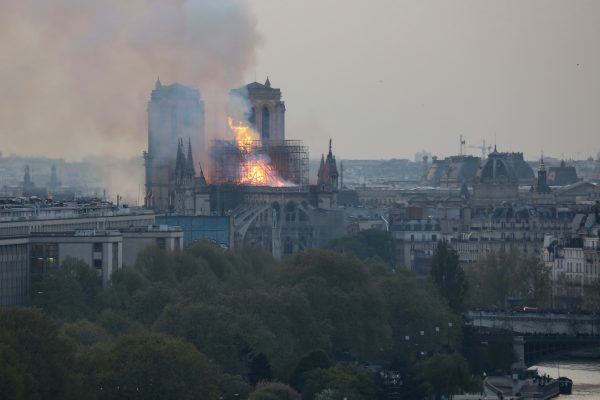 According to Pascal Boyer, an anthropologist and psychologist at Washington University in St. Louis, as cited by The Atlantic, some people share fantastic stories as a way of building social group cohesion.
"You spread stories because you know that they're likely to be a kind of litmus test," Boyer tells the publication, adding, "and the way people react will show whether they're prepared to side with you or not."
"You're in a position of defending your choices no matter what information is presented," said Daniel Shaw, who studies the psychology of belief, according to The Atlantic.
Shaw said people within a certain social group are motivated to confirm claims made by other members "because if you don't, it means that you lose your membership in this group that's become so important to you."
Man Captures Glowing Figure in Clouds Near Italy
Claims of seeing religious figures in the flames of Notre Dame recalls the story of an Italian man who captured an image over the sea that some people said was reminiscent of Jesus.
Alfredo Lo Brutto, from Agropoli, Italy, captured the figure above the sea. Some said that it looks like the renowned Christ the Redeemer statue in Rio de Janeiro, Brazil.
"I was enchanted by the view. I don't often share pictures on social media, but when I took this one, I instantly felt like I wanted other people to see it, because it was so beautiful," he said, reported the Daily Mail.
Man Sees Image of Jesus Christ Burst Through Clouds In Italy – https://t.co/dCxx01pZdH

— Peter Palumbo (@PeterPalumbo1) March 24, 2019
He captured it over the Tyrrhenian Sea.
The Christ the Redeemer statue is 125 feet tall, located on a rock near Rio.
Construction started on the famed figure in 1922.
Blimey!!! Terrific shot!
Alfredo Lo Brutto, from Agropoli, Italy, captured the incredible pictures of the glowing figure standing above the sea while at his home on Friday. pic.twitter.com/hovJ16HXFt

— Pippa Ettore (@pettore) March 4, 2019
How the Notre Dame Fire Unfolded
A massive fire engulfed the upper reaches of Paris's soaring Notre Dame Cathedral as it was undergoing renovations on April 15, threatening one of the greatest architectural treasures of the Western world as tourists and Parisians looked on aghast from the streets below.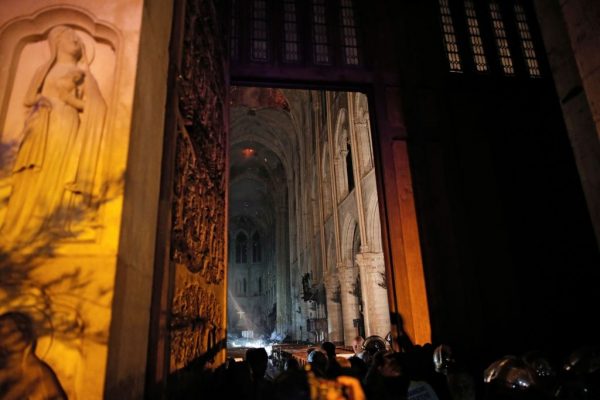 The blaze collapsed the cathedral's spire and spread to one of its landmark rectangular towers, but Paris fire chief Jean-Claude Gallet said the church's structure had been saved.
The fire, after burning for about eight hours, was largely extinguished by 3:00 a.m. CET (Central European Time) on Tuesday. Earlier, in addition to battling to prevent one of the main bell towers from collapsing, firefighters tried to rescue religious relics and priceless artwork. One firefighter was seriously injured—the only reported casualty.
"The worst has been avoided," French President Emmanuel Macron told reporters at the scene shortly before midnight Tuesday, Reuters reported.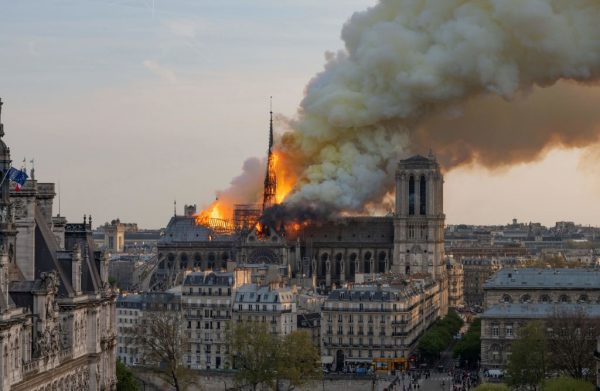 Macron said France would launch a campaign to rebuild the cathedral, which is considered to be among the finest examples of French Gothic cathedral architecture, including fundraising efforts and by appealing to "talents" from overseas to contribute.
"We will rebuild it together. It will undoubtedly be part of French destiny and our project for the years to come," Macron said.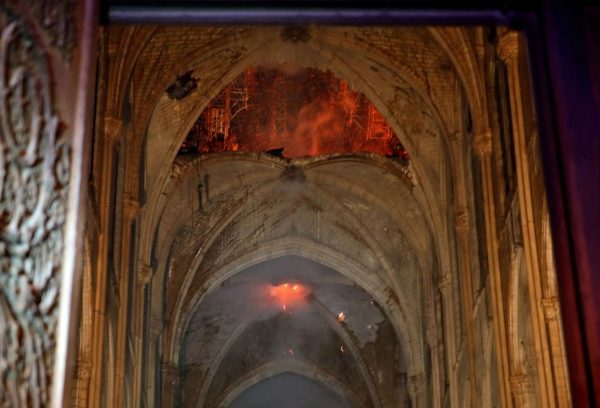 French authorities have said the fire that tore through the structure was probably caused by accident.
Prosecutors made the announcement on Tuesday after firefighters doused the last flames in the ruins overnight.
Reuters contributed to this report.