SACRAMENTO, Calif.—Hundreds of individuals, families, and children gathered on the sidewalk around the California State Capitol in Sacramento on April 20 to protest the statewide lockdown.
Vehicles honked and displayed messages showing support as they drove around the block at walking pace.
With signs and American flags, the protesters expressed their desire to return to work and school.
The signs read: "End the shutdown. Let people work. #reopen California," "All businesses matter," and "Don't tread on my civil liberty."
Children stood with their parents and held signs such as "Open CA! I miss my gym class. I miss my school."



One retired military officer in Solano County said he joined the rally because he is a realist and looks at facts. He believes the way the government is handling the COVID-19 pandemic is going overboard.
"People like to have control over their own lives and make their own decisions and not be told by authoritarians," he told The Epoch Times. "Government really has no business telling anyone that they can or can't open their business."
Another issue he mentioned is that many people don't have an income now that nonessential businesses are closed.
Norman Reese, head of the California Republican Assembly in Solano County, drove with his wife around the Capitol building several times, honking his horn.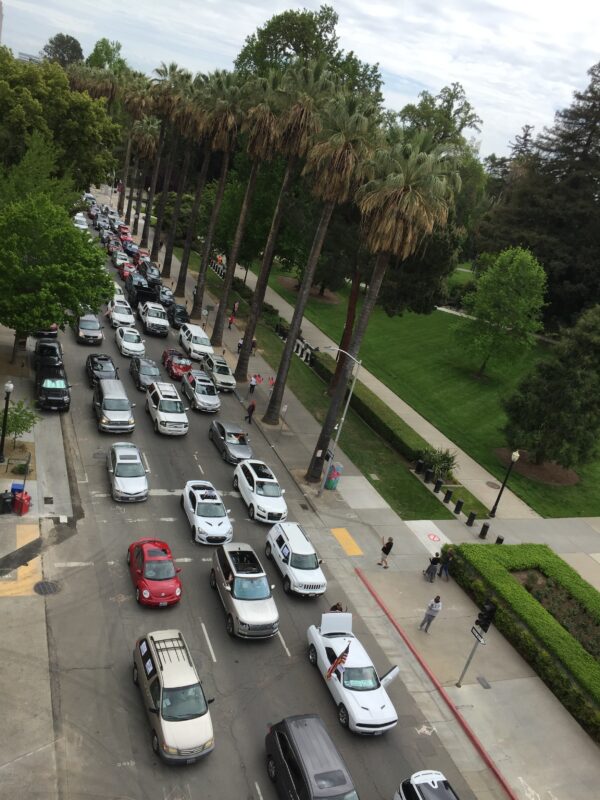 "I think it's being overly done," Reese told The Epoch Times. "They think it's essential for marijuana shops and abortion still taking place and liquor stores to be open, but then they're saying churches can't meet. Even if they take precautions and that kind of stuff."
On April 13, Dhillon Law Group filed a lawsuit against the governor for depriving people of their First Amendment rights of free exercise of religion.
"The lockdown is unlawful, unconstitutional, infringes on our rights. It's unnecessary, it's collapsing the economy, making people lose their jobs and businesses, and it's just government overreach," Winston Chin, who is from the San Francisco Bay Area, told The Epoch Times.
He said he normally had good sanitary habits before the virus, and he doesn't need the government to enforce them.



"They can just remind people it's a bad virus. We still have flu season, and we have this new virus, and we're reminding everybody, 'Please voluntarily be considerate of others.' You know, 'Keep clean, watch it when you sneeze or cough, make sure you cover your mouth.' You know, just basic common sense," said Chin. "And that's all. You don't need a lockdown."
Reese believes there's no one-size-fits-all solution. Certain areas are structured differently or are more populated, so it would make more sense to quarantine selected areas, like San Francisco or Los Angeles, he said.
On April 21, the City of Placerville announced its plan to send a letter to the governor requesting that he allow the city to reopen. The area has fewer COVID-19 cases than others, said the city officials, who asked for a balance between safety and economic recovery.
Most who attended the rally didn't wear face coverings or stay six feet from one another.
Police were there to regulate traffic and make sure everything was orderly. Some of them patrolled on horseback. The police didn't issue citations or make any arrests.