Florida residents who are taking no chances as Hurricane Irma approaches were shocked to discover that major airlines are jacking up prices for flights headed out of the state.
John Lyons, 53, bought a one-way ticket for his daughter to fly from Miami to Hartford, Conn. for $159.20 on Monday. When he went back on Tuesday to buy a ticket for his daughter's friend, the price went up to $1,020.
"I logged in and expected to see $160, and frankly if I had seen $260 I wouldn't have reacted. And I logged in and saw, $1,020, and I about had a heart attack," Lyons told Yahoo Finance.
Lyons was so shocked by the price jump that he checked if he hadn't accidentally booked a first class ticket.
"American Airlines had the audacity to raise the rate $800," Lyons said. "You know, I'm angry. I think it's horrible what they are doing. I just think it's horrible. I'll leave it at that."
The U.S. National Hurricane Center called Irma a "potentially catastrophic" storm on Wednesday. The hurricane was moving towards the U.S. Virgin Islands with maximum sustained winds of 185 mph, making it a Category 5 hurricane. Irma is already the strongest Atlantic hurricane ever recorded outside the Gulf of Mexico and Caribbean.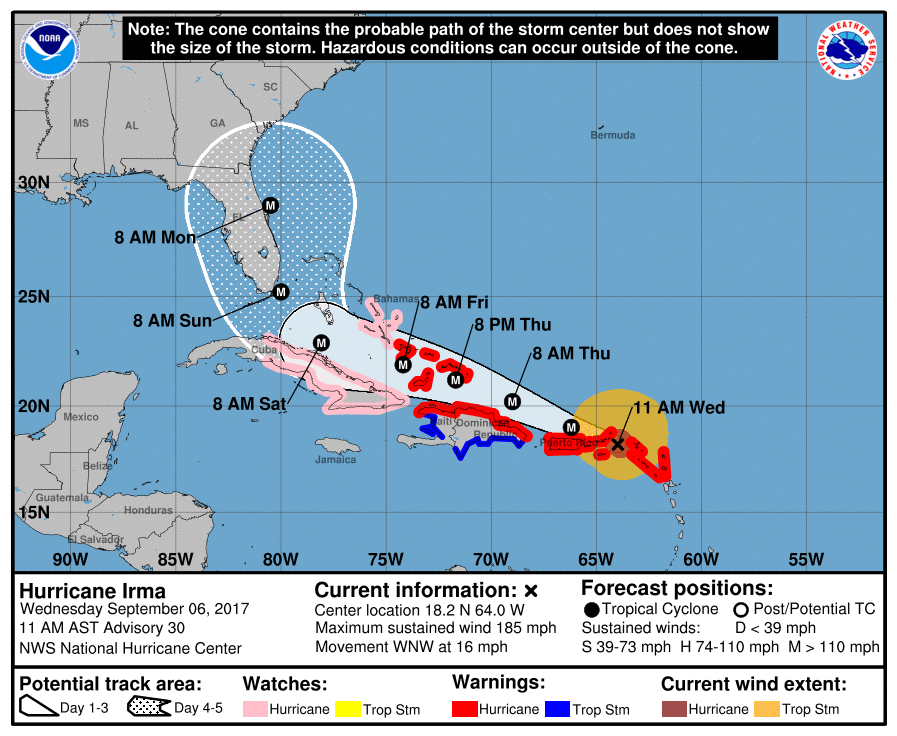 Lyons noted that the flight had about the same number of seats available when he went back to buy a second ticket.
"Now with hurricane warnings in effect, American is gouging for the same ticket to the tune of over $1000 per person and close friends daughter who cannot afford is stranded," Lyons wrote in a Facebook post.
A spokeswoman for American Airlines responded in a statement, saying, "We have not changed our fare structures, and, in fact have added capacity to help get customers out of the affected areas." 
In all of Lyons travels to Florida, he has never seen prices like these.
"I have booked trips to and from south Florida from Connecticut, short notice during peak holiday periods and I've never paid more than $600 or $700 round trip. It is appalling what American Airlines is doing. Like, literally, I'm sick to my stomach over this," Lyons said. "This is outrageous behavior. Peoples' lives are at stake."
A number people in Florida have taken to social media to post screenshots showing large ticket price increases.
One woman on Twitter saw her ticket price jump from $547.50 to $3,528.50. Later in the day, she said the Delta Airlines had reached out to her with help.
"Delta reached out & helped tremendously. Note to travelers, always call airline directly if something doesn't look right," the woman, with the handle @LeighDow, wrote on Twitter.
The Epoch Times performed a search on Kayak.com for one-way flights from Miami to New York City and saw ticket prices ranging from $872 to $1,610.
From NTD.tv