The U.S. Department of Defense's top spokesman warned Sunday that Russia could invade Ukraine "at any time" and claimed there are a number of ways to do so at Russian President Vladimir Putin's disposal.
"Putin has a lot of options available to him if he wants to further invade Ukraine, and he can execute some of those options imminently," Pentagon press secretary John Kirby said in a "Fox News Sunday" interview.
Top Defense Department officials share a grim outlook of the immediate future, he added, pointing to Russian troops massed along the Ukraine-Russia border as well as the number of troops in Belarus, also located next to Ukraine. He also cited Russian ships positioned in the Mediterranean Sea and the Atlantic Ocean.
"It doesn't have to come to conflict. We still believe there's room and space for diplomacy, and we'd like to see that be the solution here," Kirby said.
Several days ago, Ukrainian officials, including President Volodymyr Zelensky, claimed the Biden administration, other foreign leaders, and media are overstating the direness of the immediate situation.
"This means panic on the market, panic in the financial sector," Zelensky told reporters last week.
Russian officials have frequently denied plans to invade Ukraine, a former Soviet republic. Moscow has sought a pledge from the United States and NATO that the security organization will not allow Ukraine to join.
In 2014, Russia seized the Crimean Peninsula and also started arming rebel groups in the Donbas region of Ukraine, starting a low-intensity conflict that has left more than 14,000 people dead.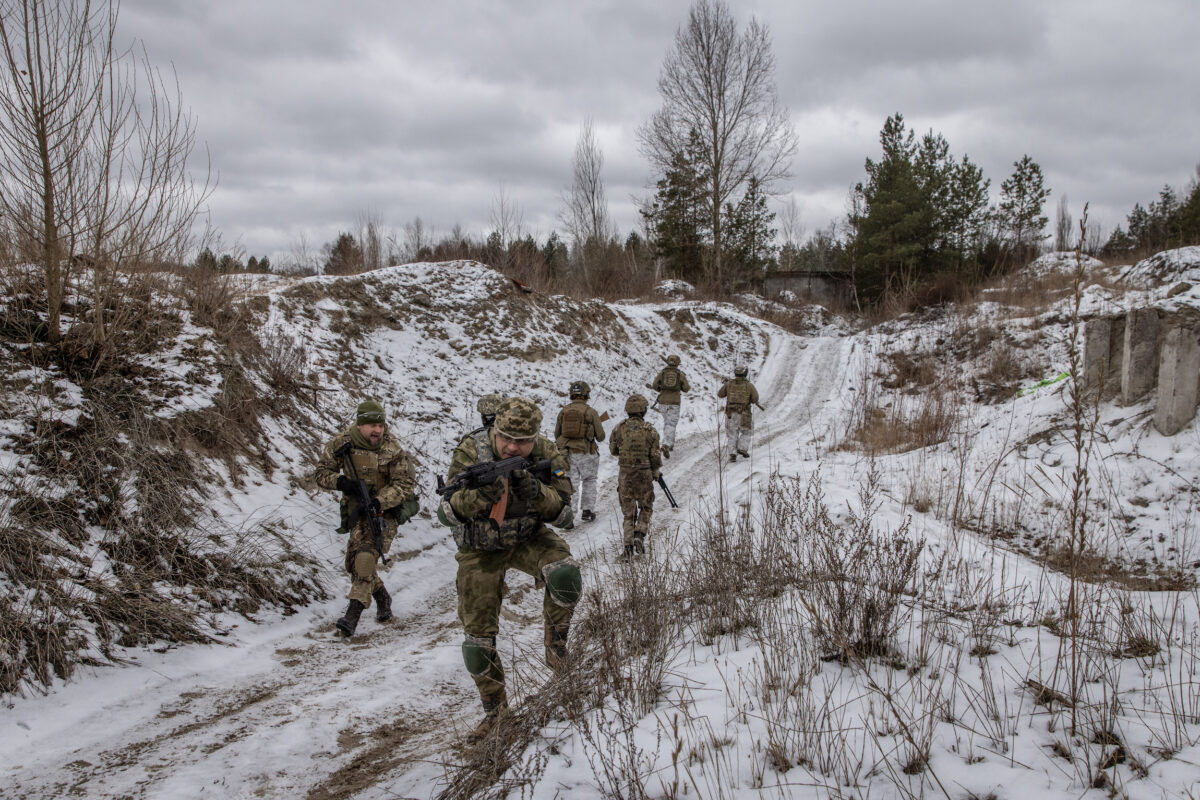 Top U.S. officials have floated levying sanctions against top Russian officials and its energy sector, including stopping the completion of the Nord Stream 2 pipeline. But Kirby, in Sunday's interview, explained that the administration won't yet impose sanctions because "one of the things about sanctions is once you trip that, then the deterrent effect is lost."
At the same time, he added, the United States is aiming for "sanctions and economic consequences the likes of which we have not looked at before or even considered even as far back as 2014."
Pentagon officials are also looking at other means to harm the Kremlin—not just economic warfare, he said.
"One of the last things they want is a strong and bolstered NATO on their western flank and if he does another invasion inside Ukraine that's exactly what they're going to get," Kirby said. "You're going to see the United States and our NATO allies bolster our capabilities on the eastern flank of the alliance."
Meanwhile, on Sunday, several top Republican and Democrat senators indicated they are close to reaching a deal on legislation that would sanction Russia over its recent military buildup.
"I would describe it as that we are on the one-yard line," Sen. Bob Menendez (D-N.J.), the head of the Senate Foreign Relations Committee, said on CNN's "State of the Union."
There is strong bipartisan support to back Ukraine and punish Russia if it invades, the senator said before adding that he believes an agreement will be reached this week.