A U.S. Department of Defense spokesman said the miles-long Russian military convoy heading to Kyiv, the Ukrainian capital, is stalled.
"They haven't, from our best estimates, made any appreciable progress in the last 24-36 hours," Pentagon spokesman John Kirby said on Wednesday of the Russian forces moving towards the capital. "Nothing very significant."
Satellite imagery from Maxar showed what appears to be a 40-mile-long convoy of Russian tanks, artillery, and military equipment outside of Kyiv.
Kirby told reporters that the stall is likely due to Russian forces deliberately "regrouping themselves and reassessing the progress that they have not made and how to make up the lost time," adding that there appear to be "logistics and sustainment challenges" amid resistance from the Ukrainians.
Kirby noted that in southern Ukraine, Russian forces are facing less resistance and are seeing greater success.
But the Pentagon's "assessment is, as they get closer to these two population centers down in the south, we believe they are facing more resistance," Kirby said.
Russian forces said they captured one those southern population centers, Kherson, located along the Black Sea.
The city is now under Russian soldier's "complete control," Defense Ministry spokesman Igor Konashenkov said on Wednesday, according to The Associated Press. Those claims were denied by the Ukrainian military on social media.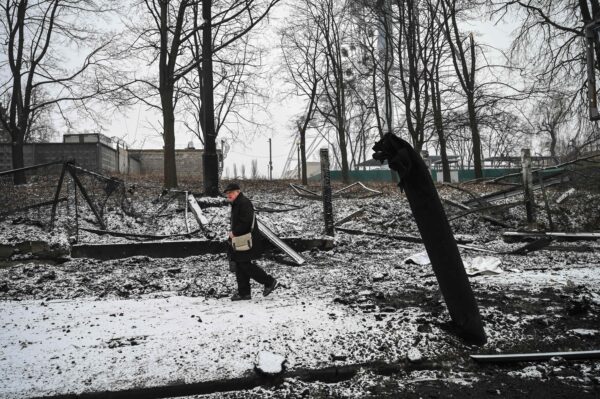 Konashenkov claimed that the city's civilian infrastructure, essential facilities, and transport are operating as usual, and that there are no shortages of food or essential goods.
"There is no Ukrainian army here," Kherson Mayor Igor Kolykhaev said on Wednesday, reported the New York Times. "The city is surrounded."
Kolykhaev said that Ukraine's military had pulled out of the city and moved to the area of Mykolaiv, located northwest of Kherson.
A senior U.S. defense official told AP on Wednesday that they have seen claims that the Russians have taken Kherson, but they also noted that the Ukrainian military is rejecting that allegation.
For the first time in the conflict, Russia's Ministry of Defense revealed the number of troops who have died or were injured during the invasion, which started nearly a week ago. About 500 Russian soldiers were killed and 1,600 were injured, although Ukrainian defense officials have said that nearly 6,000 Russian soldiers have been killed and more wounded.
But Konashenkov on Wednesday also told reporters that his ministry rejects reports about "incalculable losses" among Russian forces as "disinformation."
Neither claim from Russia or Ukraine could be independently verified.
The Associated Press contributed to this report.