A group of Pennsylvanians rallied to raise concerns about the loss of liberties amid ongoing restrictions to curb the pandemic as a larger similar event was being held in Washington on Jan. 23.
The Pennsylvanian rally—held in front of the Arch at the Valley Forge National Historical Park—was part of the Worldwide Rally for Freedom demonstrations that took place in more than 40 countries and 150 cities around the world.
According to the movement's website, the demonstrations advocate for five important objectives, including the end of lockdowns, an end of mask mandates, and the end of vaccine mandates and coercion.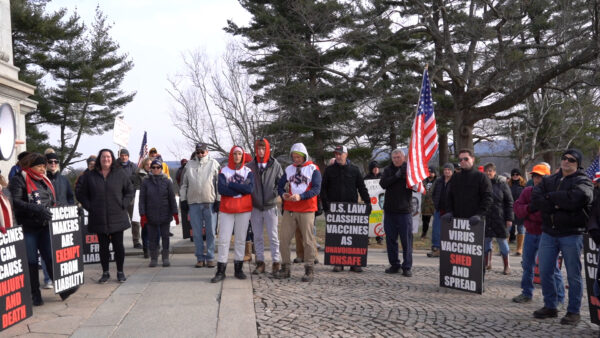 The rally in front of the arch started with the singing of the national anthem and the national flag being held high. Over 10 people then gave speeches, talking about basic human rights, individual freedom, and non-compliance with vaccine mandates.
John and Sara Castelluccio, with their three children, attended the event. Mr. Castelluccio works in the logistics industry while his wife is a teacher.
"We're here to stand for freedom, freedom to choose what to put in our body and to defeat the unlawful mandates," he said.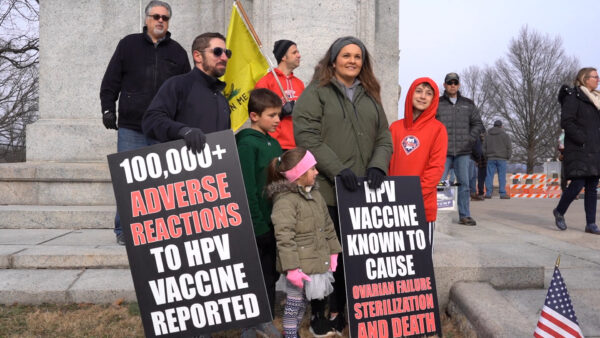 Mrs. Castelluccio also explained why she attended the event.
"We're here because we value the integrity of our country and what it was founded on," Mrs. Castelluccio said.
She expressed that the government should be more transparent about the risks involved with getting the vaccine.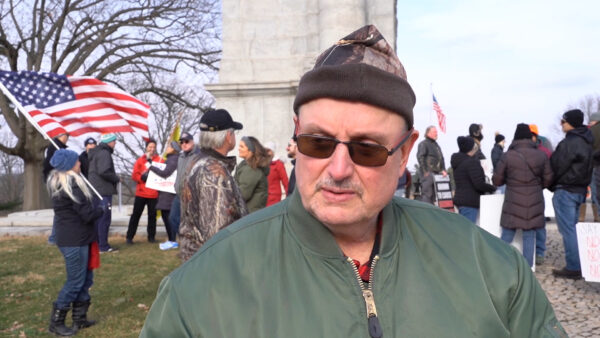 Edward, a retired health worker, recalled his experience after contracting COVID-19. He said he was denied hospitalization for not being vaccinated.
"That was my choice not to get vaccinated. But the thing is, the hospitals weren't treating me as a COVID-positive patient. They were treating me as an unvaccinated patient," he said.
He said he believes that as a U.S. citizen, a person should be treated in the hospital properly, no matter what the person's status, race, ethnic group is, or whatever the person stands for.
Janelle Sullivan, the founder of the non-profit foundation Heartline, was also at the event.
She said her son experienced adverse reactions to a vaccine and now her organization helps families find treatment for children who have also had adverse vaccine reactions.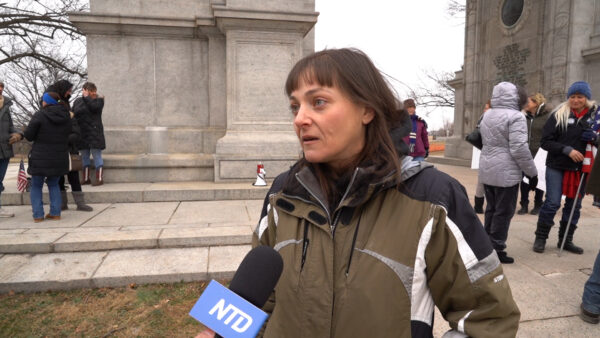 Sullivan said she was concerned over what has been occurring in relation to vaccination pressures in society and gave an example of a friend who took her children to a roller-skating rink where one of the kids was denied water to drink due to their vaccine status.
"This is criminal. It's not health care," Sullivan stated.
William Adair Bonner, an attorney in Delaware County, Pennsylvania for over 50 years, expressed three significant concerns he had with the first being that he feels the law has lost its moral foundations.
"American law began founded in natural law, which was the theology that justice was a revelation of God," he said.
"However, right now, the law is based on 'neutral principles'."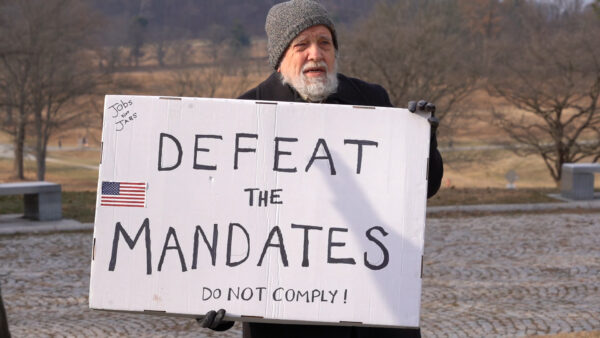 Bonner's second concern was that "we live in an era of unimaginable censorship."
He offered an example of how doctors are being fired due to different attitudes or beliefs about the use of certain medications.
"This is destructive of democracy," he said.
Bonner's third concern is that the United States is undergoing an extraordinary and very rapid growth in the government's executive power.
"America has now reached a point where we function outside of or beyond the realm of the rule of law," he added.
Jane Taylor Toal, a former senior marketing research analyst, is the president of Citizens for Liberty, a grassroots political organization.
"During the pandemic, we went in a downward spiral; we live in a godless society," she said.
"They're trying to take the Lord away from us. And we have to realize that God trumps all of our mandates."
She said that the vaccine mandate is unconstitutional, and the government has no right to tell people what to do with their bodies.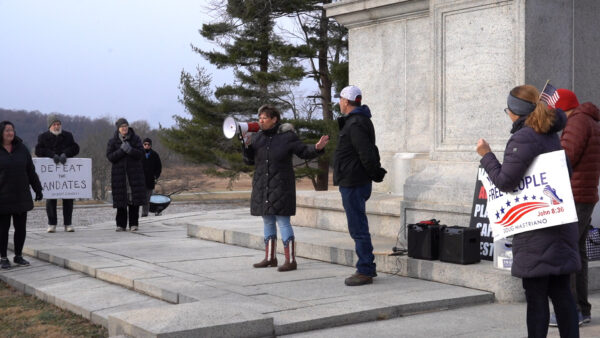 Barbara Murphy, a special education teacher at a public school, said that she came to the rally because she saw that "children have been silenced."
The children are "being taught communist principles in school," Murphy said.
"We've lost our freedoms, and we can't give them (the government) an inch," she said. "They're going to take a mile, and pretty soon, we're not going to have any rights at all."
Murphy also expressed her concerns over the safety of the COVID vaccines, since in her opinion, they are not administered with true informed consent, and there are no long-term studies on the vaccines' safety.
Barb, a retired school teacher, said she participated in the rally to take a stand for "medical freedom."
"Our constitution upholds our freedom and liberty," she said. "And a mandate is just a recommendation from government and entities, so I don't adhere to them."