A Pennsylvania woman claims she made an unexpected find when she opened a can of vegetables on June 14.
Chambersburg mother Cherie Lyons was preparing dinner when she was surprised to discover what she identified to be a dead bird in her bowl, after pouring the contents of a 7.75 ounce can of Del Monte fresh cut leaf spinach.
"When I opened my can of spinach to eat for dinner I got a big surprise," Lyons said in the closed Facebook group What's Going On In The Chambersburg, PA Area.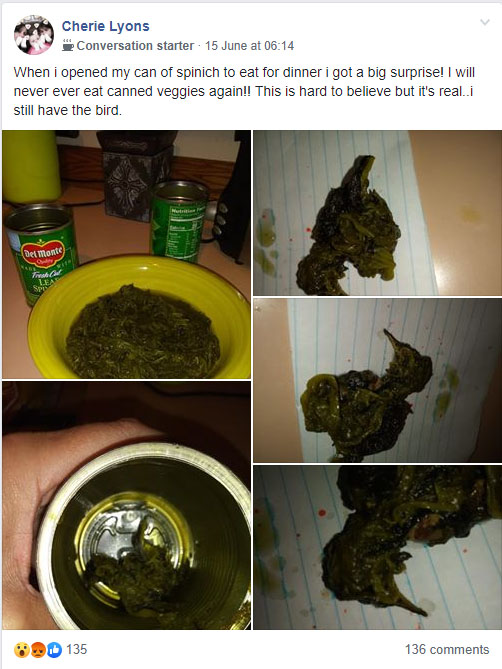 She uploaded a few different photos of the grisly find, showing what appears to be a bird's yellow beak, feathered neck, exposed internal organs, and dark tail feathers. The carcass did not appear to have any feet or thighs attached.
"If you look at the first pic it shows the bowl that I poured the spinach and that's when I discovered there was a bird in it," she wrote. "That's after some of the spinach came off."
After spending a few minutes trying to identify the bird, Lyons felt like she was going to vomit, felt sick for the next day, and completely lost her appetite for all canned vegetables. She claims she never had any problems before when she bought canned green beans and fruit.
"I will never ever eat canned veggies again," she said. "That was the only veggie I ate from a can, not anymore … spinach was the only one I liked canned."
A Franklin County woman discovered a dead bird inside a can of Del Monte spinach.​ https://t.co/w5CDEjI2LD

— WPMT FOX43 (@fox43) June 21, 2019
She claims she phoned Del Monte's consumer affairs team in New Jersey to report the gruesome find but was disappointed to learn staff did not appear to take her concerns very seriously.
"I did call the company first thing thing this morning," Lyons said. "The rep said he did not see how it was possible … [and] acted like they didn't believe me."
Lyons maintains it was not a prank and she could show evidence and there were more witnesses who could testify to its veracity.
"This is hard to believe but it's real … I still have the bird, I kept the evidence for proof," she said. "I have the evidence and five people who witnessed it."
She told USA Today the company eventually offered a $10 check for her "troubles" and asked for the bird to be mailed to them for further inspection.
"It was the yellow beak that gave it away."https://t.co/2h6idBj0Lf

— USA TODAY (@USATODAY) June 19, 2019
Lyons is still deciding whether to mail the bird or take legal action against Del Monte instead. She has had trouble finding a lawyer who will agree to take her case.
"I've called around and not been able find an attorney to take the case," she said. "[I am] having a hard time … everyone I called said they do not deal with that kind of cases and I called a bunch."
While she organizes her legal counsel, she has begun researching the company and discovered the manufacturer Del Monte Pacific is not actually headquartered in the United States.
"After reading up on them I found out their headquarters is in Singapore," she said. "That was another surprise."
Cherie Lyons said she discovered a dead bird at the bottom of her Del Monte canned spinach on June 14. https://t.co/lHFhlSdf6z

— Public Opinion (@PONews) June 19, 2019
Del Monte defended its commitment to providing "high quality, safe, and nutritious foods."
"We implement strict controls throughout our operations to ensure our products meet the highest levels of quality, safety, and purity," a company spokesperson said in a statement obtained by USA Today. "We are working with the consumer to gather more information and investigate the matter."
Del Monte Foods was established in the year 1886, has become one of the nation's biggest food producers and distributors, and has an annual turnover of almost $2 billion, according to USA Today.
Lyons hopes by going public more people will be more informed about contamination levels in canned food and encourage more food manufacturers to keep customers better informed.
"I can understand something small like a bug or a staple, but how do you miss a whole bird?" she told USA Today. "I wouldn't have pursued it if they would have just dealt with it better."
Some contamination is permitted in processed canned or frozen spinach, according to the U.S. Food and Drug Administration's Food Defect Levels Handbook.
This includes no more than 50 aphids, thrips, and/or mites per 100 grams, less than 2 mm-long larvae, caterpillars shorter than 12 mm for every 24 pounds, less than eight leaf miners of any size per 100 grams, and less than four leaf miners shorter than 3 mm per 100 grams.
However, there is no clear rule stating what level of bird contamination is allowed in canned or frozen spinach.