A sheriff in Pennsylvania says he's switched to the Republican Party after becoming alienated from Democrats.
"It was a really difficult decision and I've thought long and hard about it, but I feel I stand for the ideals of the Republican Party platform more than the Democrats today," Westmoreland County Sheriff James Albert told the Tribune-Review.
Albert, 70, became sheriff last year.
He said he is against abortion, for the Second Amendment, and a lifelong member of the National Rifle Association.
"Today, I feel my ideals are closer to the Republican Party than Democrats," he said.
The reaction to looting and rioting across the country in the wake of the death of George Floyd in Minnesota helped lead to the party change.
"I was saddened and enraged by the murder of David Dorn, a 77-year-old African American retired police captain, who was shot by a pawn shop looter during a protest in St. Louis," Albert said. "These outrageous, lawless acts have been met with silence, acquiescence and, in some instances, outright support from the local, state, and national leadership of the Democratic Party."
The Pennsylvania Democratic Party did not respond to a request for comment.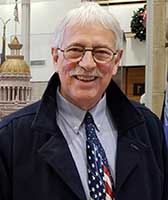 Westmoreland County is located in southwest Pennsylvania. It went for Donald Trump in 2016.
Party changes aren't unheard of, with a number happening in recent years. Several federal lawmakers switched affiliations this year or the last, including one from the Democrat Party to the GOP and another from the GOP to the Libertarian Party.
Another Democrat-to-Republican switch took place in Indiana this month.
Vanderburgh County Sheriff Dave Wedding reportedly told a crowd he was "tired of seeing fires set in our streets."
"I'm tired of people defying God, our church, our police, our government, and everything we stand for," he added.
Wedding added to WFIE: "Watching the daily burning of American flags, failing to be able to use the word God in any sentence at most Democrat-led functions, denouncing law enforcement as if we're the evil people. I am very proud of my profession in law enforcement and when people attack us, it's pretty insulting."
The Democratic Party of Vanderburgh County accused Wedding of being opportunistic.
"His move to the Republican Party after benefiting from years of Democratic support make his political opportunism all the more distasteful," the party said.