The Pennsylvania Senate this week approved legislation preventing the future use of unsecured ballot drop-boxes. The vote was 29-20, along party lines. Republicans have the majority in the House and Senate.
The measure comes after evidence of fraudulent voting methods used in Pennsylvania's October 2021 general election, documented to Senate members in videos and in a letter written by Lehigh County, District Attorney James B. Martin.
In an April 4, 2022 letter to the Election Board of Lehigh County, Martin described an investigation county detectives conducted at the urging of the Lehigh County Republican Committee, that found hundreds of people put multiple ballots into unmanned drop-boxes. Videos show individuals in Lehigh and Lackawanna counties putting as many as five ballots in drop-boxes.
Pennsylvania law requires a voter to send an absentee ballot by mail or deliver it personally.
Pennsylvania Democrat Gov. Tom Wolf's wife Frances famously broke this law in the October 2021 election, when she deposited her own ballot along with her husband's ballot in a York County ballot drop-box. The vote was later casually disclosed by Wolf when he mentioned it on a radio talk show. He later called it an honest mistake.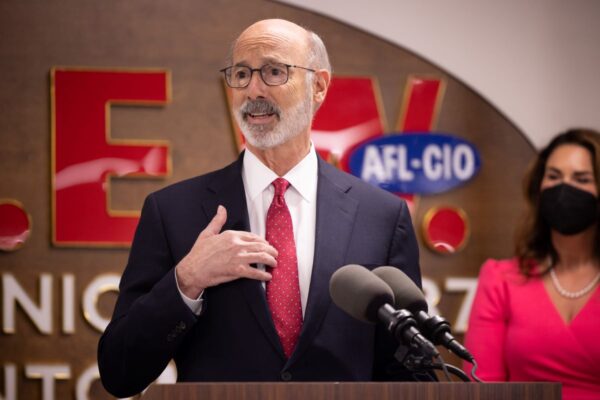 Having someone else deliver the ballot is considered election fraud, punishable by a $1,000 fine and a year in prison. The exception is voters with a disability, who may have someone else deliver their ballot if they get prior approval.
Drop boxes are new in the state; they are one of the measures that came out of Act 77, which became law on Oct. 31, 2019. Act 77 allowed for no-excuse absentee voting. After that, the Pennsylvania Department of state fought to have drop-boxes installed to accept ballots, in part for COVID-19 mitigation. The state Supreme Court allowed it.
The Lehigh County Election Board had five drop-boxes, one in each county commissioner's district. Each ballot box was under video surveillance.
"Reviewing the video was a tedious and time-consuming job," Martin wrote in his letter. "An attempt was made to observe the video for the entire time period between October 18 and November 2, for the drop-box located at the Lehigh County Government Center. One detective spent eight full work days doing this."
The detective counted 2,756 people dropping ballots and was able to confirm 186 instances where more than one ballot was dropped by an individual, Martin said, describing it as an inexact science because sometimes, with ballots possibly stacked on top of one another looking like a single ballot, it was impossible to tell whether more than one ballot was being dropped.
Although 2,756 persons were counted at the ballot box, 3,695 ballots were placed in this drop-box, a difference of 939 more ballots than voters.
Because of the time-consuming nature of the task, and the results observed, the other locations were reviewed by sampling and offered similar results.
"Although it cannot be determined with precision by review of the video surveillance, it can be stated with a high degree of certainty that a large number of voters deposited more than one ballot in the drop-boxes," Martin said. "By count of the detectives at the four locations, there were a total of 4,026 voters observed, and 288 are confirmed as having been observed dropping more than one ballot."
Detectives observed at least 7.1 percent of voters deposited more than one ballot. Because of COVID-19 masks and poor video quality, most cannot be identified. Martin said it would not be fair to prosecute the few who could be identified, and he noted that Mrs. Wolf had not been prosecuted.
"Clearly the provisions of the Election Code provide that an absentee ballot or a mail-in ballot shall be delivered either by depositing the same in the United States Mail or by delivering it in person. Further, it is clear that each voter shall mail his or her own ballot himself or herself and deliver only his or her own ballot in person," Martin said. "It is also abundantly clear that those provisions of the law are being breached by large numbers of voters."
Senate Bill 1200 requires mail-in ballots that are not returned in the mail to be returned only to the County Board of Elections office, which eliminates drop-boxes. The legislation is sponsored by Republican senators Cris Dush, Ryan Aument, Kim Ward, and Jake Corman who is running for governor.
"Drop-boxes are the least secure way to vote," Dush said in a statement. "Because drop-boxes were written into law by the courts, the Senate is now taking steps to mitigate the negative effects of that action and restore the integrity of our elections."
The Senate also voted to ban private money funding election operations. Senate Bill 982, sponsored by Republican senators Lisa Baker and Kristin Phillips-Hill bans any state employee or county from accepting money from outside groups to pay for the administration of Pennsylvania elections. The bill was approved 37-12 with bipartisan support.
The legislation was created in response to the use of grant money from the Center for Tech and Civic Life (CTCL) during the 2020 Election. This money is also known as Zuckerbucks. Communications between CTCL officials, the Wolf administration, and county officials show funding was intentionally directed predominantly to counties that favor Democrats, a statement from the sponsoring senators said.
"Our legislation offers a direct, straight-forward clarification to the Pennsylvania Election Code," Baker said in the statement. "Senate Bill 982 simply states what all of us understood to be fact—government should pay for elections. Voters, taxpayers, and citizens alike deserve the most fair and equitable election system. It should be uniform from one county to the next regardless of size, demographics, or wealth."
Senate President Pro Tempore Jake Corman issued a separate statement.
"We cannot claim to have free and fair elections when we know a large number of ballots are being cast illegally with the financial backing of partisan interests. Lawmakers have a responsibility to uphold the Constitution and ensure fair and equal representation for our citizens. Although we still have work to do to reach this goal, these bills bring us closer to making this mission a reality," Corman said. "People who are falsely claiming these bills somehow infringe on the rights of Pennsylvanians are dead wrong. Preventing the use of unsecured drop boxes – which the Legislature never authorized in the first place—does not diminish opportunities for Pennsylvanians to participate in our elections whatsoever."
The bills now go to the House, where similar bills are being considered.
Wolf's office has said he is opposed to the bills.
If Wolf vetoes either bill, Corman vows he will do everything in his power under the U.S. and Pennsylvania Constitutions "to provide this necessary level of security of our election process."